Too scared to break up with your other half? Looking to do it with a new frisson of agony? Sorry It's Over caters for both needs, offering to take care of your relationship for you.
The company offers a range of ways in which they can put it to bed, encompassing SMS, email, phone call, posted letter, flowers, sympathy hamper and personal meetings with a representative.
They start at $5.50 and go up to $66 for that last option, which sounds insanely cruel and faintly dystopian.
"It's never easy to separate, so let us do your dirty work," the company states. "Why bother telling your lover goodbye yourself. Who needs the grief and who has the time?"
Here's an example of one of its break-up emails, which literally uses 'Regards' at the end. Ice cold.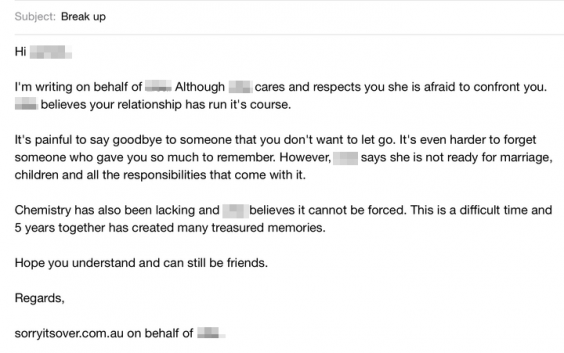 "Why look them in the eye and watch the hurt?" Sorry It's Over questions. "No one wants to deal with all that screaming, sobbing, begging and emotional pleas of 'just one more chance'.
"Let us sort out your relationship for you!"
Fast forward six months and you can bet someone will have undercut them with an app that notifies you you've been dumped by push notification.