Google has deleted 170,000 links as part of Europe's controversial "right to be forgotten" legislation, according to a company transparency report.
Since setting up the deletion process on 29 May, Google has received more than 144,000 requests to "forget" almost 500,000 links, though it has only removed 41.8 per cent of them.
Google has refused removal requests for more than 237,000 links.
The published data revealed that more removal requests have come from France than any other European country, with 28,912 requests for just over 89 thousand URLs.
Germany made a similar number of requests – 24,979 for 88,883 links – with UK, Spain and Italy rounding out the top 5.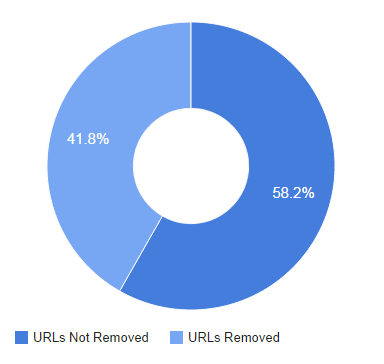 From the UK there have been 18,403 requests to remove 63,616 links, with a 64.6 per cent removal success rate.
Google has provided 15 examples of the sorts of requests they receive, along with the search engine's decision.
One example of a rejected request from the UK read:  "An individual asked us to remove links to articles on the internet that reference his dismissal for sexual crimes committed on the job.
"We did not remove the pages from search results."
A successful removal request from the UK read: "A man asked that we remove a link to a news summary of a local magistrate's decisions that included the man's guilty verdict.
"Under the UK Rehabilitation of Offenders Act, this conviction has been spent. The pages have been removed from search results for his name."
In some example cases, Google deleted links to protect victims of crime.
An example from Germany read:  "A victim of rape asked us to remove a link to a newspaper article about the crime.
"The page has been removed from search results for the individual's name."
The site most impacted by these requests is Facebook, with 3,332 links removed, although profileengine.com, apparently the world's first "social network search engine," was forced to forget 3,289 links.
YouTube has had 2,392 URLs removed.
A Google spokesperson said the "right to be forgotten" part of its transparency report will be automatically updated daily.  
The cost of removing all these webpages was not stated, though Google told US website Mashable that "each request is reviewed individually by a human, not an algorithm."
In May, the European Court of Justice (ECJ) ruled that search engines must remove links relating to European citizens if they are deemed outdated or irrelevant personal information.
The law was widely criticised as violation of press freedom. Google were not happy with the ruling, and called it a "disappointing ruling for search engines and online publishers in general."
Reuse content