As the New Year begins, tech fans are gearing up for the next round of major smartphone releases, beginning with the launch of the highly-anticipated Samsung Galaxy S7.
The Galaxy S6 was warmly received after its release in April 2015, for its top-of-the-range performance and impressive camera, with the Edge model getting a lot of attention for its innovative curved screen.
So it's no wonder that Samsung fanboys have been eagerly waiting for the new Galaxy since the S6's launch.
As always, there's a number of rumours swirling about the new phone, many of which have surfaced at the Consumer Electronics Show (CES) in Las Vegas. Here's what we know (or think we know) so far.
Water resistance, wireless charging and more
An advert for the Galaxy S7 was 'accidentally' leaked on Samsung Indonesia's YouTube page, and it confirmed a lot of rumours.
The new phone will have wireless charging and water resistance, according to the advert. An S7 teaser site, also linked to Samsung's Indonesian operation, suggested that the phone could have enhanced security features and a camera suited to low-light conditions.
A choice of colours
Industry insider Evan Blass tweeted some of the clearest images yet of the S7 and S7 Edge, showing the handset could come in a range of colours.
Eye candy. pic.twitter.com/sIJXMx9o8G

— Evan Blass (@evleaks) February 13, 2016
Eye candy, pt. 2. pic.twitter.com/UM6rWM6oTj

— Evan Blass (@evleaks) February 14, 2016
It looks like consumers will have a choice of silver, black or gold, but more colours could be announced as time goes on.
Leaked pictures surface in Vietnam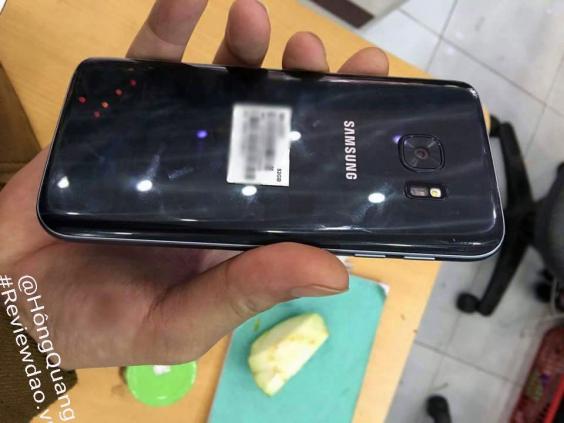 These two images were released online recently, and apparently show the S7 and S7 Edge in all their glory. They don't really give too much away, although it looks like the camera bump will be slightly smaller, and the AnTuTu benchmark test on the S7 Edge's screen shows a result of 134704.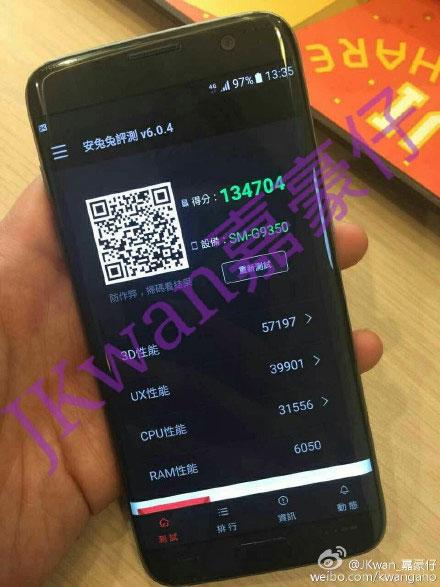 Like usual, it'll be unveiled just before Mobile World Congress
This one isn't so much a rumour, because Samsung have actually announced a big unveiling event on 21 February, the day before the Mobile World Congress (MWC) trade show begins.
Samsung is calling the event 'Unpacked', and it's set to take place the night before MWC kicks off at the Barcelona Convention Centre.
We'll likely get our first look at the S7 at this event, but its teaser trailer also featured a man wearing a Gear VR headset - suggesting there could be some VR-related announcement too.
It's probably coming out in early March
Release date rumours are always flying in the tech world, and the various guesses out there can sometimes be wildly different.
However, everyone seems to agree that the S7 will come out in late February or early March - slightly earlier than the usual release date of new flagship Samsung phones.
Three models - the S7, S7 Edge and S7 Edge+ - might be launched at the same time
According a leaked piece of what appears to be marketing material, which was tweeted by journalist and tech industry insider Evan Blass, we might see a simultaneous launch of three S7 models - as opposed to last year's staggered launch, when the S7 and Edge were announced in April, and the larger Edge+ came out in August.
The marketing snippet showed the names of the three models next to each other, in what could be a screenshot from Samsung's S7 website. This suggests that we won't be seeing a delay between models, although there's nothing else to confirm this yet.
It could be good news for Samsung fans, who will be spoiled for choice at the next release.
The S7 Edge definitely exists, by the way
Samsung hasn't officially announced any products yet, but the S7 Edge is one of the worst-kept secrets in tech - the previous model, the S6 Edge, was very well-received, and a number of rumours have claimed that the new version will come out alongside the regular S7.
What's more, Samsung accidentally announced its existence in a hastily-deleted post on its developer website.
It's going to be waterproof and dustproof
No, this isn't another hoax - signs suggest that the Galaxy S7 could be waterproof and dustproof, making it much more resilient that its predecessors.
According to Evan Blass, journalist and tech industry insider, the S7 will be built according to the IP67 standard - an industry ranking system for the 'ingress protection' levels of electronic equipment.
the IP67 rating would mean the phone will be 'totally protected against dust' and 'protected against the effect of immersion between 15cm and 1m' - meaning there won't be any need to go reaching for the bag of rice if you accidentally drop your S7 into water.
The S7 will have a MicroSD slot
Good news for those who like to fill their phones to the brim - the S7 will have expandable storage via a MicroSD card slot, a feature sadly missing from the S6 and many other smartphones.
MicroSD cards going up to 64GB can be bought fairly cheaply, and there's even 200GB cards available if you feel like spending more. However, storage sizes will increase dramatically over the phone's lifetime, so the MicroSD slot should ensure that you never run out of space.
Both models will have bigger batteries
As phone tech has progressed, poor battery life is a constant pain for users.
Fortunately, according to Blass, the S7 and S7 Edge will boast 3,000mAh and 3,600mAh batteries respectively - that's a big increase on the 2,550mAh and 2,600mAh batteries on the S6 and S6 Edge respectively.
Gadgets and tech news in pictures
Gadgets and tech news in pictures
1/26 'The Drone-ovic'

In time for Wimbledon, Virgin Active is trialling 'The Drone-ovic' – a drone that drops tennis balls from above to achieve that perfect serve at its Northwood club tennis courts

CPG Photography Ltd

2/26 Voice assistants are coming for your home

A year from now, Google, Amazon and Apple might be listening in on your living room. And you'll be glad of it. All three of those companies are working on or have announced voice assistants that sit in people's houses and talk to them. The boxes – which function as speakers, and look like them too – are meant do everything from asking questions to operating various parts of peoples' houses

Google

3/26 North Korean Facebook set up and immediately hacked

An imitation of Facebook apparently set up for North Koreans has already been hacked and sent offline, just days after it was discovered. Internet company Dyn Research found the site – hosted in North Korea and created to look almost exactly like Facebook – and discovered that it was accessible for anyone in the world. But days later a college student got access to the site because it had been secured with just a default password

AFP

4/26 Bring broken smartphone back to life - as a robot

Do you have an old broken smartphone lying around the house somewhere? Then why not turn it into a robot? That's exactly what YouTuber Mehdi Sadaghdar did in a recent video, after his efforts to bring a destroyed phone back to life disastrously failed. Using the phone's vibrator, a coin battery, a simple switch, a few wires and the bristly part of a toothbrush, he managed to make a simple little toy that can skitter around a tabletop as long as the battery last

5/26 Detachable plane cabin

A Ukrainian inventor has proposed building airliners with detachable passenger cabins that could separate from the rest of the plane and parachute safely to the ground in the event of an emergency

6/26 FA announces it will host the Emirates FA Cup video game tournament

The FA has announced that for the first time ever it will host the inaugural Emirates FA Cup gaming tournament, with video game fans from across the world invited to compete for glory at Wembley Stadium connected by EE. Early rounds will take place in iconic locations in the stadium such as The Royal Box, the changing rooms and the players' tunnel, with the two finalists set to play the virtual final using Wembley Stadium's 82 foot screens as they sit in the centre circle. Gamers of varying ability will descend upon Wembley Stadium as the home of football transforms into an epic gaming colosseum set to turn heads and sweat palms in equal measure

The FA via Getty Images

7/26 Oculus Rift release date

Oculus has said that it is about to open pre-orders for its Rift virtual reality headset. Some have claimed that the hardware will be the device that will bring virtual reality into the mainstream. And it will start being available from 6 January 2016, the company has said. The company hasn't said when the headsets will actually start arriving, or how much they will cost. It isn't clear whether the company intends to announce more details before pre-orders begin

8/26 iPhone stock apps can be removed by just putting them into special folder

A new trick shows a quick way of getting rid of the stock apps that might be cluttering up your iPhone screen — at least for a while. The iPhone comes with a range of apps that are stuck on the phone, and can't be deleted like others. While some are key to the phone — like the Phone app itself — others like Stocks are less well-regarded. But the new trick shows how you can hide those unused stock apps with just a quick trick using some folders

9/26 CES 2016: Four big things set to be revealed

The CES 2016 gadget show is about to kick off, and nearly the entire technology industry has descended on Las Vegas to try and show off the future. Every year, companies and technologists attempt to show that they have seen what's coming and that they will be there to offer it. Every year, a lot of people get it wrong. This year's expectations are as big as ever. Every year, CES unofficially gets a big theme that everything's supposed to be about — this year that's virtual reality. There is also future for cars, smart home and wearables

10/26 Terrorists could use drones to attack planes and spread propaganda

A government counter-terrorism adviser has warned that terrorists could use commercially available drones to attack passenger planes. Detective Chief Inspector Colin Smith, a security expert and adviser to the Home Office Centre for Applied Science and Technology, warned that small quadcopter drones could easily be used by terrorists for attacks and propaganda purposes

11/26 Goggle-Eyed Lemurs watch TV as part of their reintroduction to the wild

Port Lympne Reserve in Kent, UK, has installed Sony Bravia 4K TVs into its lemur and langur enclosures to show life-like footage to its primates as part of its 'Back to the Wild' programme. The charity will trial TV watching on Sony's 4K TVs as part of this programme in a bid to make langurs more familiar with the new environment

Mikael Buck / Sony

12/26 UberPool

Uber has added a lift-sharing feature to its app in London, allowing people to share their taxi with a stranger in return for a reduced fair. Users will be given 25 per cent off their journey if they say they will let up to two other passengers share their car. Drivers will then receive a message telling them that they'll be picking up more than one fare, and can plan their route accordingly. London is the second European country to get the feature, after Paris. It was first launched in San Francisco and now most people who use the app do so with the feature

13/26 Attempt to build world's biggest Rubik's cube ends in disaster

An attempt to build the world's biggest Rubik's cube ended in disaster when the puzzle exploded as it was turned for the first time. One of the masterminds behind Coren Puzzle, a YouTube channel dedicated to custom puzzles, live-streamed the final assembly of the 22x22 cube. The video was the culmination of seven months of construction, which included a month of deliberation on how to build the mechanism at the centre of the device

14/26 New battery chip could let phones charge in minutes

The maker of a new chip claims that it could reduce the charging times of phones to a few minutes, and could prevent dangerous explosions. The tiny chip could be embedded into batteries of all sizes and monitor how healthy and charged they are. That in turn would mean that the batteries would become much safer and quicker to charge, according to the scientist that developed it. Unhealthy lithium-ion batteries can be at risk of exploding or catching fire, as well as gradually losing their capacity so that they run out more quickly. Those problems may become even more important as people move towards electric cars or other vehicles

15/26 Facebook on iPhone gets new fast-loading Instant Articles

If you've noticed articles on Facebook loading a little quicker recently, that's because the new Instant Articles have been launched to all iPhone users. Instant Articles load up to 10 times quicker than a regular article, and have some enriched features - such as unobtrusive autoplay videos, zoomable high-definition images and interactive maps

16/26 Halo 5 patch

Gamers looking forward to playing Halo 5: Guardians on its release on 27 October 2015 will have to wait to download a 9GB day one patch before the game's multiplayer mode can run properly. Those without the patch won't even be able to play multiplayer at all until it's downloaded, in yet another case of a blockbuster game needing a patch on the day of launch

17/26 New HTC Desire 626 handset launch

HTC has launched its latest Desire 626 handset with the Sense 7 software which automatically detects whether you're at work, at home or on-the-go and alters its theme to suit your location. This advanced technology intelligently analyses your favourite photos to modify the look and feel of your apps, allowing you to modify the colour scheme and backgrounds – the ultimate in personalisation

18/26 Nasa confirms Mars water discovery

Nasa has announced that it has found evidence of flowing water on Mars. Scientists have long speculated that Recurring Slope Lineae — or dark patches — on Mars were made up of briny water but the new findings prove that those patches are caused by liquid water, which it has established by finding hydrated salts.

19/26 Customers wait in line at the Apple Store in Paris to get their hands on the iPhone 6s

Several hundred camped outside the London store in Covent Garden. The 6s will have new features like a vastly improved camera and a pressure-sensitive "3D Touch" display

20/26 Bloodhound SSC: The most powerful ever made is shown off to the public

The car is displayed at Downing Street, when the team visited David Cameron to demonstrate the project

21/26 Lunar eclipse threatens Nasa technology

Artist's rendering of Nasa's LRO spacecraft, which will have to withstand a rapid drop in temperature during an upcoming lunar eclipse that could lead to it shutting down

22/26 Mobile phone bills could rocket up after Ofcom announced that the fees it charges to phone operators will be trebled

The regulator will now charge far more to phone companies for using the mobile spectrum — and though it says that fee will not be passed on to customers, experts have said that prices are likely to go up

23/26 New iPhone 6s rose gold

Apple has released a bright pink new iPhone 6s — likely the only way that you'll be able to tell that someone has the new handset. The company released the new phone with much fanfare, but almost all of the changes — a new camera and pressure-sensitive display — were on the inside. The only new noticeable addition to the phone's look is the very pink rose gold colour, and a tiny "S" on the back. The new handsets will be released on September 25

24/26 iPad Pro

Apple has launched a huge new iPad, which it hopes can bring the tablet to offices and designers. But it unveiled it with an Apple-designed stylus — an idea that was famously mocked by late Apple founder Steve Jobs

25/26 Apple TV

Apple has introduced the new Apple TV

26/26 Apple Pencil

Apple has introduced the new Apple Pencil
It'll probably use Samsung's own processor
Some more concrete rumours began circulating after a version of the S7 appeared to show up on AnTuTu, the 'benchmarking' software that allows users to find out the processing speed of their devices.
Accoring to the benchmark, the model tested was using an Exynos 8890 processor, which has been developed by Samsung itself. However, an earlier benchmark that came out in late December showed another S7 model that was using a Snapdragon 820 processor, SamMobile reports.
It's possible that these conflicting reports are because different prototypes have been tested, or because Samsung is releasing different versions with different processors - we'll know more at launch.
The camera won't have as many megapixels as before, but it should still be better
According to leaked images of the phone's specs, the S7's main camera apparently has a 12.2MP sensor, much lower than the 16MP camera on the Galaxy S6.
This would be worrying for Samsung fans, were it not for the knowledge of Samsung's Britecell technology, which cuts down on resolution but makes the sensor bigger, apparently resulting in much better low-light shooting.
The end result of this major redesign will only be seen when the phone is released.
It probably won't look too different
Samsung majorly altered the design of their phones for the S6 and S6 Edge, turning the device from a slightly cheap-feeling plastic phone into a much higher-end metal and glass device.
The design of the phone was highly praised at the time of release, and the rumours are pointing to a regular and Edge verison of the S7 - so don't expect a major departure from the S6 design in the new model.
Reuse content