Printers are a problem. They're difficult to use, they cost the earth to run and contrary to the any-time-any-place attitude of smartphones and tablets, the printer remains stubbornly immobile.
Now, a group of engineers and designers from Israel think that they have the answer: a printer that you can carry in your hand, that connects to your smartphone and that can be used anywhere you can find a flat surface.
"Print machines now-a-days are essentially a printhead running left and right on a moving piece of paper," writes Zuta Labs, the team responsible for creating the Mini Mobile Robotic Printer, on their Kickstarter page.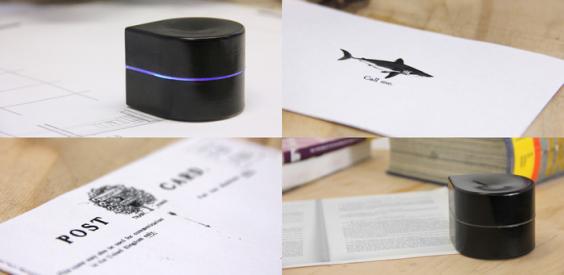 "We asked ourselves, why not get rid of the entire device, just put the printhead on a set of small wheels and let it run across a piece of paper. By doing so, we allow the printer to really be as little as possible."
The result is quite enchanting to look at, crawling about the desk like a miniature Roomba, and firing out documents at the somewhat sedentary rate of 1.2 A4 pages a minute.
The Mini Mobile comes with a rechargeable battery that lasts for one hour per full-charge and an ink cartridge that's good for more than 1,000 pages.  Zuta Labs are currently halfway towards their Kickstarter goal of $400,000, with early bird backers invited to pledge $180 for a black version of the device.
The flexibility of the printer is certainly attractive (it works with any paper size) but there are also a lot of steps in the printing process where it could all go wrong.
For a start, if you don't line the device up perfectly on the paper (that's why its shaped like a teardrop - you point the corner into the corner of the page) then your document will print skewed; and if you're not working on a perfectly smooth and level surface then bumps will show up in your document.
In addition, the first Mini Mobile (providing they meet their Kickstarter goal) will only work in grayscale  and the resolution (96 x 192 dpi) is not that impressive. Zuta Labs have also failed to mention anything about the cost of an ink cartridge – usually one of the more unpleasant surprises when running any printer.
And yet despite all this, we'd love for the Mini Mobile to succeed. It's a fascinating concept in a market that has consistently failed to meet consumers' demands - and even basic expectations. Any change to that is welcome.
Click here to visit the Kickstarter page
Reuse content