Microsoft's Satya Nadella has made his first major announcement as CEO, launching the Office productivity suite for iPad.
Word, PowerPoint and Excel are all available for free to download and view documents, but customers will have to pay for an Office 365 subscription to do any editing. For single users this costs £79.99 a year or £7.99 a month, with discounts for businesses buying multiple licenses.
In addition, Microsoft has also made Office for iPhone and Android smartphones free to download and edit with, hoping that users will never really want to write up a report on a 4- or 5-inch screen, and will be tempted into buying a subscription.
Although first reviews of the apps have been positive, praising Microsoft's transformation of a desktop- based interface into one that works well with touchscreens, critics have pointed out that the company has waited almost four years to bring the product to Apple's tablets.
Meanwhile, a host of rival services – all with the same cloud functionality that allows users to sync documents over any internet-connected device – have attempted to move into the same market, without charging a penny.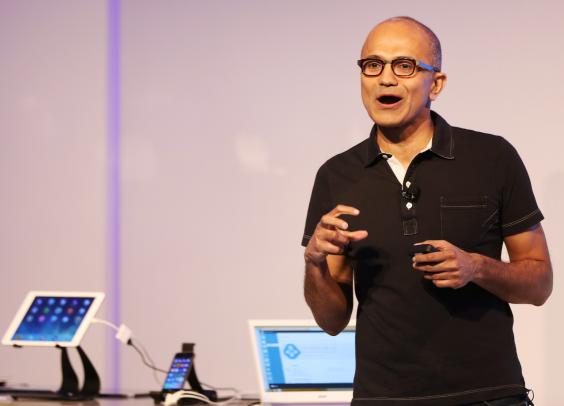 Apple's own iWork was made completely free last year, and Google's Docs and Drive have long allowed for document creation and editing over the web. Microsoft's Office suite has the advantage of familiarity and compatibility, but it seems that the company has been unwilling to put an end to their cash cow by giving the product away free.
Writing in a blog post after the event Nadella recognized that computing had gone "mobile-first and cloud-first": "Mobile without cloud is limiting. The cloud without mobile is mostly latent potential. But the place where they meet is magic."
Microsoft has not been quick to get on board with either of these new facets of computing, but Office for iPad could be a hit – especially with larger businesses who will find it more difficult to transition away from the traditional desktop model.
Nadella will be taking to the stage again next week at the company's Build Conference for developers. The tech community is hoping for more news on consumer products – specifically a possible first look at the successor to Windows 8.
Click here to read Microsoft's blog post announcing the changes