Each spring, Samsung releases its new flagship phone. Since the launch of the Galaxy S2, the company has come up with a head-turning smartphone with innovative features.
Last year, some felt the Galaxy S4 was too innovative – features like a screen that scrolled the content upwards as it sensed your eyes reaching the bottom of the display and a built-in humidity sensor were deemed to be gimmicks. This year, it's back to basics with a smartphone that goes big on battery life and fast download capabilities, an improved camera and a kids' mode so your children can use your phone without you worrying – even if they drop it into water.
The S4 takes the familiar Galaxy design language - chrome edging, glossy white or black front, an easy-to-find home button to turn on the display - and adds a back cover that's markedly different from previous years, where the gloss plastic attracted charges of being cheap-looking. This time around, there's a mottled, soft-touch back that's pleasingly tactile and looks much more premium, less plastic.
Samsung has retained the removable back cover of previous Galaxy handsets so you can swap out your battery if it runs low. So far, so ordinary, but a glance inside the back cover reveals the company has done something remarkable – rubber seals inside the case show that this phone is waterproof, or at least water-resistant, and able to withstand a soaking. Sony's Xperia phones are now routinely waterproof but they are sealed units with non-removable batteries – water-resistant with a pop off back is even more of a technological achievement.
The new phone has a slightly bigger screen than the five-inch display of last year's Galaxy, though the same resolution. It looks tremendous, with Samsung having reined in the sometimes over-saturated colours it has previously been known for. Note that this phone is bigger than the S4, though not much heavier; if it was stretching your fingers last year, this time will be, er, stretchier still.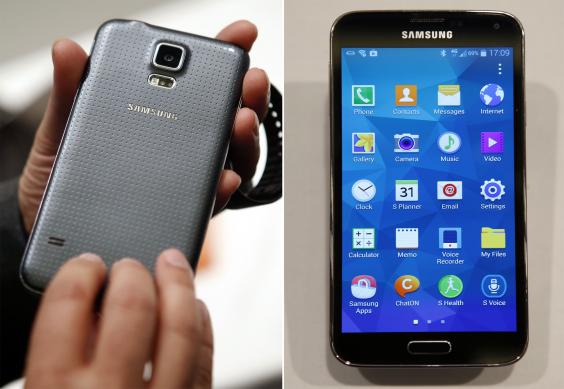 The Smart Scroll feature mentioned above seems to have disappeared this time around – though I have yet to meet anyone who found it useful for more than a "look what my phone can do" pub demonstration. Instead, there are novelties like the fingerprint scanner which sits hidden in the home button. As with the iPhone 5s, you register your finger by swiping the button. An animation appears on screen which could make you think the scanner is behind the display, but no, it's just to guide you where to stroke. It works pretty well, though not perhaps with the endless reliability of Apple's handset.
But here there's a big advantage: you'll be able to use your finger for PayPal purchases and this could really open up the world of payment by phone. Samsung is definitely in the vanguard for this and it's a welcome innovation.
But it probably won't be the thing that makes you choose your next smartphone. You'll be looking for a decent camera, probably. Samsung delivers with a great 16MP model that has very little shutter lag. And there are enough pixels to mean that you can zoom in digitally and still have enough pixels for a strong image. The autofocus is very fast so you can feel confident you won't miss the moment you're trying to shoot.
And this phone shoots video in the ultra high-definition (UHD) resolution that's four times a full HD TV. Unless you have one of these expensive TVs you won't be able to see them at this resolution but when you do, you'll have footage that looks astonishing. For now, the video is crisp and sharp on this full HD screen.
You'll also be looking for decent battery life and it's certainly better here than last time around. And the Galaxy S5 has an Ultra Power Saving Mode which turns the screen to black-and-white while cutting down on the apps available to you. So, for instance, a 40 per cent battery charge promises standby time of up to five days. Actually, the black-and-white screen looks quite cool, but you'll probably only want to do this if you really need to. Even without this, the phone lasts for a full day, at least in our week or so of testing.
Android phones are all customisable by the phone manufacturer. HTC still delivers the most elegant and comprehensive skin on top of Android, while Samsung's Touch Wiz offering is more populist. The icons are a little ordinary-looking but it's easy to read and understand. .
More interestingly, with Samsung, there's also a whole ecosystem of other gadgets you can attach to your phone, such as the Gear Fit, a fitness wristband which I'll be reviewing separately in a day or two. It only works with Galaxy smartphones, mind, but you can connect it up to S Health - an built-in app that works as a pedometer and calorie counter - and you even use the camera on the back as a heart rate monitor
A quick mention of the Kids' mode – it's easy to set up and it restricts the available apps that will work on the phone until your password restores the phone to full use. Samsung isn't the first to have such a feature, but the cute crocodile with a saw for a snout is a delight and his nonsense words may be enough to beguile your child.
The water resistance of the phone is a big advantage – surely all phones should be waterproof by now? But the downside is that there's a tight-fitting flap over the charging socket which you'll need to pop open every time your phone needs juice. It's a faff, though not a deal-breaker.
This is the best smartphone Samsung has yet made – well, you'd expect that, right? But is it good enough that you need to buy it? It's a significant step up from last year's Galaxy S4: slicker, faster and better-looking enough to justify the upgrade. It's not as classy as the HTC One (M8) with its gorgeous metal casing, but it's lighter and easier to handle.
The extended battery life and improved camera are tremendous improvements and may be enough to tempt you on their own. Add in the heart rate monitor, kids' mode and the fingerprint sensor which could become hugely useful for widespread mobile payments and Samsung has a phone that deserves to be a winner.
Reuse content