If you bought Sony's Xperia Z2 mobile phone recently, you may be surprised to find that already – just six months later – there's an update. Actually, there's a bunch of them and the fact that Sony didn't wait a year to upgrade its flagship phone as Samsung and Apple routinely do shows you the relentless pace of innovation and the need for newer, better stuff.
Sony's motif recently, its thing, is that it makes waterproof gadgets. A brilliant feature and one that should be in every gizmo, I think. The new brace of phones and tablet are all waterproof and dust-resistant. Although this has an effect on the design choices its engineers must make, the results are clear evolutions of previous models.
The back of the Z3 is tempered glass, like its predecessors, but the feel is better this time around, thanks to a slimmer profile and smoother, rounder edges. It's also lighter than the Z2. The corners have a nylon element to protect them from dents if you drop the phone.
Many other elements, like the 5.2-inch screen, are unchanged from the Z2, which may make many users feel there's no need to upgrade. Since so many phones are bought on two-year contracts, this may make sense: after all, in 18 months' time there may have been another two or three phones released, so you can be sure of a hugely improved handset.
But there are differences, especially in battery life. I haven't had a chance to test this yet but Sony is claiming a two-day battery life for the Z3. If you spend your time angsting when your phone is slipping down to zero power by lunchtime, this will be a very welcome development.
Other elements, like the 20.7-megapixel camera, were so far ahead of much of the competition they didn't need improving. Only Nokia has camera phones with comparable or superior pixel count. Still, Sony says its new phone is much better for shooting in low light and has an improved lens which lets you see more at a time.
There was one other improvement, a slightly off-the-wall one. With the Z3 you can play PlayStation 4 games on the phone. This turns the phone into a capable handheld gaming device. You need a PS4, obviously, but it means if one family member wants to play FIFA while another needs to watch TV you can transfer the game to the phone and play on. It works best when you're at home on the same wi-fi network but it will work anywhere, Sony says.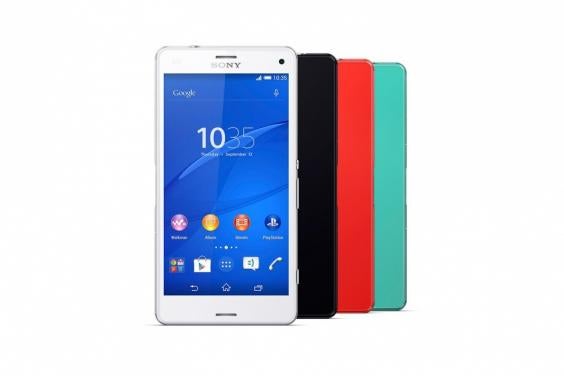 The Xperia Z3 is Sony's flagship but the company had much more to show. The Xperia Z3 Compact is a real winner: almost all features apart from the screen resolution are an exact match for the Z3 but in a smaller case that will fit every hand. The 4.3-inch screen (let's remember this is still bigger than the display on the iPhone 5s) is lower-resolution but still pleasingly good-looking. Otherwise, the same 20.7-megapixel snapper and full waterproofing are to be found here, too. For many, this will be the best product Sony Mobile has ever built.
And there was another Compact on view, the Sony Xperia Tablet Compact to give it its long-winded name. This is a tablet with an eight-inch screen (fractionally bigger than on the iPad mini) and it shares the same styling and waterproofing of its Z3 confreres. It's slim and light – arguably the best-looking tablet not built by Apple.
The Xperia E3 is a budget smartphone with 4G on board. Plastic replaces pricier glass, there's no waterproofing and the camera is just five megapixels, but the styling is cunningly done – it's clearly a part of the same family as the Z3 models. Sony's gadgets may in some cases only be gentle upgrades of previous iterations, but they are uniformly well-designed and impressively powerful.
All that, and we haven't even touched on the new smart watch and fitness band with e-ink display (which looks brilliant). Wearables are a big part of IFA this year, so check back for an in-depth look at smart watches later in the week.
Reuse content