Titanfall is the first AAA release of 2014 and it's already set hearts racing for both gamers eager for some giant-robot-on-giant-robot action and the business guys, who are hoping that the sci-fi shooter will boost sales for the Xbox One.
Whichever side of the divide you're on, check out our primer to get to know a little more about the game.
Where to get it, when to get it:
Titanfall is releasing for PC and Xbox One on 11 March in North America; on 13 March in Europe and Australia, and 14 March in the UK and New Zealand. It'll be coming to the Xbox 360 on 25 March in North America and 28 March elsewhere.
If – as Microsoft execs hope – Titanfall is making you consider buying the Xbox One then there's a bundle for that. For £400 ($499) you get the standard console, Kinect and controller, plus a digital copy of Titanfall. This makes a saving of around £80 if you'd bought the console and the game separately.
Buying the standalone game costs roughly £45 for the Xbox One and £42 for the PC version. Obviously whether you prefer console or PC gaming is up to you, though developers Respawn have confirmed that players using a controller on a PC will get some aim assist.
If you're thinking about playing the PC you'll need Windows Vista or later (64-bit only) and at least 4GB of RAM. Respawn say the slowest processor you can get away with is an AMD Athlon X2 2.8GHz or an Intel Core 2 Duo 2.4GHz ,while you'll need a dedicated graphics card equal to or better than an AMD Radeon HD 4770 or an Nvidia GeForce 8800GT.
Patches and DLC:
If you're downloading the game for the PC then you can pre-load the title already – definitely worth it if you're set on playing as you can bet that the servers will be under strain come launch day. The game itself is a 21GB download with a day one patch of around 1GB also rumoured before you'll be able to play. File sizes are roughly the same on the Xbox One.
Respawn has said that there will be three DLC content packs costing $10 a piece (roughly £7) or you can buy all three in the form of the Titanfall Season Pass for $25 (confirmed price of £20). If you're buying the game for PC then the Titanfall Digital Deluxe Edition gets you the game and the Season Pass for £6.
Gameplay basics:
If you're reading this article then the chances are you already know a bit about Titanfall, but to those of you who have been drawn in by the hype, here are the basics. Titanfall is a first person shooter where players control either nimble pilots that have little armour and jump about using a jetpack or titans, giant robots that can be summoned by pilots every couple of minutes for their destructive firepower.
Players can customize their load-outs for both pilots and titans depending on their play style. There's three types of titan: the Atlas for damage, the Ogre for defence and the Stryder for mobility.
Pilots have a range of pistols and assault rifles alongside specialized heavy weapons for taking down titans and there are also various perks ('Kits') that offer boosts to anything from wall-running ability to health regeneration.
Revealed: All 15 of the Titanfall maps leaked
Revealed: All 15 of the Titanfall maps leaked
1/15 Airbase

Airbase

Reddit

2/15 Angel City

Angel City

Reddit

3/15 Boneyard

Boneyard

Reddit

4/15 Colony

Colony

Reddit

5/15 Corporate

Corporate

Reddit

6/15 Demeter

Demeter

Reddit

7/15 Fracture

Fracture

Reddit

8/15 Lagoon

Lagoon

Reddit

9/15 Nexus

Nexus

Reddit

10/15 Outpost

Outpost

Reddit

11/15 Overlook

Overlook

Reddit

12/15 Relic

Relic

Reddit

13/15 Rise

Rise

Reddit

14/15 Smuggler

Smuggler

Reddit

15/15 Training Ground

Training Ground

Reddit
As well as the players there are also a variety of computer-controlled minions that seem designed mainly to make the matches feel fuller. Grunts are average foot soldiers, easy to kill, while Spectres are robots that can be hacked to fight for your team.
There's seven game play types including what essentially amounts to a team death match, free for all, domination (control certain points in the map) and capture the flag.
So, basically there is a cat-and-mouse gameplay style between the pilots and the titans, with the addition of customized weapons and abilities in the style of multiplayer Call of Duty. This latter point is no coincidence as Titanfall is the creation of a number of staff responsible for the fantastically successful Call of Duty: Modern Warfare in 2007.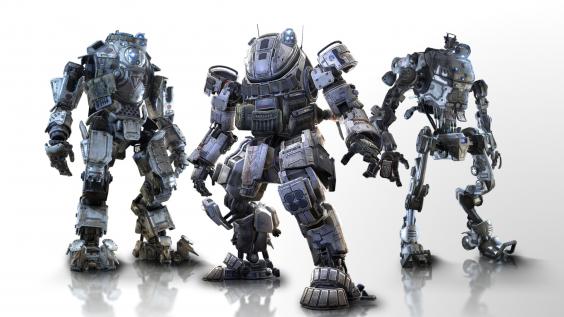 What makes Titanfall different:
In many ways Titanfall isn't revolutionary. It doesn't offer a new gaming 'paradigm' or make any ambitious attempts to 'tell a story'. By all accounts there's nothing more exceptional about this video game than the fact that it's an incredible amount of fun to play.
With Modern Warfare gamers found that when it comes to first person shooters, arena-based combat was much more consistently satisfying than playing through a campaign. However, successive titles in the Call of Duty franchise didn't to really vary of deepen this formula.
Titanfall: Come for the giant robots, stay for the jet-packs
With its pilot vs titan core and its increased sense of sense of mobility (think Call of Duty if your wall-running abilities were as expansive as those of Assassin's Creed) Titanfall has a chance of re-booting the genre. Considering Call of Duty has made more than $9 billion in its 11-year history, this is not a small deal - either for the executives who worry about the future of the console, and for gamers, who simply miss having a good time.
Reuse content