The oldest established bitcoin exchange is in trouble. Japan-based Mt. Gox suspended all bitcoin payouts on 7 February after a technical glitch was discovered, essentially blocking customers from accessing their assets.
Customers can withdraw their bitcoins in the form of fiat currency, but doing so would make the value of their coins dependant on the whims of the market. The wait time for this sort of withdrawal is also said to be between a few weeks and three months.
The news caused the value of the currency to drop significantly over fears of a liquidity crisis, although the value has since recovered and is currently trading at around $630 according to BitcoinWisdom.
In a statement released this morning, Mt. Gox has blamed the problem on a 'defect' in the currency's protocol known as "transaction malleability".
This allows the written notes that are appended to transactions to be changed slightly after they have been carried out, although no information involving the amount exchanged or the individuals involved can be altered.
Mt. Gox says that this is a design fault that "has been largely ignored", but many in the bitcoin community are instead blaming the exchange, saying that "transaction malleability" is a known issue that Mt. Gox simply does not have the expertise to cope with.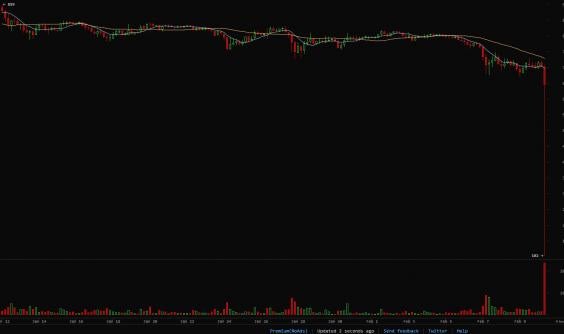 "Mt. Gox has built an exchange based on a hodgepodge of technologies that are really not suitable for running an exchange," developer Andreas Antonopoulos told bitcoin news and information site CoinDesk. "And it's being run by people who don't really have experience building and operating scalable systems."
As one of the most recognisable companies that buy and sell bitcoin, Mt. Gox's fortunes have a large knock-on effect on the value of the currency and its perception by the public. For this reason, some bitcoin fans have accused the exchange of 'sabotaging' the currency.
Members of the bitcoin community site on Reddit described the exchange as "inept" and "truly evil" while one user even said he took a 16-hour trip from Australia to Japan (the site of Mt. Gox's offices) in an attempt to withdraw his money, but was unsuccessful.
Emily Spaven, Managing Editor at CoinDesk, described the events as "another nail in the coffin for Mt. Gox," but added that she did not think the news would affect "bitcoin as a whole."
"Bitcoin has proven in the past that it is extremely resilient and I'm confident we will soon see the price bounce back," Spaven told The Independent.
"We'll see fluctuations in the price of bitcoin throughout the day as different parts of the world wake up, see the news, check the price and start to panic sell, but the price should level out over the next day or so."
"I also think we'll see a lot of people looking to buy bitcoin today – it could be a great opportunity to snap up some bargain BTC."
Reuse content