The controversial private car hire service Uber has been forced to apologise and cancel a sexist promotion in France that offered customers a free 20-minute ride with an "incredibly hot chick" at the wheel. 
Announced to the world via a blog post and racy video on the Uber website, the offer involved a collaboration between Uber's Lyon office and an app and website offering subscribers free pictures of women in underwear.
Before it and the video were taken down, the blog post started off by asking readers: "Who said women don't know how to drive?"
It continued in similarly sexist fashion, telling Uber users they can enter a code to ride around with "Avions de chasse" – French slang used to refer to attractive women.
"Avions de Chasse" is also the name of the app Uber chose for the collaborative promotion. On its English-language website, it defines the phrase as "the French term for 'fighter jets', but also the colloquial term to designate an incredibly hot chick. Lucky you! The world's most beautiful 'Avions' are waiting for you on this app. Seat back, relax and let them take you on cloud 9!"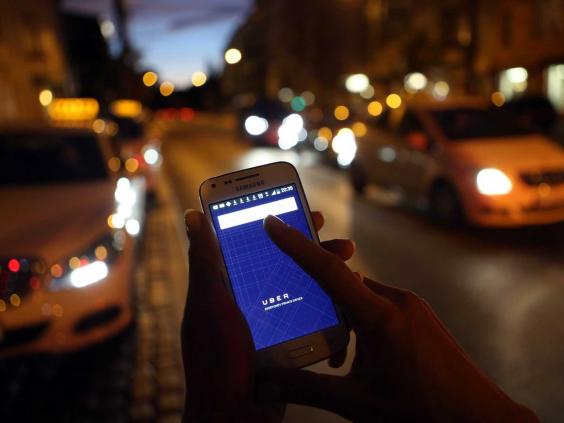 Explaining the details of the promotion to Huffington Post's French edition, Avions de Chasse founder Gaspard Hafner said three models would "drive the streets of Lyon" between 23 and 25 October, not working at night "for security reasons".
He added that "respect for women was crucial for us" during the promotion, though admitted that it had been necessary to "push the sexy side" in the advert – which includes long shots of the driver's legs and cleavage.
Unsurprisingly, the promotion led to an almost immediate backlash from French users of social media.
Ten of the most controversial adverts of all time
Ten of the most controversial adverts of all time
1/10 Agent Provocateur

Lingerie company Agent Provocateur is famed for its raunchy adverts, but this 2001 offering - voted best cinema ad of all time - gained particular notoriety due to its star - Kylie Minogue...Sexually gyrating on a mechanical bull in her lacy undies

Youtube/Agent Provocateur

2/10 Calvin Klein

This sultry Calvin Klein ad featuring Hollywood star Eva Mendes was quickly banned - the main issue being that there's a flash of Ms Mendes' nipple in the clip

Youtube/Calvin Klein

3/10 Renault

This racy Renault advert featuring Dita Von Teese and Thierry Henry was deemed to risqué for UK daytime TV after being first aired on ITV in 2011

Youtube/RenaultUKOfficial

4/10 VIP

An advert for VIP e-cigarette's triggered a number of complaints recently after the innuendo laced advert featured a young women suggestively asserting: 'I want you to get it out... put it in my mouth'

Youtube/vipcigarette

5/10 Ikea

Ikea's Tidy Up campaign, launched first in France in 2001 raised a few questions of taste - not least for a 30 second clip showing a child playing with a vibrator as if it were a toy rocket

Youtube/Ikea

6/10 Ford

Ford's ad for its SportKA made it to British TV in 2003 but was soon banned after numerous complaints from animal rights activists - it shows a pigeon being bashed by the car's bonnet

7/10 Skin Skin

This hilarious Argentinian condom ad shows a young man disguise the fact he has just whipped out a condom when his partner's father walks in by putting it in his mouth and blowing a bubble

Youtube

8/10 Ann Summers

Ann Summers' online only ad titled 'Flick Your Bean' showed a naked girl crawling along the floor...flicking a bean

Youtube/annsummersuk

9/10 Zazoo

Another condom advert, this time from Belgium, has been widely lauded as one of the most controversial of all time - it shows a young boy screaming in a supermarket because he wants some sweets, before bringing up the face of his disappointed father along with the words 'use condoms'

10/10 Volkswagen

Volkswagen attracted a storm of criticism in 2005 after an apparent ad for its Polo car appeared online. The clip shows a suicide bomber detonating outside a coffee shop, but the car stays in tact. It was soon revealed that the ad in fact had nothing to do with Volkswagen and was instead a spoof made by advertising creatives Lee Ford and Dan Brooks
The blog post and video describing the offer were later taken down after a request for comment was put to Uber's California office by Buzzfeed.
And Uber Lyon confirmed the promotion – and collaboration with Avions de Chasse – has been called off.
It tweeted: "We have cancelled the partnership as on this occasion we clearly misjudged the situation. We apologise to anyone that has been offended."
Reuse content