Microsoft is planning to launch the latest version of its Windows operating system on 30 September, according to a report from The Verge.
It's thought that Windows 'Threshold', as the software is currently codenamed, will attempt to address users' annoyances at changes made to Windows for the touchscreen-optimised Windows 8.
These include introducing a new-look Start Menu (offering access to programs as well as embedded live widgets), removing the Charms bar (another side bar that was used to access search, devices and settings) and making Window 8 'apps' more flexible, allowing them to run in windows, rather than just full-screen.
All of these tweaks will make Windows 9 more mouse-and-keyboard friendly. The original implementation of Windows 8 had been an attempt to make one OS that was equally useable on both touchscreen devices and traditional computers.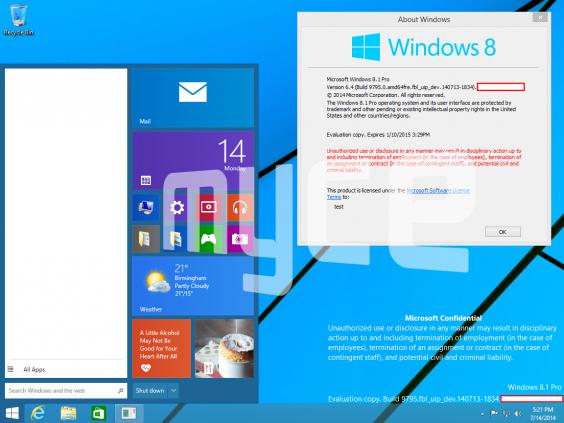 However, this has proved a tricky ask, with critics pointing out that even Apple - normally hailed a master of simple design - have kept their desktop and mobile offerings separate.
It's also expected that Microsoft will be incorporating Cortana, the company's digital assistant, into the operating system, allowing users to carry simple tasks like searching the web and creating reminders and alarms using voice commands.
The actual release date of Windows 9 is still a long way off, but Microsoft will most likely use this press conference to outline the main features and try and stoke some enthusiasm among hardcore users and developers alike. Either way, we should know more by the end of next month.
Reuse content