After the excitement over WhatsApp and SnapChat you might have thought that Silicon Valley's creative juices were running low. But not so. How do I know? Yo.
Yo is a messaging app that lets you send only one word to your friends: 'Yo'. That's it. Only the word 'Yo'. You download the app (available for iPhone and Android), create a username, add your friends and then tap their name to send them a message saying 'yo'.
The app was created back in April in just eight hours by Moshe Hogeg and Or Arbel (seven of those hours  were spent ruling out 'hey', 'hi', and 'what's cracka-lacking' as messaging options) but gathered some mainstream attention (by which we mean tech people on Twitter) after the Financial Times wrote it up earlier this month.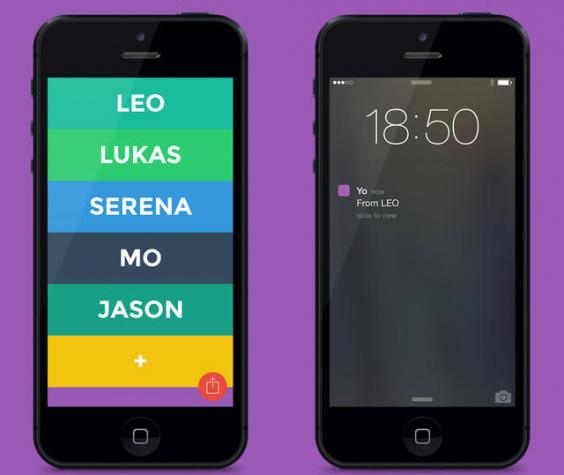 The app's creators call it a "single-tap zero character communication tool" and "everything and anything, it all depends on you, the recipient and the time of the Yo".
They've even opened up the software to developers, giving example use case for the app such as "a blog can Yo the readers whenever a new post is published" or "an ice-cream truck can Yo the kids when it's around the corner.… Imagine getting a Yo From THEICECREAMTRUCK."
Although user data is unclear on such a hot property the most recent reports suggest that it has attracted some 50,000 users who have sent more than 4 million 'yo's to another since launch. Oh, and investors have already awarded it $1 million in venture funding. Try not to think too hard about that one.
Here's what people had to say on Twitter:
Hopefully Yo will learn from Instagrm, and hold out. RT @jyarow: Facebook should buy Yo for $2 billion.

— Joseph Weisenthal (@TheStalwart) June 18, 2014
I honestly can't tell if this is a joke or not http://t.co/HfANMjrwWp

— Matt O'Brien (@ObsoleteDogma) June 18, 2014
facebook devs start working on an app called 'hey' in 3...2...

— ▵ Jenna Wortham ▵ (@jennydeluxe) June 18, 2014
Reuse content