"Are you beach body ready?"
These bold black letters - against a bright yellow background and a tanned, bikini-clad model - have sparked fury.
The ads first appeared in the London Underground and they have been annoying commuters ever since.
Thousands have spoken out against the 'sexist' nature of the Protein World promotion and the company's Twitter feed has been inundated with complaints.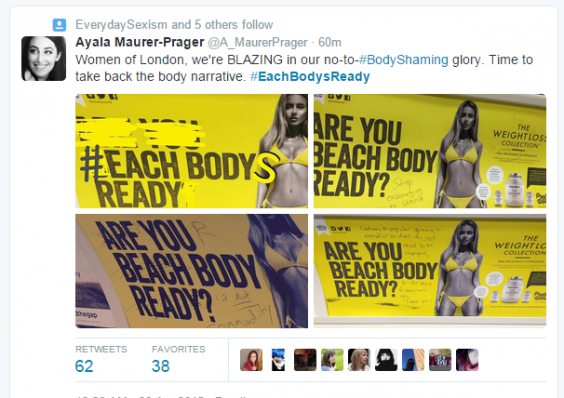 Some critics have even taken matters into their own hands, scrawling messages of body positivity across the images instead.
Now more than 40,000 people have signed a Change.org petition calling for the adverts to be removed.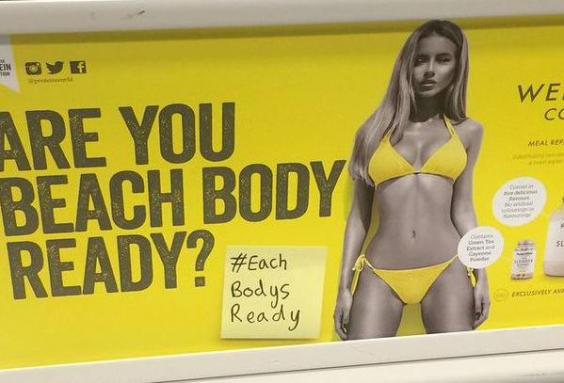 Charlotte Baring, from East Sussex, the petition reads: "Protein World is directly targeting individuals, aiming to make them feel physically inferior to the unrealistic body image of the bronzed model, in order to sell their product.
"Perhaps not everyone's priority is having a 'beach body' (by the way, what is that?), and making somebody feel guilty for not prioritising it by questioning their personal choices is a step too far.
"A body's function is far more intricate and important than looking 'beach ready', so in fact it is Protein World who have confused their priorities, if anyone."
And bloggers Fiona Longmuir and Tara Costello, who posed in their bikinis in front of the glaring sign before posting their thoughts on Twitter, have arranged a huge event called 'Taking back the beach'.
Meeting in Hyde Park on May 4, the girls are encouraging men and women of all shapes and sizes to get together for massive version of the photo.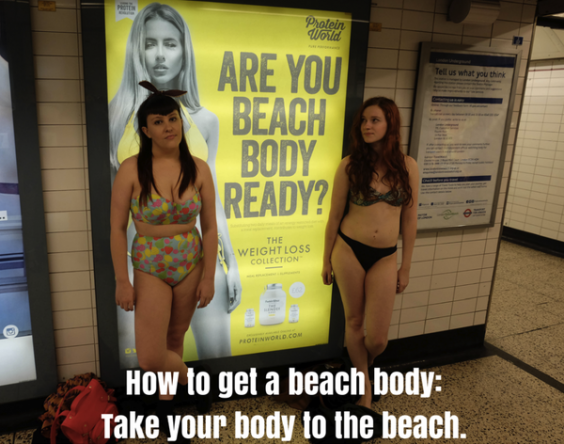 A Facebook page was also created for the hashtag #eachbodysready
May Gibbs, one of the individuals behind the Facebook page, said: "We know there is no 'ideal' body. Everyone is different and everyone's bodies are ready when they say they are.
"The beach should be for fun and relaxation, not judgement and comparison. It is a reminder to advertisers that the public cares, and will be heard on these issues."
Protein World has denied accusations of sexism.
In a statement, a spokesperson said: "It is a shame that in 2015 there are still a minority who aren't focusing on celebrating those who aspire to be healthier, fitter and stronger.
Ten of the most controversial adverts of all time
Ten of the most controversial adverts of all time
1/10 Agent Provocateur

Lingerie company Agent Provocateur is famed for its raunchy adverts, but this 2001 offering - voted best cinema ad of all time - gained particular notoriety due to its star - Kylie Minogue...Sexually gyrating on a mechanical bull in her lacy undies

Youtube/Agent Provocateur

2/10 Calvin Klein

This sultry Calvin Klein ad featuring Hollywood star Eva Mendes was quickly banned - the main issue being that there's a flash of Ms Mendes' nipple in the clip

Youtube/Calvin Klein

3/10 Renault

This racy Renault advert featuring Dita Von Teese and Thierry Henry was deemed to risqué for UK daytime TV after being first aired on ITV in 2011

Youtube/RenaultUKOfficial

4/10 VIP

An advert for VIP e-cigarette's triggered a number of complaints recently after the innuendo laced advert featured a young women suggestively asserting: 'I want you to get it out... put it in my mouth'

Youtube/vipcigarette

5/10 Ikea

Ikea's Tidy Up campaign, launched first in France in 2001 raised a few questions of taste - not least for a 30 second clip showing a child playing with a vibrator as if it were a toy rocket

Youtube/Ikea

6/10 Ford

Ford's ad for its SportKA made it to British TV in 2003 but was soon banned after numerous complaints from animal rights activists - it shows a pigeon being bashed by the car's bonnet

7/10 Skin Skin

This hilarious Argentinian condom ad shows a young man disguise the fact he has just whipped out a condom when his partner's father walks in by putting it in his mouth and blowing a bubble

Youtube

8/10 Ann Summers

Ann Summers' online only ad titled 'Flick Your Bean' showed a naked girl crawling along the floor...flicking a bean

Youtube/annsummersuk

9/10 Zazoo

Another condom advert, this time from Belgium, has been widely lauded as one of the most controversial of all time - it shows a young boy screaming in a supermarket because he wants some sweets, before bringing up the face of his disappointed father along with the words 'use condoms'

10/10 Volkswagen

Volkswagen attracted a storm of criticism in 2005 after an apparent ad for its Polo car appeared online. The clip shows a suicide bomber detonating outside a coffee shop, but the car stays in tact. It was soon revealed that the ad in fact had nothing to do with Volkswagen and was instead a spoof made by advertising creatives Lee Ford and Dan Brooks
"Renee, our stunning model, falls well within what the British Government deem to be a healthy weight, based on the BMI system.
"We now run Britain's largest protein facility, selling our products in over 50 countries to more than 300,000 customers. Most of them are women. How could we possibly be sexist?
"Getting 'beach ready' is not a new concept. It's a fashion that is followed by millions (admittedly not everybody as we have seen!) around the world when they look forward to their summer holiday. We absolutely have no intention of removing the adverts because of a minority making a lot of noise."
Reuse content