With uploading a photo of your newborn to Facebook now being de rigeur, childbirth is now subject to more aesthetic manipulation than a Vogue shoot.
Blood is wiped off, blue umbilical cords are snipped and the babies are wrapped in swaddling blankets as if neatly dropped into shot by a passing stork. Black and white filters are added for an angelic look and only sleeping pics will do - crying is infinitely less cute.
But this set of photographs from Christian Berthelot show what caesarean childbirths actually looks like, vernix and all.
Lit like Caravaggio paintings, they are less picturesque than those on Instagram but infinitely more stunning, highlighting what a remarkable process birth is and the intensity of the experience of coming into life.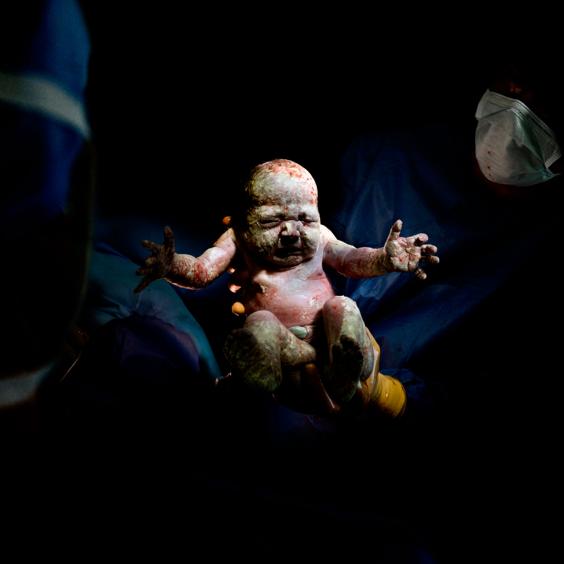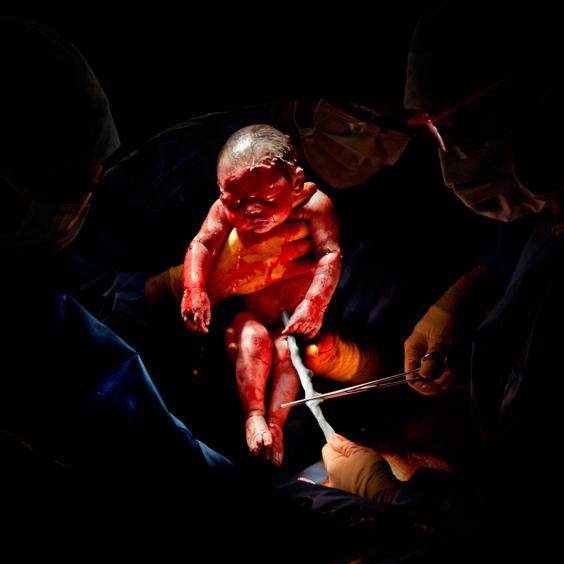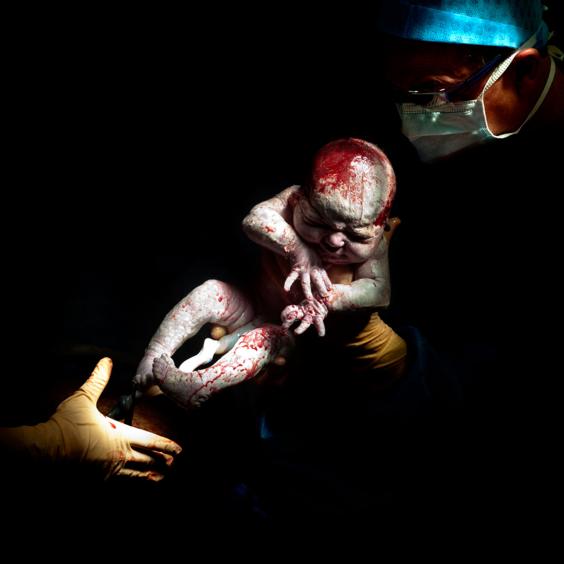 Berthelot was inspired to create his 'Cesar' series following the emergency caesarean birth of his first son.
"When I saw him for the first time, he was bloodied and covered in this white substance called vernix," he said.
"He was like a warrior who has just won his first battle, like an angel out of darkness. What a joy to hear him scream.
"Far from the clichés and platitudes, I wanted to show us, as we are when we are born. And regardless, whether a cesarean delivery or natural voice, everyone is born naked, in tears, in blood and other body fluids."
Images capture the moment babies take their first breath
Images capture the moment babies take their first breath
1/8 Caesar

Lize - born December 24, 2013 at 8:49 am 3kg 574 - 9 seconds of life

2/8 Caesar

Liza - born February 26, 2013 at 8:45 am 3kg 200 - 3 seconds of life

3/8 Caesar

Kevin - born December 27, 2013 at 10:36 am 4kg 366 - 13 seconds of life

4/8 Caesar

Leanne - born April 8, 2014 at 8:31 am 1kg 745 - 13 seconds of life

5/8 Caesar

Louann - born April 12, 2013 at 8:40 am 3kg 574 - 14 seconds life

6/8 Caesar

Romane - born May 20, 2014 at 10:51 2kg 935 - 8 seconds of life

7/8 Caesar

Mael - born December 13, 2013 at 4:52 p.m. 2kg 800 - 18 seconds of life

8/8 Caesar

Steven - born December 21, 2013 at 4:31 p.m. 2kg 425 - 15 seconds of life
Berthelot took the photos at the hospital where his son was born with the permission of the babies' parents.
He admits they're not for everyone.
"I know there are people who react very badly, who find it disgusting, they tell me that I do not have the right to show the children in the bloodstream," he said.
"Some even told me that it is not real, it is not true. This is absurd, children are not born in cabbages or roses.
"And there are those who are fascinated, I give them the opportunity to observe in detail the violence of birth. There are also people like my wife, who encouraged me to do this work, because a caesarean is beautiful birth."
He says it is important to remember that the subjects are people with their own identities.
"Each photograph is accompanied by the legend: it is a name, a date, a time, a weight," he explains. "All this information is unique and they are characteristics of each individual. They will have a significant bearing on his future."
Reuse content