Predictions that Britain and other Western nations will experience a dementia epidemic as the population grows older may have been overblown, scientists have said.
A review of five previous studies in the UK, Sweden, the Netherlands and Spain has found signs that the number of people with Alzheimer's and other forms of dementia is "stabilising".
The researchers who carried out the work said that previous predictions of the dementia epidemic were based on research carried out 20 years ago, which may now be out of date given recent changes in health and lifestyle that can protect people against the condition.
The study found that the number of people with dementia in 2010 was about 670,000, which is about the same as it was in 1990, despite the population getting older and so being at greater risk of the disease.
"For the UK our estimate is that the number of people with dementia now is about the same as it was 20 years ago, based on the same diagnostic criteria, despite sustained population ageing," said Carol Brayne, professor of public health medicine at Cambridge University, who led the study.
However, other scientists warned that the population of Britain will continue to age over the coming decades and the fastest-growing age group will be people over 85, who stand a 40 per cent chance of suffering from dementia – leading to an almost inevitable growth in the degenerative brain disease.
Nevertheless, the study found that a healthy lifestyle, improvements in living conditions and better education about how to lead an active life in older age are all contributing to a fall in the risk of developing dementia.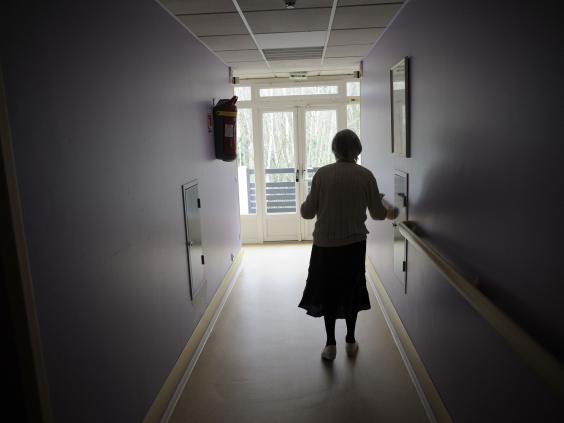 These changes are at odds with previous research that led to dire predictions about an impending dementia epidemic, the researchers said.
"These old studies support the idea of a continuing 'dementia epidemic', but are now out of date because of changes in life expectancy, living conditions, and improvements in healthcare and lifestyle," Professor Brayne said.
"The suggested decrease in dementia occurrence coincides with improvements in protective factors for dementia and a general reduction in risk factors, such as vascular disease, over recent decades," she said.
The risk of developing dementia in later life is linked with cardiovascular disease, high-blood pressure, cholesterol levels and diabetes. It is also possible to protect against the degenerative brain disease with regular exercise, a healthy diet and mental activity such as doing crosswords and other puzzles.
"We are now potentially seeing the results of improvements in prevention and treatment of key cardiovascular risk factors such as high blood pressure and cholesterol reflected in the risk of developing dementia,"  Professor Brayne said.
The study, published in The Lancet Neurology journal, found that in the UK there was an overall reduction of about 22 per cent in the prevalence of dementia in people aged 65 years in 2011 compared to the number predicted for that year back in 1990.
The results of a study carried out in Spain showed a significant decline in dementia prevalence in men aged 65 and older – by about 43 per cent – between 1987 and 1996.
The studies in the Netherlands and Sweden also showed a fall in the age-specific incidence of dementia, although these finding were not statistically significant.
Martin Prince, professor of epidemiological psychiatry at King's College London, who was not involved in the research, said he would take a more guarded view of the study's conclusions. "The suggestion dementia numbers could be stabilising in West European countries is only supported by one of the studies. This conclusion is therefore, in my view, somewhat speculative, and not reflective of the generality of the evidence," Professor Prince said.
50 best foods for healthy living
50 best foods for healthy living
1/50 Digestion

Live yoghurt - Many with digestive issues avoid dairy, but live yoghurt may be worth a shot, as it is full of gut-friendly bacteria. Because the lactose in live yoghurt is effectively broken down, it is gentler on the system than milk.

Rex

2/50 Digestion

Chia seeds - Just two tablespoons of chia seeds provide a third of your recommended daily intake of fibre.

notahipster, Flickr

3/50 Digestion

Sauerkraut - Fermented foods like sauerkraut (fermented cabbage) is packed with probiotics, aiding digestion.

Qwerty Binary

4/50 Digestion

Lentils - High in insoluble fibre, lentils are great for digestion, as well as being regarded as beneficial in alleviating irritable bowel syndrome and diverticulosis.

Rex Features

5/50 Digestion

Buckwheat - Despite the name, buckwheat is completely wheat and gluten free and a great, high fibre alternative to anyone with a wheat intolerance.

Getty Images

6/50 Immune system

Oranges - Citrus fruits such as oranges are high in Vitamin C, which helps to prevent colds and infection.

Getty Images

7/50 Immune system

Mushrooms - Shiitake mushrooms have been shown in studies to boost the production of white blood cells, thus improving the body's ability to fight infection.

powerplantop, Flickr

8/50 Immune system

Clams - Contain zinc and selenium, which helps to slow the body's immune response and control inflammation.

9/50 Immune system

Garlic - Packed with antioxidants, garlic was used to fight gangrene in World War I, but more practically can help to keep colds at bay. It is also quite anti-inflammatory and anti-fungal, and used to treat everything from psoriasis to athlete's foot.

10/50 Immune system

Broccoli - One cup of broccoli provides you with almost 100% of your RDA of vitamin C, which is thought to stave off colds and other illnesses. It is also rich in vitamin A, K, folate and potassium. Cruciferous vegetables such as broccoli contain a sulphurous compound that studies show can lower the risk of cancer.

Getty

11/50 Skin, hair and nails

Avocado - The good fats in avocado hydrate the skin, while omega 9 can help reduce redness. Avocado is also rich in vitamin E, which helps guard against sun damage and vitamin C, which helps produce elastin and collagen for skin firmness.

Getty

12/50 Skin, hair and nails

Sunflower seeds - a handful contains more than a third of your daily vitamin E needs.

F Ceragioli via Wikimedia Commons

13/50 Skin, hair and nails

Pumpkin - One of the richest sourcs of Vitamin A, which is essential for the formation of connective tissue, i.e. skin.

Getty Images

14/50 Skin, hair and nails

Olive oil - The monounsaturated fatty acids in olive oil plump the skin for a more youthful look, plus antioxidant polyphenols may curb ageing free-radicals.

SAIF DAHLAH/AFP/Getty Images

15/50 Skin, hair and nails

Green tea - Polyphenols in green tea could help to offset sun damage.

Getty Images

16/50 Weight loss

Cinnamon - This spice is a great additive for breakfasts and bakes if you are trying to cut sugar and sweeteners, and it is also thought to help balance blood sugar.

Getty Images

17/50 Weight loss

Apples - Apples are high in pectin, a soluble fibre that helps to keep you feeling fuller for longer.

Getty Images

18/50 Weight loss

Eggs - One of the best sources of protein, eggs help to keep you energised and prevent unhealthy snacking, while providing a host of vitamins and minerals for general good health.

Getty Images

19/50 Weight loss

Tuna- High in protein, low in saturated fat and rich in omega 3, tuna is a fantastic option for maintained weight loss. The omega 3 in oily fish improves the body's response to insulin, lowering metabolism and helping to prevent the dreaded sugar spikes.

Getty

20/50 Weight loss

Oats - High in fibre for slow-release energy, oats also are thought to lower cholesterol.

Getty Images

21/50 Heart health

Beetroot - This is a good source of iron and folic acid. It is also rich in nitrates, which help to reduce blood pressure.

Raimond Spekking

22/50 Heart health

Garlic - High in manganese, selenium and antioxidants, garlic is thought to help lower blood pressure and reduce cholesterol.

Getty Images

23/50 Heart health

Asparagus - Rich in the amino acid asparagine, which serves as a natural diuretic and helps rid the body of excess salts. This is beneficial for people have high blood pressure or other heart-related diseases.

Getty Images

24/50 Heart health

Salmon - Studies have found that eating oily fish such as salmon can lower blood pressure and reduce cholesterol. Rich in Omega-3 fatty acids,

Getty Images

25/50 Heart health

Pomegranate - Rich in vitamins A, C and E, and high in fibre, pomegranates are thought to help protect against heart disease. A 2004 study showed evidence that daily consumption helped to alleviate narrowed arteries and reduce cholesterol.

Getty Images

26/50 Brain health

Mackerel - Oily fish including mackerel is rich in Omega 3, which studies have suggested is linked to a reduced risk of dementia, schizophrenia and depression, as well as enhanced memory.

Getty Images

27/50 Brain health

Hazelnuts - HIgh in Vitamin E, which studies say can help to prevent cognitive decline in older people.

Getty Images

28/50 Brain health

Blueberries - low in calories and high in antioxidants, blueberries are regarded as a nutritional powerhouse. Some studies have found a link between blueberry consumption and improved spatial learning and memory.

Getty Images

29/50 Brain health

Cacao - Contains phenylethylamine, which acts as a mild mood enhancer, and a 2009 study shows signs that it can help to reduce stress. However, adding sugar and milk to cacao to make your favourite chocolatey treat offsets any health benefits - try to keep it as close to its natural state as possible.

Keith Welle via Wikimedia Commons

30/50 Brain health

Pumpkin seeds - Just a handful of pumpkin seeds a day provide your total RDA of zinc, which is important for enhancing your memory.

31/50 Energy

Sweet potatoes - Starchy veg like sweet potatoes are a great source of low-GI carbohydrates for slow-burn, long-lasting energy. Sweet potatoes are also rich in soluble fibre and vitamins A, C and B6.

Getty Images

32/50 Energy

Beef - Low energy levels are often a sign of iron deficiency or anaemia. Lean cuts of beef are a good source of iron, as well as being a protein powerhouse to aid muscle development and stamina.

Getty Images

33/50 Energy

Brown Rice - Complex carbohydrates like brown rice break down into energy-boosting sugars more slowly than white rice, meaning more energy for longer, and more balanced blood sugar levels - i.e. no nasty sugar crash within hours of eating.

Arria Belli, Flickr

34/50 Energy

Bananas - A great source of energy that keep sugar levels balanced, plus the sweet taste will help to satisfy cravings.

Getty Images

35/50 Energy

Quinoa - This supergrain contains more protein than rice or any other grain, ideal for building muscle, along with being a nutrient-rich source of carbohydrates.

AFP/ Getty Images

36/50 Bone health

Sardines - Sunshine is the best source of bone-building Vitamin D, but if a British summer doesn't allow for that, sardines are a surprising source, as well as being rich in calcium.

Getty Images

37/50 Bone health

Brussel sprouts - Just three-quarters of a cup of this divisive winter vegetable provides your RDA of vitamin K, which is essential in helping the absorption of calcium for healthy bones.

Getty Images

38/50 Bone health

Chickpeas - High in protein and fibre, chickpeas are also packed with iron, phosphate, calcium, magnesium, manganese, zinc and vitamin K, which contribute to building and maintaining strong bones.

Scott Teresi, Flickr

39/50 Bone health

Spinach - If dairy isn't your thing, spinach could be your saviour - a cup of cooked spinach contains a quarter of your calcium needs.

Getty Images

40/50 Bone health

Almonds - Rich in potassium, which prevents the excretion of calcium in urine, as well as being rich in protein and other nutrients for maintaining bone health.

M.Verkerk/J.J.G.Claessens/Creative Commons

41/50 Men's Health

Prawns - Rich in zinc, which is essential for sperm quality and fertility.

Getty Images

42/50 Men's Health

Tomatoes - high in lycopene, an antioxidant which, according to the World Cancer Research Fund, can help reduce the risk of prostate cancer. Strangely, cooked and tinned tomatoes are recommended, as the lycopene is more readily absorbed.

PIERRE ANDRIEU/AFP/Getty Images

43/50 Men's Health

Brazil nuts - High in selenium, which boosts the immune system and strengthens the thyroid gland.

Quadell

44/50 Men's Health

Cauliflower - Rich in vitamin C, potassium and boron, which is said to aid in increasing testosterone levels and muscle-building.

Getty Images

45/50 Men's Health

Turkey - With obesity an escalating problem for men, turkey is a great swap for your morning bacon. HIgh in lean protein, it is full of B vitamins, which can aid in lowering cholesterol.

Getty Images

46/50 Women's Health

Walnuts - These nuts contain antioxidants and phytosterols that may help reduce the risk of breast cancer.

Getty Images

47/50 Women's Health

Green beans - Low in fat, bean are a great source of protein and fibre and can also help to guard against breast cancer and heart disease. Isoflavones in beans, chickpeas and lentils help with the regulation of hormones, easing PMS and menopause symptoms.

Getty Images

48/50 Women's Health

Flax - One of the oldest sources of fibre in the world, flaxseed can ease digestion as well as providing omega 3 fatty acids. It is also thought to be of help with menopause, but some experts say it should be avoided if pregnant.

Sanjay Acharya via Wikimedia Commons

49/50 Women's Health

Cranberries - Rich in anthocyans, red berries such as cranberries help to play a role in cell repair and are thus thought to reduce cancer risk. Also high in vitamin C and folic acid, essential for women of childbearing age, and cranberry juice is a fantastic way to get rid of cystitis.

Getty Images

50/50 Women's Health

Tofu - A great source of phytoestrogens, which can help with the symptoms of menopause and polycystic ovarian syndrome (PCOS).

Getty Images
Tara Spires-Jones of the centre for cognitive and neural systems at Edinburgh University, said the study suggests the percentage of the population with dementia is not growing in the UK, and may actually have fallen slightly. "While this is good news, we have to keep in mind that our population, particularly of people over 85 who are at greatest risk, is growing, so the number of people with dementia is increasing overall," Dr Spires-Jones said.
Dementia: Exercise hope
Moderate, regular exercise can boost the size of the parts of the brain that shrink with age, according to scientists who believe it could be one of the best ways of preventing senile dementia. Last year a study found that walking briskly for 30 to 40 minutes a day, three times a week was all that it takes to "re-grow" the structures of the brain linked with cognitive decline in later life. Taking statins – pills designed for people with heart conditions – is also reported to help.
Research has shown that while puzzles and crosswords may slow down the onset of dementia, people who do them may experience a quicker rate of decline once the condition does arrive.
Overall, Dr Laura Phipps of Alzheimer's Research UK says a healthy lifestyle is the best bet – "eating a balanced, healthy diet, exercising regularly, not smoking, and keeping blood pressure and weight in check".
Reuse content