"Truthfully, I don't know how the idea came to me that I wanted to donate my kidney to a stranger, but there's no doubt it's one of the most satisfying things I've ever done," says John Fletcher, a 69-year-old vet from Fife, Scotland. "In fact, after I had recovered from the operation, I received a letter from the recipient – they are encouraged to write to the donor – via the hospital. The woman told me how it had enabled her to be a mother again to her five children. You can imagine how gratifying that was to hear."
This year, it's 10 years since "altruistic" (a word John winces at because he feels the sense of fulfilment it provides means it's anything but) kidney donation became legal and to mark it, he is leading a campaign to make Scotland the first country in the world where nobody need die waiting for a kidney.
He knows it won't be an easy ride. "When I first spoke to my GP about wanting to donate a kidney, he looked at me as if I was mad," laughs John. "Some of my family were less than impressed, too, while the general reaction from others has been that there must be something a bit weird about me. It's infuriating because almost all of us have two kidneys and only need one, which means the vast majority of us – even the elderly – are in a position to give the gift of life really quite easily."
Thankfully, attitudes are changing, with more than 436 people in the UK now having donated a kidney to someone they didn't know. "But still," John says, "almost one person a day dies in Britain – more than 350 per year – waiting for a kidney and more than 5,500 people are living on dialysis, waiting for one. This is an experience so miserable that many describe it as a living hell and what's more, dialysis costs a fortune – £290,000 per patient over 10 years – whereas a kidney donation and insertion only costs £25,000. This means each of us could save the NHS more than £200,000 a year."
While the transplant centres within the NHS are eager to encourage the practice, they aren't permitted to promote it, for ethical reasons – a situation that John claims leaves donors themselves in the best position to campaign. That said, even he admits that it's too daunting a thought to take on the whole of Britain (which, anyway, has its own donor-led campaign Give a Kidney), so instead he's focusing on Scotland, where he and a group of others hope to locate and sign up more than 100 potential donors – sufficient, they believe to end waiting times for kidney transplants in Scotland. "The good news is that all our meetings with health professionals suggest this is a realistic ambition – that we really could do this."
As with all altruistic kidney donors, John's own journey kicked off with a succession of tests to assess his suitability, followed by ECGs, ultrasounds, a radioactive tracer, a full body scan and some urine and blood tests. "It sounds a lot, but actually it's only a brief and friendly appointment once in a while," he says, adding that he was also asked to lose a bit of weight and subsequently "amazed my wife" by actually dieting for once.
Health news in pictures
Health news in pictures
1/27 Exercise classes offering 45 minute naps launch

David Lloyd Gyms have launched a new health and fitness class which is essentially a bunch of people taking a nap for 45 minutes. The fitness group was spurred to launch the 'napercise' class after research revealed 86 per cent of parents said they were fatigued. The class is therefore predominantly aimed at parents but you actually do not have to have children to take part

Getty Images/iStockphoto

2/27 'Fundamental right to health' to be axed after Brexit, lawyers warn

Tobacco and alcohol companies could win more easily in court cases such as the recent battle over plain cigarette packaging if the EU Charter of Fundamental Rights is abandoned, a barrister and public health professor have said.

Getty

3/27 'Thousands dying' due to fear over non-existent statin side-effects

A major new study into the side effects of the cholesterol-lowering medicine suggests common symptoms such as muscle pain and weakness are not caused by the drugs themselves

Getty Images/iStockphoto

4/27 Babies born to fathers aged under 25 have higher risk of autism

New research has found that babies born to fathers under the age of 25 or over 51 are at higher risk of developing autism and other social disorders. The study, conducted by the Seaver Autism Center for Research and Treatment at Mount Sinai, found that these children are actually more advanced than their peers as infants, but then fall behind by the time they hit their teenage years.

Getty Images/iStockphoto

5/27 Cycling to work 'could halve risk of cancer and heart disease'

Commuters who swap their car or bus pass for a bike could cut their risk of developing heart disease and cancer by almost half, new research suggests – but campaigners have warned there is still an "urgent need" to improve road conditions for cyclists. Cycling to work is linked to a lower risk of developing cancer by 45 per cent and cardiovascular disease by 46 per cent, according to a study of a quarter of a million people. Walking to work also brought health benefits, the University of Glasgow researchers found, but not to the same degree as cycling.

Getty Images

6/27 Ketamine helps patients with severe depression 'when nothing else works' doctors say

Ketamine helps patients with severe depression 'when nothing else works' doctors say

Creative Commons/Psychonaught

7/27 Playing Tetris in hospital after a traumatic incident could prevent PTSD

Scientists conducted the research on 71 car crash victims as they were waiting for treatment at one hospital's accident and emergency department. They asked half of the patients to briefly recall the incident and then play the classic computer game, the others were given a written activity to complete. The researchers, from Karolinska Institute in Sweden and the University of Oxford, found that the patients who had played Tetris reported fewer intrusive memories, commonly known as flashbacks, in the week that followed

Rex

8/27 Measles outbreak spreads across Europe as parents shun vaccinations, WHO warns

Major measles outbreaks are spreading across Europe despite the availability of a safe, effective vaccine, the World Health Organisation has warned. Anti-vaccine movements are believed to have contributed to low rates of immunisation against the highly contagious disease in countries such as Italy and Romania, which have both seen a recent spike in infections. Zsuzsanna Jakab, the WHO's regional director for Europe, said it was "of particular concern that measles cases are climbing in Europe" when they had been dropping for years

Creative Commons

9/27 Vaping backed as healthier nicotine alternative to cigarettes after latest study

Vaping has been given an emphatic thumbs up by health experts after the first long-term study of its effects in ex-smokers. After six months, people who switched from real to e-cigarettes had far fewer toxins and cancer-causing substances in their bodies than continual smokers, scientists found

Getty Images

10/27 Common method of cooking rice can leave traces of arsenic in food, scientists warn

Millions of people are putting themselves at risk by cooking their rice incorrectly, scientists have warned. Recent experiments show a common method of cooking rice — simply boiling it in a pan until the water has steamed out — can expose those who eat it to traces of the poison arsenic, which contaminates rice while it is growing as a result of industrial toxins and pesticides

Getty Images/iStockphoto

11/27 Contraceptive gel that creates 'reversible vasectomy' shown to be effective in monkeys

An injectable contraceptive gel that acts as a 'reversible vasectomy' is a step closer to being offered to men following successful trials on monkeys. Vasalgel is injected into the vas deferens, the small duct between the testicles and the urethra. It has so far been found to prevent 100 per cent of conceptions

Vasalgel

12/27 Shift work and heavy lifting may reduce women's fertility, study finds

Women who work at night or do irregular shifts may experience a decline in fertility, a new study has found. Shift and night workers had fewer eggs capable of developing into healthy embryos than those who work regular daytime hours, according to researchers at Harvard University

Getty Images/iStockphoto

13/27 Breakfast cereals targeted at children contain 'steadily high' sugar levels since 1992 despite producer claims

A major pressure group has issued a fresh warning about perilously high amounts of sugar in breakfast cereals, specifically those designed for children, and has said that levels have barely been cut at all in the last two and a half decades

Getty Images

14/27 Fight against pancreatic cancer takes 'monumental leap forward'

Scientists have made a "monumental leap forward" in the treatment of pancreatic cancer after discovering using two drugs together dramatically improved patients' chances of living more than five years after diagnosis.

Getty Images/iStockphoto

15/27 Japanese government tells people to stop overworking

The Japanese government has announced measures to limit the amount of overtime employees can do – in an attempt to stop people literally working themselves to death. A fifth of Japan's workforce are at risk of death by overwork, known as karoshi, as they work more than 80 hours of overtime each month, according to a government survey.

Getty Images

16/27 Over-cooked potatoes and burnt toast 'could cause cancer'

The Food Standards Agency (FSA) has issued a public warning over the risks of acrylamide - a chemical compound that forms in some foods when they are cooked at high temperatures (above 120C).

Getty Images/iStockphoto

17/27 Cervical cancer screening attendance hits 19 year low

Cervical screening tests are a vital method of preventing cancer through the detection and treatment of abnormalities in the cervix, but new research shows that the number of women using this service has dropped to a 19 year low.

Getty Images/iStockphoto

18/27 High blood pressure may protect over 80s from dementia

The ConversationIt is well known that high blood pressure is a risk factor for dementia, so the results of a new study from the University of California, Irvine, are quite surprising. The researchers found that people who developed high blood pressure between the ages of 80-89 are less likely to develop Alzheimer's disease (the most common form of dementia) over the next three years than people of the same age with normal blood pressure.

Getty Images/iStockphoto

19/27 Most child antidepressants are ineffective and can lead to suicidal thoughts

The majority of antidepressants are ineffective and may be unsafe, for children and teenager with major depression, experts have warned. In what is the most comprehensive comparison of 14 commonly prescribed antidepressant drugs to date, researchers found that only one brand was more effective at relieving symptoms of depression than a placebo. Another popular drug, venlafaxine, was shown increase the risk users engaging in suicidal thoughts and attempts at suicide

Getty

20/27 'Universal cancer vaccine' breakthrough claimed by experts

Scientists have taken a "very positive step" towards creating a universal vaccine against cancer that makes the body's immune system attack tumours as if they were a virus, experts have said. Writing in Nature, an international team of researchers described how they had taken pieces of cancer's genetic RNA code, put them into tiny nanoparticles of fat and then injected the mixture into the bloodstreams of three patients in the advanced stages of the disease. The patients' immune systems responded by producing "killer" T-cells designed to attack cancer. The vaccine was also found to be effective in fighting "aggressively growing" tumours in mice, according to researchers, who were led by Professor Ugur Sahin from Johannes Gutenberg University in Germany

Rex

21/27 Green tea could be used to treat brain issues caused by Down's Syndrome

A compound found in green tea could improve the cognitive abilities of those with Down's syndrome, a team of scientists has discovered. Researchers found epigallocatechin gallate – which is especially present in green tea but can also be found in white and black teas – combined with cognitive stimulation, improved visual memory and led to more adaptive behaviour. Dr Rafael de la Torre, who led the year-long clinical trial along with Dr Mara Dierrssen, said: "The results suggest that individuals who received treatment with the green tea compound, together with the cognitive stimulation protocol, had better scores in their cognitive capacities"

22/27 Taking antidepressants in pregnancy 'could double the risk of autism in toddlers'

Taking antidepressants during pregnancy could almost double the risk of a child being diagnosed with autism in the first years of life, a major study of nearly 150,000 pregnancies has suggested. Researchers have found a link between women in the later stages of pregnancy who were prescribed one of the most common types of antidepressant drugs, and autism diagnosed in children under seven years of age

23/27 Warning over Calpol

Parents have been warned that giving children paracetamol-based medicines such as Calpol and Disprol too often could lead to serious health issues later in life. Leading paediatrician and professor of general paediatrics at University College London, Alastair Sutcliffe, said parents were overusing paracetamol to treat mild fevers. As a result, the risk of developing asthma, as well as kidney, heart and liver damage is heightened

24/27 Connections between brain cells destroyed in early stages of Alzheimer's disease

Scientists have pinpointed how connections in the brain are destroyed in the early stages of Alzheimer's disease, in a study which it is hoped will help in the development of treatments for the debilitating condition. At the early stages of the development of Alzheimer's disease the synapses – which connect the neurons in the brain – are destroyed, according to researchers at the University of New South Wales, Australia. The synapses are vital for brain function, particularly learning and forming memories

25/27 A prosthetic hand that lets people actually feel through

The technology lets paralysed people feel actual sensations when touching objects — including light taps on the mechanical finger — and could be a huge breakthrough for prosthetics, according to its makers. The tool was used to let a 28-year-old man who has been paralysed for more than a decade. While prosthetics have previously been able to be controlled directly from the brain, it is the first time that signals have been successfully sent the other way

26/27 Aspirin could help boost therapies that fight cancer

The latest therapies that fight cancer could work better when combined with aspirin, research has suggested. Scientists from the Francis Crick Institute in London say the anti-inflammatory pain killer suppresses a cancer molecule that allows tumours to evade the body's immune defences. Laboratory tests have shown that skin, breast and bowel cancer cells often generate large amounts of this molecule, called prostaglandin E2 (PGE2). But Aspirin is one of a family of drugs that sends messages to the brain to block production of PGE2 and this means cancer cells can be attacked by the body's natural defences

27/27 Potatoes reduce risk of stomach cancer

Scientists have found people who eat large amounts of white vegetables were a third less likely to contract stomach cancer. The study, undertaken by Chinese scientists at Zhejiang University, found eating cauliflower, potatoes and onions reduces the chance of contracting stomach cancer but that beer, spirits, salt and preserved foods increased a person's risk of the cancer
The final hurdle was being vetted (both alone and with his wife) by a psychiatrist, to determine John's mental state. "It was him who made me think more deeply about my motives. I started to wonder if perhaps part of it was to do with a terrible accident we had on our farm about 10 years previously, in which a young worker was electrocuted. Despite all my efforts with mouth-to-mouth, he died. Then there was my cousin who, about 40 or 50 years previously, had died after years on dialysis. Like most people awaiting kidney transplants, he was young and it felt such a wasted life."
John wonders if it might also be significant that for medical reasons, he's never been able to give blood, nor has he had lots of spare money to throw at charities. "Above all, though, I think it was the ease with which you can make a real difference. If I saw someone drowning in a pond, I would jump in, yet that would be far more risky than giving a kidney away. The fact that I'm a vet is probably relevant, too – it makes it much simpler for me to understand how easy it is to survive with one kidney, as well as how healthy, living-donor kidneys really are the 'Rolls-Royce' of kidney transplants."
When, after 18 months, he finally received the letter to say he'd passed his tests and was eligible to donate a kidney, John felt elated. "My wife was wonderfully supportive and could see that, as I've since found with other donors, there was almost an instinctive drive within me. One woman who was really quite overweight became so determined to go ahead with donating her kidney that she lost stones and is now euphoric that the operation is going ahead."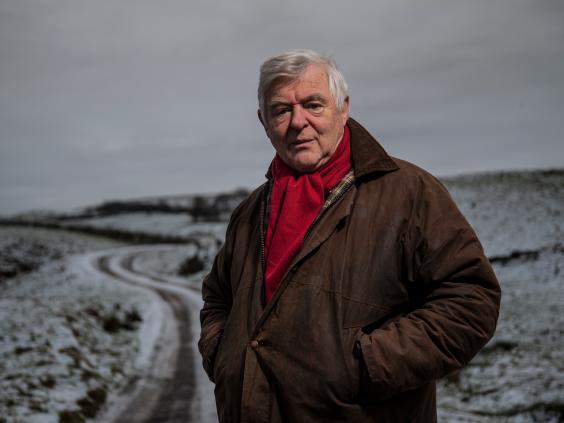 John's two daughters were also encouraging. "One is a scientist and her interest seemed to be in the technology involved in the surgery. The other one, who is an arts graduate, was initially angry, although it didn't last. I suppose she thought I was being selfish, which was probably true. I think she also felt I was taking yet another unnecessary risk. As a vet specialising in deer, I have taken more risks than many. But after the event, they were both very proud." 
In 2009, a month or two after receiving his letter, John was told doctors had found a suitable match for his tissue type and he was admitted to hospital for the surgery which, unusually, wasn't keyhole due to a slight complication relating to his blood vessels. "I didn't mind having a scar, so open surgery was no odds to me," he says. Two or three days later, he was sent home and although there was some mild discomfort and a ban on driving for a couple of weeks, he felt back to normal after just a few weeks.
While a small minority of people report post-partum blues afterwards, John says he felt nothing but an inner glow, and research shows that 80-97 per cent of altruistic kidney donors say they would have made the same decision with the benefit of hindsight. As for the health risks, a very small number of people experience pain, infection or bleeding – while the risk of dying is very low at one in 3,000. For the vast majority, there is absolutely no change in their life post-op – their lifestyle and diet are just as they were before.
Initially, John wanted to keep what he'd done a secret. "But after a while, I thought, why should I? There is a proud tradition in Britain of giving blood and if only people had on their radar the possibility of donating a kidney, they might want to do that, too, especially as it's something you can do even in your eighties to help, mostly, people in their twenties or thirties. I very quickly discovered, however, that people often think you're crazy if you say you've done it. They shy away from you. When I asked a Rotary club, whom I've been giving talks to on deer farming for years, if I could talk about kidney donation, I had absolutely no response at all. That just made me more determined, though, and we have made headway now, as well as organising many more talks to other groups."
The more it's talked about, the more it will become an accepted procedure, hopes John, who is also in talks with transplant centres and the Scottish Government as part of the campaign. "It's not that we think any laws need changing. We just want to see them flex their muscles to create a bit more flexibility around promoting it."
John does not consider himself a hero. "The real heroes are those waiting on dialysis," he insists. "It's an awful existence, with such huge dietary constraints that you can't even eat a potato. Yet within minutes of a kidney transplant, you see the colour flood back into their cheeks." µ
Reuse content