Context, invariably, is everything. And so while it will doubtless prompt much hilarity to convey that, on a bright Saturday afternoon in east London, I find myself indulging in free-form dance to the accompaniment of something called F**k It Music, let me assure that, at the time, it all seemed perfectly sensible.
I'm not the only one at it on this so-called Let Go seminar – there are 40 of us here, in an ugly office block one floor up from the Centre for Islamic Guidance, and we are each in the deeply private process of disrobing our inhibitions and doing something that general consensus tells us we don't do anywhere near enough of these days: really tuning into ourselves. When we do, what do we feel? And when we do follow our core instincts (and our core instincts speak to us for a reason), what happens then? The answer we are encouraged to come to is that we feel freer; better; liberated. Liberation is all too fleeting a sensation, says John C Parkin, the man behind the whole F**k It movement, but it doesn't have to be. "When I first came up with the idea," he tells me, "it felt like magic, really. Just say fuck it, to all sorts of situations and see what happens. The fact that it works as a therapeutic tool is, to me, mind-blowing."
And so what began as a whim has, nine years on, become something of a phenomenon. Parkin has written three books on the subject – F**k It: The Ultimate Spiritual Way, F**k It Therapy and The Way of F**k It – which between them have sold 400,000 copies, and been translated into 22 languages. The week-long F**k It retreats that he runs with his wife Gaia in her native Italy sell out months in advance. People come from all over to attend. Many return home, Parkin suggests, transformed.
The young lady I'm currently shaking my limbs alongside right now (her name is Lucy, she works in marketing) tells me that a colleague of hers attended one recently. "She was a very angry person, all the time, but came back completely chilled. Amazing, no?"
Today's seminar is a kind of pick 'n' mix self-help selection and touches upon yoga, xigong and meditation. Parkin namechecks Jung, Freud and RD Laing, he talks to us about high-functioning, multi-levelled consciousness and demonstrates through muscle testing, or kinesiology, how we can all tap into our subconscious to find out what we really believe, how we restrict ourselves and how we can learn to let go. "The truth makes us stronger," he says. "This has a huge impact on our well-being."
The 40 of us in attendance – Parkin calls us "fuckateers" – have all brought so much baggage with us, it's a wonder there's any space to sit down. Collectively, we are dealing with relationship issues, work crises, ill health. One man has anger issues; a woman worries that her critical parents are affecting her personal relationships. Some have experience in alternative therapies and self-help courses, others have been tempted through the door simply by the rude word. We range in age from early twenties to late fifties and there are several ruminative beards among us and a lot of tattoos, but fewer sandals than one might expect.
The whiff of anything even remotely new age is conspicuous by its absence. This permits many of us to unclench.
The F**k It dancing has obvious clubby comparisons, the organic equivalent of being chemically enhanced and thus uninhibited in a way that one could never be in the real world. Parkin insists that it is emboldening stuff; it peels away at our inner onions. He says that, on his retreats, people have been known to really let go: to cry, to woof and shout out with the kind of carefree abandon one normally associates with foreigners. Here, in east London, where most of us are diligently British, we employ a greater sense of reserve. No woofing, then – just a lot of wobbly legs, plenty of rocking back and forth, some yoga poses. Parkin himself indulges in a slow-motion robotic dance and he is not the only one with a beatific smile on his face. Like suddenly taking your clothes off in public, this really is surprisingly liberating.
John C Parkin used to work in the advertising game, which probably explains his chunky, zebra-striped glasses that scream: "I'm non-conformist, me!" He worked on campaigns for First Direct and Egg, and a particularly mischievous ad for Pot Noodle in which he claimed that all that monosodium glutamate was good for you.
"I always liked the idea of mucking around with people's heads," he explains when we meet three days before his Let Go seminar. We are in his publisher's office in Notting Hill, a boardroom whose corner water feature strives to create an atmosphere of serenity, but which merely sounds like a small child continually peeing. Parkin is 46 years old and bearded, his uncombed hair all too clearly unused to being told what to do. He boasts a belly that he says his brother-in-law calls "fat", and despite living in Italy, where adherence to fashion is law, he is endearingly scruffy. He was born in Nottingham to lay preacher parents, but grew up mistrustful of rigid religiosity and sought out his own spiritual path instead, immersing himself in yoga, tai chi and hypnotherapy.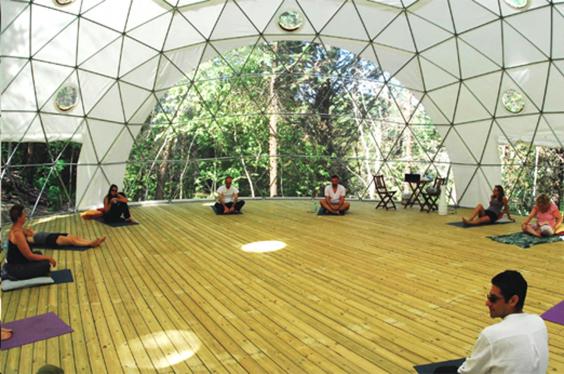 He spent time in Glastonbury, training to become a shamanic healer, and was so encouraged by how it helped fuel his creativity that he became the ad industry's go-to shaman.
"I started running these lunchtime sessions I called Parkin Labs, where I would play club music loud enough to put everyone into a trance, which would help them contact their animal power within."
He laughs uproariously, as if mocking himself before anybody else can. "Sounds freakish, I know, but it worked."
By 2001, he and his wife (also an alternative therapist) were parents to twin boys, and had relocated to Italy, where they started running idiosyncratic retreats in Umbria.
"Holistic holidays, Italian nosh", reads their first online campaign, accompanied by a picture of a woman in yoga pose, burping loudly. The burping offended many. "Oh, we got loads of letters saying how disgusting it was, ha ha!" Parkin roars. But it also attracted people who were turned off by other, more regimented retreats, the kind that demand pre-dawn sessions, vows of silence and subsisting purely on vegetables.
"I couldn't see what the problem was with starting at 10 o'clock after a hearty Italian breakfast," he says with a shrug. "And I didn't see why I couldn't both do yoga and drink wine in the evening. Ice cream, too. I like ice cream. Does that make me any less spiritual?" It was at one of these early retreats that Parkin, attempting to help a Parisian businesswoman de-stress, suggested that she might simply say "Fuck it" to her problems and see what happened.
She wrote later to say how incredibly effective the advice had been. Parkin immediately realised that he was on to something and wrote his first F**k It book, The Ultimate Spiritual Way, in a frenzy. By 2008, it was an international bestseller.
He has now updated that book, adding a further 10,000 words in which he extrapolates the idea into every area of our lives, from diet, to illness, to self-control, to fear.
This concept isn't an original one, of course, and he borrows liberally from Taoism and Buddhism and, as he admits himself, "all the colours of new-age spirituality". But what he does do – and rather niftily – is re-tune it for modern thinking. Most people have a yoga mat these days and meditation is fast becoming a daily practice in many workplaces.
Any lingering resistance people feel, he suggests, is likely due to the dogma of those Eastern origins, but then a former ad man does know how to speak to an audience. By simply employing that sonorous expletive, he is breaking down barriers and tempting the curious. Many who attend his retreats are complete newcomers.
His books are, in many ways, silly and over-irreverent; awkward jokes worthy of David Brent lurk beyond every other comma. He talks about women with "ample breasts", goat shagging and how 99 per cent of all Americans are obese because they "bin eatin' donuts again".
During the Saturday seminar, however, he comes over as far more considered and thoughtful. And though he himself has utilised the F**k It life to great effect – bestseller status has made him wealthy and given him a nice tan – there is nothing aggressively motivational about him as there is with so many of his peers. He is less Tony Robbins than he is Bagpuss. Listen quietly and it is genuine wisdom he imparts.
He asks us, at one point in the day, to fill in the ellipses in the following sentence: "In order to feel full of… I need to let go of…" The list can be as long as we want, he says. Write as much as you like. For the next five minutes, the only sound in the room is that of pen on paper, everybody scribbling furiously.
After we dance, we lie down for a final meditation, Parkin encouraging us to ponder on what we've learned and how we might use this for quieter, less driven, more contented lives. Then it's time to go.
One woman, Caroline, departs quickly, a train to catch, and elderly parents to get home to. Others stay to mingle. When I get to my bus stop a quarter of an hour later, Caroline is still there, now anxious. I commiserate, but then wonder whether I shouldn't encourage her to employ those two words we have spent all afternoon immersing ourselves in. After all, there will be more trains, and her parents aren't going anywhere.
But then the universe suddenly realigns itself to our rhythm, as can sometimes happen, and coughs up a pleasant surprise. The bus arrives.
"Oh, thank fuck for that," she says.
Well, we're all a work in progress.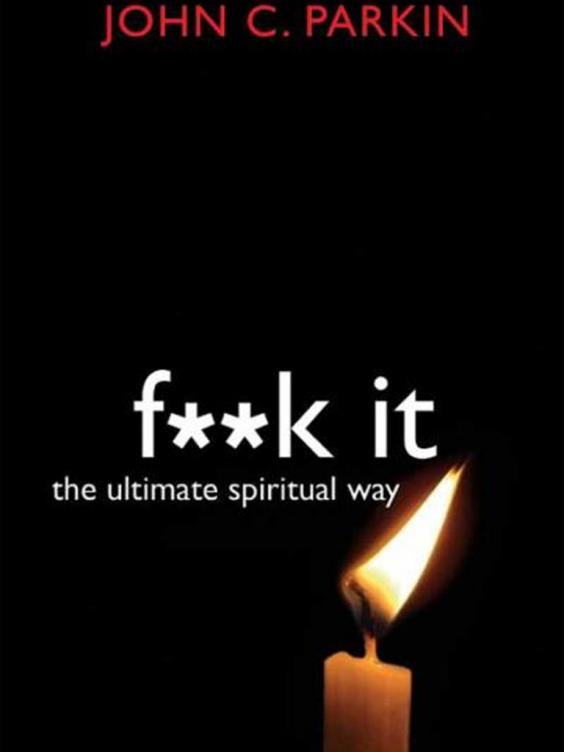 The new edition of 'F**k It: The Ultimate Spiritual Way', is published on 24 March (Hay House, £10.99)
Reuse content