After the funeral and the wake, there is the stuff. My one-time childhood home, a compact apartment in a vast 1940s block in Pimlico must now be cleared. My aunt has gone home to the United States, having got rid of all my father's clothes and recycled the gangs of empty Scotch bottles, but there's a lot still to do.
Bill himself is in an urn in a cardboard box in a corner. The box has a dull, bland presence of its own. Amazing that it contains the remains of this exceptionally unquiet person.
I left here when I was a few days shy of a year old. I saw Bill twice after that during my childhood, at four and 12, in other places: so my only memories of it are from my awkward, unhappy early twenties. After 10 years' estrangement, we got back in touch. Four months, a lunch, a dinner, a few calls and five days in hospital later, I'm left with the stuff. I'm OK with this. There's something brusquely intimate about sifting through the stuff of a life.
I find currency from 20 different countries, poker chips from 10 different London clubs. A quarter from the year he was born. A 50p from the year I was. Passports, a rolled-up dollar bill. A brass and Bakelite lamp, alluring and intimidating. A battered Chinese red lacquer trunk, a fantastic thing that smells like a charity shop's morning breath. I empty it. Soon, it fills up with other stuff. Stuff I plan to keep, sell, give away. Stuff I don't know what to do with.
Letters: some from my beautiful, formidable stepmother before she died of cancer ("Your drinking upsets and frightens me. You know this, but still you do it. Am I really not the most precious thing in your life?"). A notebook Bill kept when he was in therapy in his early twenties, before he decided he was too smart for shrinks ("Do you really think you can do me any good?... Is it possible you resent me, my brilliance?"). Photos: one of a blonde, the wife of Bill's friend, a yearning verse from Shakespeare on the back ("Hast thou no care of me?"). Pictures of holidays I wasn't on, people I don't recognise, a place I am not. A parallel universe.
An enormous fur coat, almost mauve-brown, probably baby seal. It must have hung on him like a half-mammoth. I don't want it in my house. Where is it going to go?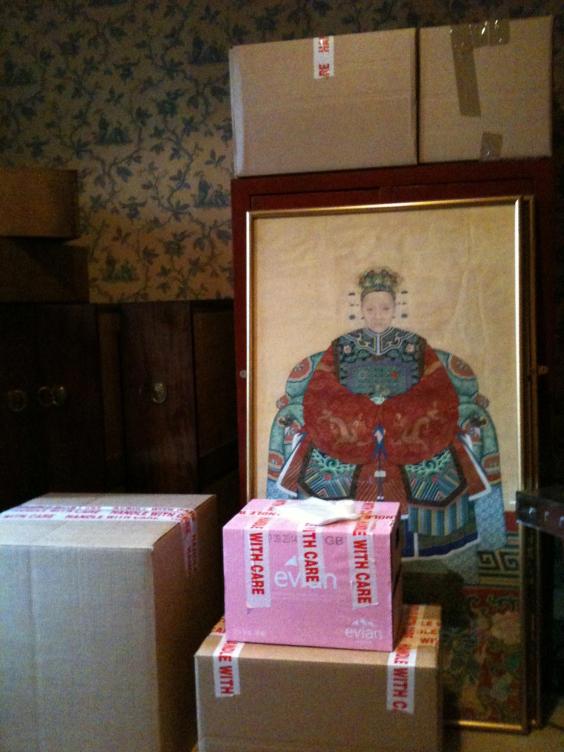 Friends come to help, shifting stuff, but most importantly keeping me suspended above it all. I wave things at them, shout "look at this", tell them scandalous stories and enjoy the looks on their faces.
Most of the people whose help I enlist are men I've been close to at some point. They happen to be the ones with cars or who know how to dismantle a Victorian armoire, but also they're men I know a bit about, who know a bit about me. In the emptying home of this man who was a stranger to me – to whom I was an achievement, a reflection, a threat – their presence is everything. When they are here, I know I'm not a ghost. I give them stuff to thank them, stuff I want them to have.
I find stacks of chunky bestselling thrillers, The Joy of Sex, sticky cookery books. Fantastic 1970s cooking implements along with new ones. This splendid big silicone omelette- flipper like an oar for eggs. Sabatier knives, skewers. I can't cook, but I recognise the value of these things. Maybe I'll learn.
A cocktail shaker, an ice bucket. He had this trick of pausing mid-sentence to take a sip of his drink, obliging you to wait for him to continue. A power thing. You will listen. The few times I ever spoke to him on the phone, if it was after midday, I would hear the tinkle of the ice cubes. I catch myself doing this sometimes, the drink thing. It works. I wish it didn't.
These things find themselves a home in my kitchen, and yet they don't sit right. Their points and angles stick out at me. These are foreign objects which know things I don't. They are not mine. You don't know what to do with me, do you?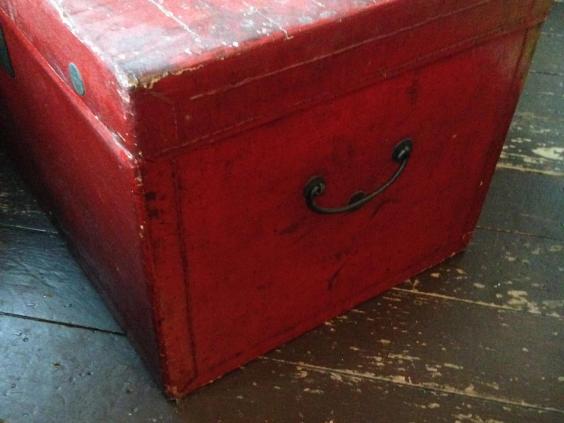 He loved to cook, people told me. It looks that way. There are amazing ingredients crammed into the cupboards, herbs and spices years out of date. I throw them all away.
Seven glass and crystal decanters. I keep two. I don't know why. I keep his stick. I know why. My one real sentimental choice. "When they come for me, which they will," he said, "I'll get 'em with my stick." It was charming, disturbing, aggressive, witty, pathetic. The thing contains the truth of him. So I keep it.
Some books I keep because it makes me laugh that he had them. Games for the Super-Intelligent; Fatherhood by Bill Cosby; and Men Who Hate Women and the Women Who Love Them. I wonder if someone bought him that one as a joke, or in seriousness, or if he bought it himself because sometimes he recognised what he was and wanted to fix it. But there was no fixing it. "Many a day has been ruined for me when someone touched me," says the notebook. "Disappointment not equal to death."
A bunch of garish designer ties. Two pairs of spectacles that might as well be ribs. They end up in the trunk. Throw them away. Why don't you throw them away?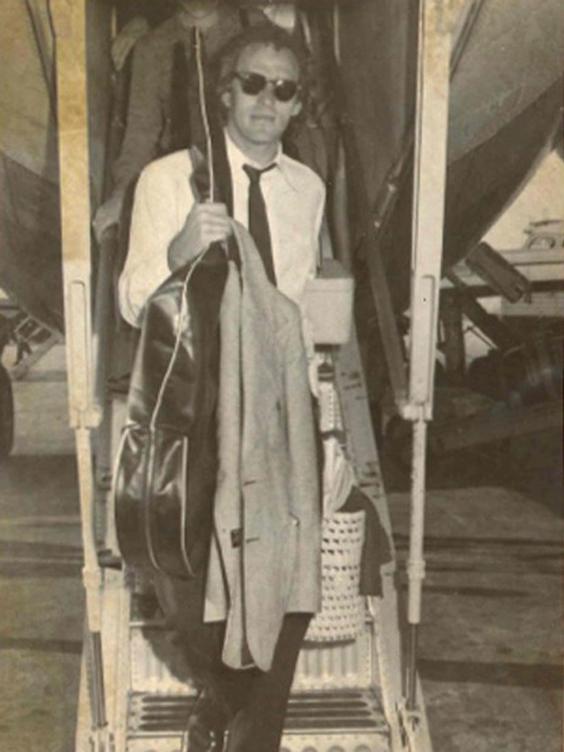 The coroner's report on my grandmother, the California beauty queen, found dead in her San Francisco apartment, December 1956. She took barbiturates, was found with a phone clutched in her hand, like Marilyn Monroe. She was 34. Bill was 15.
A box of stuff that used to be a human being. A box of my burnt DNA.
My aunt takes some of Bill to Florence with her, on the trip they had planned to take together. She goes with my sister, and they scatter bits of him all over the city, on the pavements, in the water. She says he loved to sit by the dolphins, the statue in the pool in the middle of the austere Pimlico apartment gardens – some of him should go there.
The urn is chestnut-coloured. I fumble the lid a bit and manage to get it off. The ashes are in a plastic bag inside, which surprises me. There it is. The grey, powdery stuff. I get one of his teaspoons and a sandwich bag and look at these two ridiculous, inappropriate domestic items. How much should I put in? What's suitably symbolic? Would this amount to a small organ, maybe the spleen? What does a spleen look like when you burn it until it's the same type of matter as the skin and the eyes and the nose hairs? It's not important. It is terrifically important. It's not. Some of it gets on the floor. I leave it there.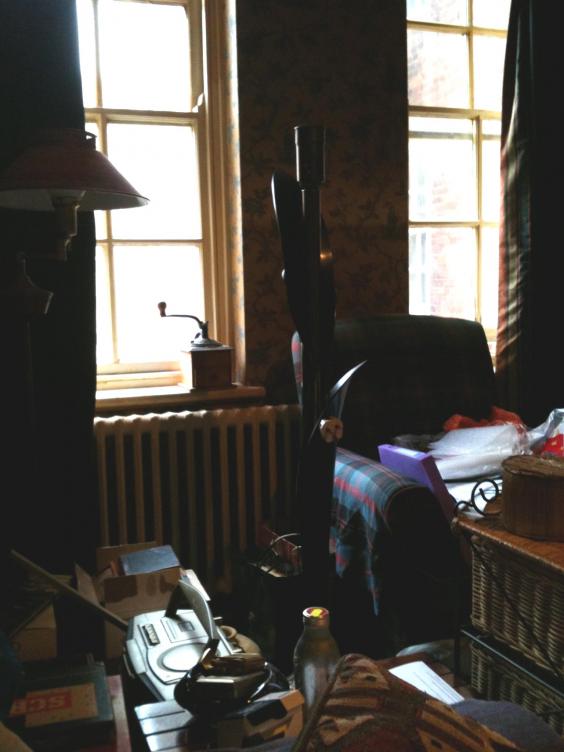 I take the sandwich bag of Bill down to the dolphins. The day is grey, the colour of ashes, the colour of the dolphins and the ground. It's windy. This is not ideal. I crouch down by one corner of the pool and glance around. No one else here – it's too chilly to sit on any of the benches. I have no sense of occasion, no thoughts in particular, just the thought that I should have some. But there aren't any, and no one's here to watch my face anyway so I don't have to arrange it in any particular way. They all thought I was so brave and stoic at the hospital, and I was happy for them to retain that impression.
I open the bag and shake out the crumbs of Bill. The little grey bits of liver and eyebrow and brain huddle together underneath the water like little grey bits of anything else would.
I go back upstairs.
We leave the remaining bulk of Bill in his box in his flat until the last load, thinking he would want to stay there. Silly. We treat him with casual reverence, gently wedge him into the back of the car among his stuff, and occasionally talk to him. It amuses us to do this. He could see out of the window, see London sparkling at night. I like him better when my friends are here. He turns into something else, becomes more manageable. We get drive-through, sit there with music on, scoffing fries, chatting. All this stuff behind us.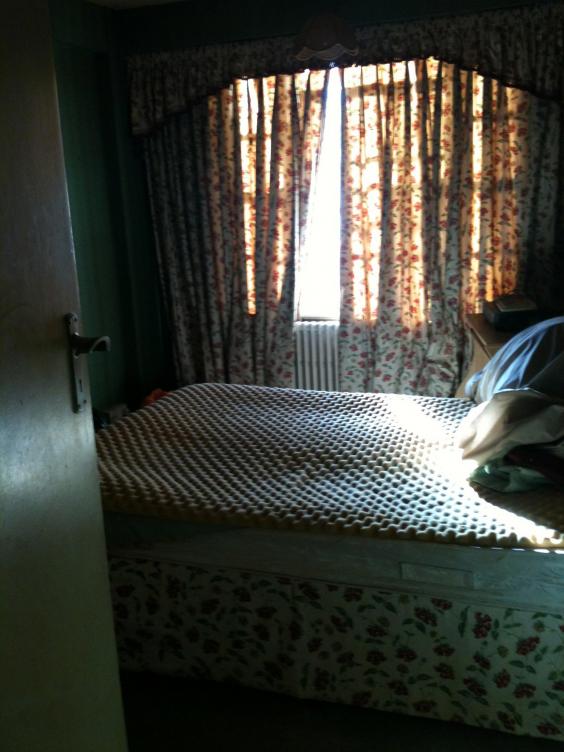 It takes me something like 10 days to clear the flat Bill rented for 37 years, which belongs to a private company. It will be gutted and refurbished in muted uniform shades and rented for what you used to call a handsome sum to a London professional who will hardly ever be there.
I leave the giant beast of a sofa and the divan bed. I never look under or inside the mattress. He was just the kind of person to hide cash in there. I make jokes about it, but I don't do it. Never mind. Maybe some clearance guy got lucky.
Stuff reveals its value in the end. The fur coat sells for £45 to an impatient man on eBay. I charge him £10 for postage. It costs £12. Whatever.
The Bakelite lamp doesn't sell and I relist it, and then I cancel the auction to sell it to a friend. How much do I want for it? You can have it for £20 or for £10 and a few beers or for nothing, because actually now I just want you to have it, and also, hey, look at these ties. There's a lot of stuff I have that has nowhere to go. I want at least some of it to find a home.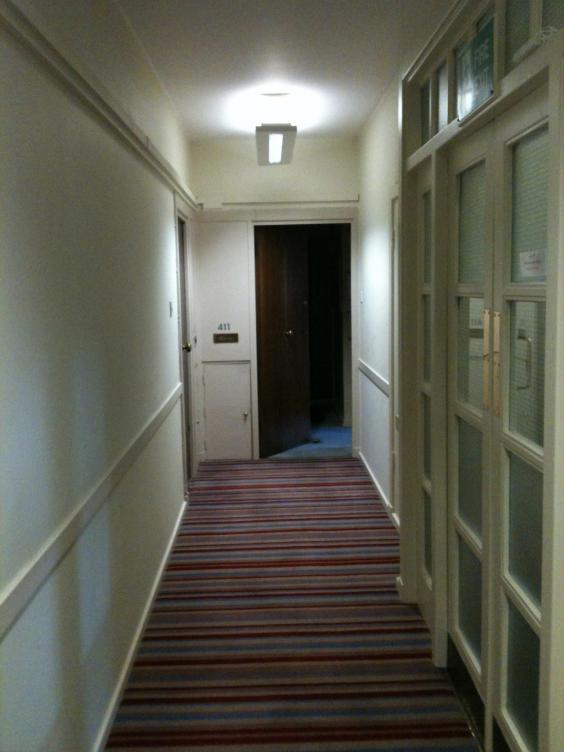 Bill is in  a bag in an urn in a cardboard box in a Chinese red lacquer trunk in my living room next to his ties and his dead mobile phone. And someone else's top hat and a load of matchbooks from London clubs. And an old Monopoly set with some of the bits missing and some other stuff that I might sell or give to someone or throw away.
Some of this stuff is beautiful and some of it is foul and dark, and some of it is mine and some is his and somewhere there must be some crossover, some stuff we shared, stuff he really wanted me to have. But we're not the sum of our stuff, wherever it comes from. We can take what we can use and leave the rest behind.
Sarah Bee's new book 'The Yes' (Andersen Press, £11.99) is out now
Reuse content