Few places embody the mounting pressure on the NHS better than Milton Keynes hospital.
The town's population has quadrupled in the past four decades and the hospital now serves a population of 300,000. Its A&E department was built to cope with 18,000 patients a year. It now sees 80,000.
"Our department is way too small for the activity that we see," department manager Jayne Skippen said during The Independent's visit yesterday. "We've tried to be imaginative with space and also introduced two new assessment cubicles, taking space from the waiting area. Space is at a premium."
The department is certainly crowded and the staff are caring but hard-pressed. Their problem is one typical of hospitals countrywide: too many patients, a large number of whom have multiple problems and need long-term care. When the hospital has done its job and fixed the bones or prescribed the drugs for these patients, too often there is nowhere for them to go for after-care. The result is patients stuck in a hospital bed for far longer than they'd like to be, which is no good for them, the hospital, or other patients requiring treatment.
Martin Wetherill, the hospital's medical director, sums up the problem. "We have between 30 and 50 patients who are fit to be discharged, but for a variety of reasons we can't get them out," he said.
"We had a survey last year, which found that, at any one time, between three and four whole wards' worth of our patients didn't need to be in an acute hospital.
"But the thing is: this place runs 24/7 – by four o'clock in the afternoon social care and anywhere else a patient could go has shut down."
Patients who need surgery will go from A&E to Ward 20, be prepared for theatre, and then return to the ward to recover. Often, they can stay there for weeks.
"Unfortunately we have one lady who has been waiting for a care package for seven weeks because the community service can't provide the carers," said Karina Scott, senior ward sister. "Although a patient in that situation might be medically fit for discharge, we have a duty of care and we can't just push them out the door. We need to make sure that that care package is in place so that they're safe when they go home."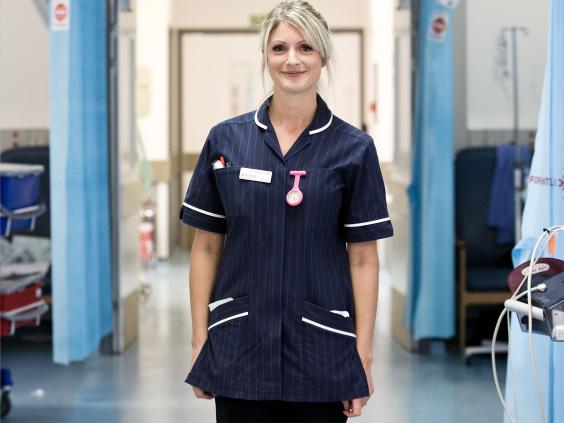 With all these patients, the only way for a hospital like Milton Keynes to carry on delivering a good level of care is to recruit more staff. This has been done, but good care costs money and, like two-thirds of the hospitals in England, Milton Keynes Hospital NHS Foundation Trust is in the red and predicting an even bigger deficit of £24.9m next year – from a total budget of £175m.
Chief executive Joe Harrison has no regrets: "We've recruited 10 per cent more doctors and 11 per cent more nursing staff into the organisation in the past two years. We've seen the outcome of organisations that haven't focused on quality," he said.
The hospital has plans to operate more efficiently – largely by working more closely with social care services such as community nurses and care homes to ensure quicker patient discharges.
But social care budgets have been squeezed severely in the past four years as well.
To bring the whole sector up to speed, Mr Harrison's priority for government spending is "start-up money" to fund new ways of working for the entire local health system – hospital, GP and social care.
"That would give us a fighting chance," he says.
If Milton Keynes were an isolated example of an NHS trust in financial trouble, it could be dismissed as a local problem. But hospital watchdogs Monitor and the Trust Development Authority last month confirmed that two-thirds of major hospitals are now in the red.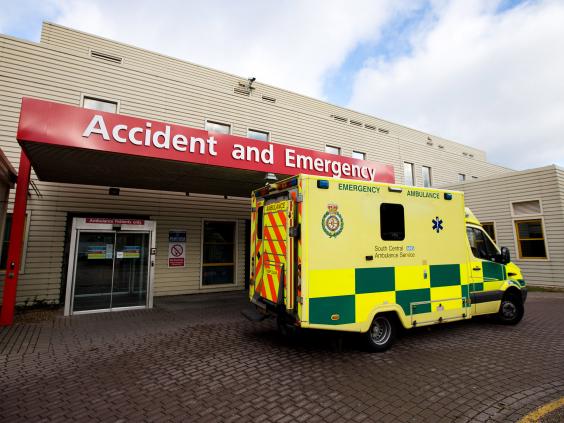 Even well-performing trusts are beginning to succumb to the pressures: rising demand and increasing numbers of elderly patients with multiple conditions is a nationwide phenomenon. Many hospitals are also saddled with debt from Private Finance Initiative contracts signed in the boom years under Labour. 
With the population set to continue growing and ageing, it is difficult to see where NHS hospitals can turn for more money. Some are beginning to look at making some patients pay their way. A growing number are offering "private patient" wards and services.
This kind of activity is – for the most part – the reserve of large teaching hospitals in major cities, predominately London, where patients tend to be richer, and a hospital has a better chance of attracting "medical tourists" – patients from overseas who are willing to pay for NHS treatment.
Imperial College Healthcare NHS Trust – which manages the hospital where Prince George was born – plans to make £39m from private patients this year, and double that annually within five years' time.
By then 7-8 per cent of the trust's income will come from paying patients. Other hospitals are also increasing their takings from private care – including the Royal Brompton, University College Hospital, Moorfield's Eye Hospital, Chelsea & Westminster and Cambridgeshire's Papworth Hospital.
In each case, the mantra is that upgraded wards and additional services for paying patients do not affect the care that non-paying patients receive. A spokesperson for Imperial said that "all profit generated is ploughed back into the Trust to improve care, services and facilities for all patients".
Although it currently only amounts to a small percentage of NHS income, the policy is raising concerns that a continued squeeze on NHS government funding will open up a two-tier system of paying- and non-paying patients.
In numbers: the NHS crisis
However, it's not an option for many NHS hospitals – there aren't many medical tourists that would make the trip down to Milton Keynes.
Mr Harrison is not adverse to allowing patients to pay for some "side-rooms" or "different levels of service".
"But we don't have a large demand it," he says. "I think we should go there, from a patient choice perspective, not a money perspective.
"Should a patient choose to have a different experience and have their own private room, I think we should facilitate that, but not at the expense of any of the other patients; driven by patient choice, not by money.
"If it makes money to reinvest in NHS, great. But there isn't a lot of demand for that here."
He has more pressing matters on his mind.
"At the moment many patients in hospital are in the wrong parts of the system, receiving the wrong types of care," he said.
"That's building in inefficiency. Whether it's delayed transfer of care, someone coming into a hospital who could be looked after at home, all of these are failures in the system."
They are failures that are putting the staff of Milton Keynes – and NHS hospitals up and down the country – under extreme pressure.
Reuse content