Blood products cannot be stored indefinitely, so a regular supply of donors is needed. Over 7,000 blood donations are taken each day, and the NHS estimate that one in four of us will need a transfusion at some point in our life.
A recent drive by the NHS Blood and Transplant service for more people to donate blood has led to the eligibility criteria for donation being scrutinised again.
Whilst there are several reasons why a person might not be able to donate blood, the most controversial involves men who have sex with men (MSM). Some feel this exclusion discriminates against gay and bisexual men, with the newly elected leader of the Lib Dems Tim Farron pledging to end the "gay blood ban".
Such is the strength of feeling among some campaigners that a group called Freedom To Donate has been established to launch a nationwide campaign on securing a review into blood donation guidelines.
The group believes that advancements in screening processes and immunisation levels since the 2011 12-month deferral decision was taken mean that it is time to review the decision.
Freedom To Donate is urging people to sign a petition calling on the UK Government to "Re-consider the current blood donation guidelines in relation to those individuals classed as MSM (Men who have had Sex with Men), CSW (Commercial Sex Workers) and Intravenous Drug Users."
Who can't give blood in the UK?
In the UK, the Safety of Blood, Tissue and Organs (SaBTO) is an expert committee that reviews the eligibility criteria for blood donations.
Reasons for excluding some people from giving blood include a possible negative impact on the donor's health and the safety of donated blood supplies.  You may not be able to donate blood for many reasons, including if you have had a serious illness or major surgery in the past, have had complicated dental work, are taking antibiotics, you are pregnant, have had acupuncture, or have had a tattoo, semi-permanent make up or any sort of body piercing in the last four months.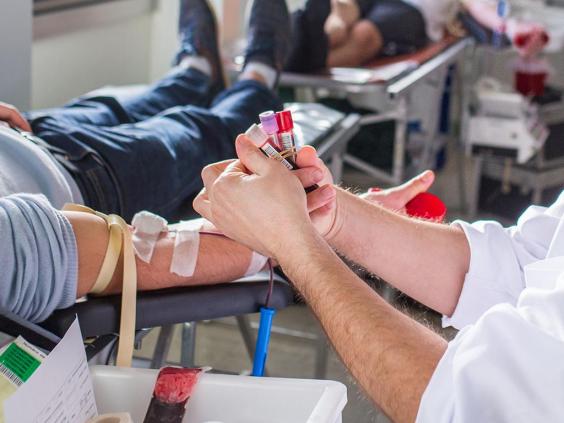 One particular group of patients that are excluded are men who have sex with men, who have engaged in sexual activity in the preceding 12 months.
A lifetime ban on MSM donating blood was initially enforced following the rise of HIV and Hepatitis B in the 1970s and 1980s. Some patients who had received blood transfusions during that time later tested positive for HIV. As the rates of these blood-borne infections (meaning they are transmitted via blood) were found to be highest in MSM, a lifetime ban was placed on these men donating blood. The lifetime ban was reviewed in 2011 and replaced with the 12-month exclusion.
Public Health England (PHE) recorded 6364 new HIV diagnoses in 2012. Of these new cases, almost two thirds were found to be in MSM within the UK. PHE's figures have repeatedly confirmed that this group of patients remains the most at risk of HIV. Almost half of all heterosexual patients who test positive for HIV are thought to have contracted the virus outside the UK.
The Terrence Higgins Trust estimate that around one in 20 gay or bisexual men in the UK is affected by HIV, and in London an estimated one in eight gay men are living with the virus.
The SaBTO committee has concerns about patients correctly identifying their own level of risk of HIV or hepatitis B. As a result they use statistical modeling to identify at-risk groups based on specific sexual practices.
Why the change to 12 months?
Guidelines were updated in 2011 because of a lack of evidence for a lifetime ban. MSM are now excluded from donating blood for 12 months following sexual activity.  This applies even if men have used condoms and includes both anal and oral sexual practices.
The governing bodies are keen to stress that this is not intended to discriminate against men and their sexuality.
Blood-borne viruses such as HIV and Hepatitis B do not show up in the blood straight away. This is often called the 'window period' between infection and detection and can vary from patient to patient. It is for that reason that an extended deferral period of 12 months was determined.
The NHS Blood and Transplant service test every blood donation for these viruses but as with all testing, 100% accuracy is not possible. This deferral period aims to ensure maximal safety of blood products.
The methods of testing for these viruses has become increasingly more sophisticated over the last three decades and this key development in medicine was pivotal to the change in criteria.
LGBT rights across the globe
LGBT rights across the globe
1/7 Russia

Russia's antipathy towards homosexuality has been well established following the efforts of human rights campaigners. However, while it is legal to be homosexual, LGBT couples are offered no protections from discrimination. They are also actively discriminated against by a 2013 law criminalising LGBT "propaganda" allowing the arrest of numerous Russian LGBT activists. (Picture: Riot police hold an LGBT activist during a Moscow rall.)

AFP/Getty

2/7 Mauritania

Men who are found having sex with other men face stoning, while lesbians can be imprisoned, under Sharia law. However, the state has not reportedly executed anyone for this 'crime' since 1987. (Picture: Chinguetti Mosque, Mauritania.)

ALAMY

3/7 Saudi Arabia

Homosexuality and transgender is illegal and punishable by the death penalty, imprisonment, corporal punishment, whipping and chemical castration. (Picture: The emblem of Saudi Arabia above the embassy in London.)

Bruno Vincent/Getty Images

4/7 Yemen

The official position within the country is that there are no gays. LGBT inviduals, if discovered by the government, are likely to face intense pressure. Punishments range from flogging to the death penalty. (Picture: Yemen's southern port of Aden.)

Getty

5/7 Nigeria

Both male and female same-sex sexual activity is illegal and in some northern states punishable with death by stoning. This is not a policy enacted across the entire country, although there is a prevalent anti-LGBT agenda pushed by the government. In 2007 a Pew survey established that 97 per cent of the population felt that homosexuality should not be accepted. It is publishable by 14 years in prison. (Picture: The northern Nigerian town of Damasak.)

Reuters

6/7 Somalia

Homosexuality was established as a crime in 1888 and under new Somali Penal Code established in 1973 homosexual sex can be punishable by three years in prison. (Picture: Families use a boat to cross a flooded Shebelle River, in Jowhar.)

Reuters

7/7 Iraq

Although same-sex relationships have been decriminalised, much of the population still suffer from intense discrimination. Additionally, in some of the country over-run by the extremist organisation Isis, LGBT individuals can face death by stoning. (Picture: Purported Isis fighters in Iraq.)

Getty Images
Isn't this discrimination against gay and bisexual men?
Some feel the exclusion criteria for blood donation is discriminatory against gay and bisexual men or MSM, as donors who practise heterosexual activities are not excluded unless they fall under other exclusion criteria.
A heterosexual man could have multiple sexual partners without practising safe sex, and continue to be eligible for blood donation. However, a gay or bisexual man who actively practises safe sex is excluded. On the surface, this does not seem fair.
Sexually transmitted infections can affect any sexually active individual, regardless of their orientation. HIV and Hepatitis B are also found in the heterosexual population. 
The LGBT rights charity Stonewall continues to push for a "fair donation system based on the real risks a potential blood donor poses".
A spokesman said: "Screening all donors by sexual behaviour rather than by sexual orientation would increase blood stocks in times of shortage and create a safer supply by giving a more accurate, non-discriminatory assessment."
It is however important to remember that these criteria apply to the sexual practices of an individual and not to their sexual orientation. They exist to try and ensure the maximal safety of blood products, and are supported by both UK and international data on blood-borne viruses.
The restrictions on MSM have also been applied to patients who have injected drugs, sex workers and for patients who have engaged in sexual activity in areas with high prevalence of HIV and Hepatitis B.
As blood products are used in patients of all ages, both acutely and chronically unwell, it is vital that they all adhere to the strictest of safety criteria.
Whilst this rule is controversial, and will continue to ignite debate, at present it is supported by medical evidence, and aims to protect all patients in their time of need.
For information on giving blood go to the NHS Blood and Transplant website.
Dr Alexandra Phelan is an NHS GP and member of the Pharmacy2u.co.uk Online Doctor Service team.
Reuse content