Over the last 10 years there has been a 360% increase in the number of vegans in the UK. No longer the preserve of hemp-wearing hippies with dreadlocks, veganism has hit the mainstream.
But one person has been particularly pioneering in expanding the reach of a vegan lifestyle - Dale Vince, the chairman of Forest Green Rovers Football Club.
Thanks to Vince, the club has been fully vegan since June 2014. That means there's no meat, fish, dairy or animal products of any kind on offer at the club, whether for players, visitors or fans.
It wasn't, however, a sudden change, but rather a gradual move.
In October 2010, just days after he became chairman of the club, Vince - a green energy tycoon and founder of Ecotricity - took red meat off the menu.
Before his arrival, players were often served lasagne before matches, but Vince thought this was a mistake as red meat is difficult to digest: "It seemed to me wrong to be feeding players something that would hinder their performance," he told The Independent.
A while later he stopped the club serving white meat, then fish, followed by milk and cheese, and by the start of the season in June 2014, the Gloucestershire club was fully vegan and has been ever since.
"Personally I'm vegan and have very strong views on the environment, animal welfare and human health," Vince explains.
Motivational quotes from Plant Built vegan athletes - in pictures
Motivational quotes from Plant Built vegan athletes - in pictures
1/6

Christine Crumbley is a 30-year-old research scientist from Houston, Texas, who specialises in studying how lifestyle and disease intersect. "Take the time to learn how to cook vegan food, including learning how to press tofu, how to combine different spices to create different flavors, and how to prepare vegetables in new and interesting ways. The best approach for us is weekly meal prep. I reheat food, and all the ingredients for lunches is already prepared. I save money by not going out to eat every time I'm tired."

Plant Built

2/6

Erin Fergus, 33, is Plant Built's women's bodybuilding team captain and the Academic Program Director of the Personal Training Department at Greenville Technical College. "Most people not only don't know just how many non-animal protein sources exist, but they also think that they need more than they actually do and/or don't understand its function in our bodies (hint: it's doesn't give you energy, fuel or power.)"

Plant Built

3/6

Jason Patton is a 33-year-old powerlifter from Portland, Oregon. He is a project specialist for the Oregon Pediatric Society. "Going vegan is a behavioral change. Like all behavioral changes it is not instantaneous, and it can be extremely easy to get side-tracked. It is important to create a social life where you are engaged with other vegans. Secondly, educate yourself, and receive the education others try to teach you. Learn how to make healthy life choices within your veganism."

Plant Built

4/6

Jason Morgan is 35-years-old, and lives in Dayton, Ohio. He is a diet technician. "Don't be afraid to challenge the status quo. I was too old, a vegan, and had too many kids when I started lifting at the age of 31, but it hasn't stopped me from competing in the sports that I value, Strongman and powerlifting. I've competed in USA Powerlifting, and North American Strongman as a 105kg/231kg drug free competitor in the open classes."

Plant Built

5/6

Scott Green is a 40-year-old personal trainer, kettlebell sports coach and martial arts instructor in Los Angeles. "I grew up in the punk and hardcore subculture. At age 14, I made a lifelong commitment to being straightedge, which means abstaining from drugs and alcohol. That exposed me to vegan straightedge bands. When I went vegetarian, it was more about trying to be healthier, but when I went vegan, it was for the animals. Trying to do less harm in the world brings peace within myself. I've never looked back."

Plant Built

6/6

Carolyn Napier, 30, is a CrossFit trainer and realtor from Oklahoma. "Being vegan isn't hard nor is it more expensive. I think those are the two biggest misconceptions. It is all really simple and there are so many companies these days that make faux meats, cheeses and desserts that it makes some of those comfort foods really accessible without causing any harm to the animals."

Plant Built
"I couldn't be involved in something that was catering that kind of menu, but rather than do it in one go we went on a journey with our fans."
And it turned out the fans were surprisingly OK with the decision.
"A few got a bit angry and thought we were dictating to them what they could and couldn't eat," Vince says. "But we just explained that we were changing the menu according to our principals."
Despite traditional football match fare consisting of burgers and beers, there was relatively little backlash to the decision, but it was the initial removal of red meat from the menu that garnered the biggest reaction.
"Typically football food is hideous," Vince believes. "Burgers are really awful. They're the most awful parts of an animal and are really unappealing products that are cheap as dirt. We've replaced them with really high quality plant-based food."
Considering home games are just two hours once a fortnight, it's not too much to ask of even the biggest meat-eater. "For those that are really bothered they can bring their own ham sandwiches," Vince suggests.
He was simply trying to introduce a new kind of food to football that most fans hadn't tried before. "We didn't focus on what was not in the food but the food itself and how good it tastes," Vince explains.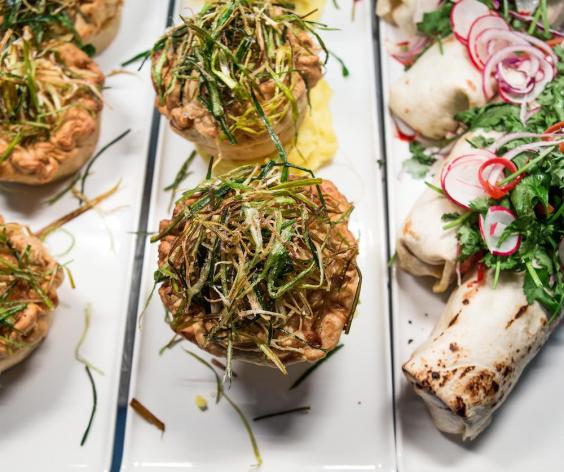 Forest Green Rovers fans can now expect to enjoy veggie burgers ("our fans have really taken to them"), wraps and falafel when they come to matches. 
There are still pies too - one of Vince's favourites is a vegan Quorn pie encased in vegan pastry, served on a bed of mashed potato, surrounded by peas and topped with fried, shredded leeks and gravy. "It's the most amazing dish," he says.
Some FGR fans have even become vegetarians since the club took meat off the menu, which Vince is obviously thrilled about: "They've told us it's changed their lives," he says.
But what about the players? Could vegan fare give them enough sustenance to run around a football pitch?
According to Vince, after being convinced of the performance benefit of eating vegan before a match, the players were "completely on board."
It was a surprising move though: "It's fairly widely known that red meat is bad for performance and it isn't uncommon for top athletes to avoid it, but it's less common in football and particularly at the level Forest Green is at, in the fifth league," he explains.
Before Vince arrived, no one had put much thought into the players' diets. Now, however, the footballers are given a simple, carb-heavy meal two to three hours before a match - a pasta dish or jacket potatoes with baked beans, for example.
Vince accepts that it's hard to quantify how much of an impact the diet change has had on the team's performance because there are so many factors at play - they've had zero injuries this season though, which is unusual.
He believes the players are definitely benefitting from going vegan though, and points out that Manchester City striker Sergio Aguero credits his success with turning vegetarian.
Vince is thrilled that the club's fortunes haven't been affected by the new menu: "People thought we'd kill the non-football side of the club and no one would book conferences or events, we'd lose sponsors and fans would stop coming but none of that happened."
In fact, he says the people that were most vocal against the change are now the ones who are the biggest advocates of the new food.
As a man committed to green energy, football is his latest frontier. 
Reuse content