Some new parents are putting their babies at risk of infection buy buying breast milk over the internet as a "dangerous" new online market emerges, experts have said.
Internet forums where parents can buy and sell breast milk have become increasingly popular in both the USA and more recently the UK.
Breast milk is the healthiest option for a baby's development, but many mothers choose not to breastfeed and a small number are unable to do so.
Although the scale of online breast milk selling in the UK is not known, forums exist where mothers sell their excess milk for a range of prices such as £1 for a fluid ounce, or £5 for 100ml.
Websites such as onlythebreast.co.uk offer a forum for mothers to sell or donate their milk, with headings such as "Dairy-free breast milk for sale – Dagenham".
Sellers usually add a small profile about themselves with details such as whether they drink alcohol or caffeine, smoke or take drugs. It also features buyers' listings, with the biggest category by far headed "men wanting milk".
Other forums for sharing milk include a Facebook group, "Human Milk 4 Human Babies".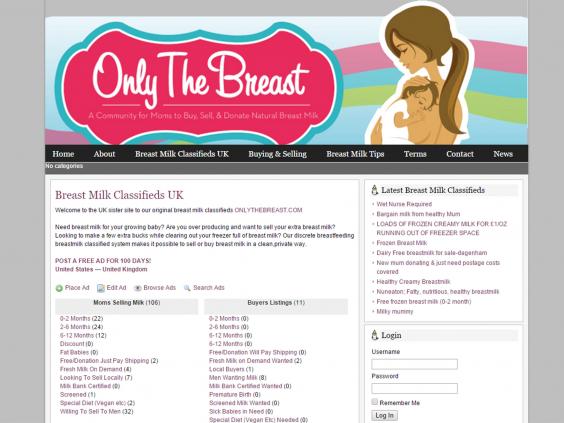 But today a group of maternity experts writing in the British Medical Journal warn that online forums offered no guarantees over safety.
Online sellers are not required to undergo any screening for viruses such as HIV or hepatitis B and C, they write, nor is breast milk sold online likely to have been pasteurised.
Storage and shipping also carries high risks of contamination by harmful bacteria, with one study showing that 25 out of 102 breast milk samples ordered had arrived in damaged containers and no longer frozen.
The UK does have a network of carefully regulated milk banks, which provide free breast milk from donor mothers to premature or very sick babies in hospital, but these do not routinely supply milk to mothers who are having trouble breastfeeding. 
"When breast milk is screened and treated appropriately… it remains second to a mother's own milk as best for infant feeding," the experts write in the BMJ.
"At present milk bought online is a far from ideal alternative, exposing infants and other consumers to microbiological and chemical agents. Urgent action is required to make this market safer."
The authors, Sarah Steele, an expert in public health at Queen Mary University, and GP Dr Jens Foell, said that health professionals needed to be more aware of the online market, and prepared to advise new parents about the risks.
There is a small number of adult consumers of human breast milk, they said, including cancer patients, gym users and fetishists, but the most common buyers were parents seeking it as a supplement or the sole source of nutrition for their babies. Some have claimed that breast milk is beneficial in the treatment of cancer or a good source of protein for bodybuilders but there is no reliable evidence for either claim. 
Experts from the two major bodies that regulate milk banks – the European Milk Banking Association and the Human Milk Banking Association of North America – have also expressed concern over the growing phenomenon of "milk-sharing" online.
Gillian Weaver, manager of the world's longest running milk bank, at Queen Charlotte's and Chelsea Hospital in London, said that extensive screening of donor mothers and testing of milk was required to ensure the safety of supplies.
"We advise all parents to be aware of the risks involved in feeding a baby with another mother's milk and before doing so to consult a qualified healthcare professional," she said.
Reuse content