Roasting and frying starchy foods could increase the risk of cancer, a Government body has said.
The Food Standards Agency (FSA) has issued a public warning over the risks of acrylamide - a chemical compound that forms in some foods when they are cooked at high temperatures (above 120C).
A new campaign tells people how they can cut their risk, including opting for a gold colour - rather than darker brown - when frying, roasting, baking, grilling or toasting.
Acrylamide is found in high levels in a range of foods including breakfast cereals (not porridge), chips, potato products (such as waffles or children's potato shapes), biscuits, crackers, crispbread and crisps.
It is also found in coffee, cooked pizza bases, black olives and cereal-based baby foods.
Root vegetables including potatoes, sweet potatoes, beetroot, turnip, swede and parsnips can all carry high levels of the compound once they have been roasted or fried until darker brown or crispy. As well as high temperatures, long cooking times can increase levels of acrylamide even further.
Foods such as skinny fries and crisps appear to have the highest levels.
Acrylamide forms due to a chemical reaction between certain sugars and an amino acid (asparagine) in the food.
However, boiling, steaming and microwaving appear far less likely to cause the reaction.
Studies in mice have shown that high levels of acrylamide can cause neurological damage and cancer.
While studies in humans have proved inconclusive, experts believe the compound has the ability to cause cancer in humans.
The US Environmental Protection Agency has said acrylamide is "likely to be carcinogenic to humans" and the International Agency for Research on Cancer (IARC), part of the World Health Organisation, says it is a "probable human carcinogen".
In its new campaign, the FSA said people could take simple steps to reduce their consumption of acrylamide.
As a "rule of thumb", people should aim for a golden yellow colour or lighter when frying, roasting, baking or toasting starchy foods.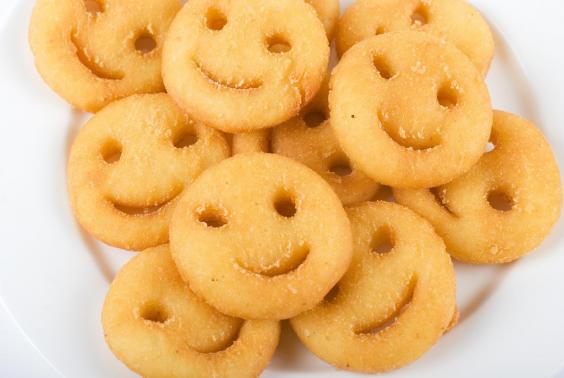 For example, roast potatoes should not be "fluffed up" to maximise dark brown crispy bits and they should be roasted to the lightest colour that is acceptable. Toast should also be browned to a light brown colour.
People are being told to follow the cooking instructions on packaging to ensure foods are not cooked for too long or at too-high temperatures.
They should also stick to a varied, balanced diet to reduce their overall risk of cancer.
The FSA said people should not keep potatoes in the fridge, which can increase overall levels of acrylamide. Instead, raw potatoes should be stored in a dark, cool place with temperatures above 6C.
Evidence also shows the longer potatoes are kept, the more acrylamide can form.
Steve Wearne, director of policy at the FSA, said manufacturers had already taken steps to cut the levels of acrylamide in foods, but it was time for consumers to be made more aware of the risks. He said studies showed babies, children and adults in the UK consumed too much acrylamide from food.
He added: "We are not saying people should worry about the occasional meal... this is about managing risk over a lifetime.
"Anything you can do to reduce your exposure will reduce your lifetime risk.
"People might, for example, think 'I like my roast potatoes crispy', but they will just decide to have them less often."
Other examples of ways to cut acrylamide include having chunky chips on occasion rather than fries.
Cutting potatoes into larger wedges reduces their surface area, thereby cutting down the level of acrylamide that can form. Crinkle-cut chips are worse than normal chips as they have a larger surface area.
Gavin Shears, a senior policy adviser in contaminants at the FSA, said: "We are not expecting people to go out and radically change their diets if they're eating a healthy balanced diet.
Health news in pictures
Health news in pictures
1/19 Vaping backed as healthier nicotine alternative to cigarettes after latest study

Vaping has been given an emphatic thumbs up by health experts after the first long-term study of its effects in ex-smokers. After six months, people who switched from real to e-cigarettes had far fewer toxins and cancer-causing substances in their bodies than continual smokers, scientists found

Getty Images

2/19 Common method of cooking rice can leave traces of arsenic in food, scientists warn

Millions of people are putting themselves at risk by cooking their rice incorrectly, scientists have warned. Recent experiments show a common method of cooking rice — simply boiling it in a pan until the water has steamed out — can expose those who eat it to traces of the poison arsenic, which contaminates rice while it is growing as a result of industrial toxins and pesticides

Getty Images/iStockphoto

3/19 Contraceptive gel that creates 'reversible vasectomy' shown to be effective in monkeys

An injectable contraceptive gel that acts as a 'reversible vasectomy' is a step closer to being offered to men following successful trials on monkeys. Vasalgel is injected into the vas deferens, the small duct between the testicles and the urethra. It has so far been found to prevent 100 per cent of conceptions

Vasalgel

4/19 Shift work and heavy lifting may reduce women's fertility, study finds

Women who work at night or do irregular shifts may experience a decline in fertility, a new study has found. Shift and night workers had fewer eggs capable of developing into healthy embryos than those who work regular daytime hours, according to researchers at Harvard University

Getty Images/iStockphoto

5/19 Breakfast cereals targeted at children contain 'steadily high' sugar levels since 1992 despite producer claims

A major pressure group has issued a fresh warning about perilously high amounts of sugar in breakfast cereals, specifically those designed for children, and has said that levels have barely been cut at all in the last two and a half decades

Getty Images

6/19 Fight against pancreatic cancer takes 'monumental leap forward'

Scientists have made a "monumental leap forward" in the treatment of pancreatic cancer after discovering using two drugs together dramatically improved patients' chances of living more than five years after diagnosis.

Getty Images/iStockphoto

7/19 Japanese government tells people to stop overworking

The Japanese government has announced measures to limit the amount of overtime employees can do – in an attempt to stop people literally working themselves to death. A fifth of Japan's workforce are at risk of death by overwork, known as karoshi, as they work more than 80 hours of overtime each month, according to a government survey.

Getty Images

8/19 Over-cooked potatoes and burnt toast 'could cause cancer'

The Food Standards Agency (FSA) has issued a public warning over the risks of acrylamide - a chemical compound that forms in some foods when they are cooked at high temperatures (above 120C).

Getty Images/iStockphoto

9/19 Cervical cancer screening attendance hits 19 year low

Cervical screening tests are a vital method of preventing cancer through the detection and treatment of abnormalities in the cervix, but new research shows that the number of women using this service has dropped to a 19 year low.

Getty Images/iStockphoto

10/19 High blood pressure may protect over 80s from dementia

The ConversationIt is well known that high blood pressure is a risk factor for dementia, so the results of a new study from the University of California, Irvine, are quite surprising. The researchers found that people who developed high blood pressure between the ages of 80-89 are less likely to develop Alzheimer's disease (the most common form of dementia) over the next three years than people of the same age with normal blood pressure.

Getty Images/iStockphoto

11/19 Most child antidepressants are ineffective and can lead to suicidal thoughts

The majority of antidepressants are ineffective and may be unsafe, for children and teenager with major depression, experts have warned. In what is the most comprehensive comparison of 14 commonly prescribed antidepressant drugs to date, researchers found that only one brand was more effective at relieving symptoms of depression than a placebo. Another popular drug, venlafaxine, was shown increase the risk users engaging in suicidal thoughts and attempts at suicide

Getty

12/19 'Universal cancer vaccine' breakthrough claimed by experts

Scientists have taken a "very positive step" towards creating a universal vaccine against cancer that makes the body's immune system attack tumours as if they were a virus, experts have said. Writing in Nature, an international team of researchers described how they had taken pieces of cancer's genetic RNA code, put them into tiny nanoparticles of fat and then injected the mixture into the bloodstreams of three patients in the advanced stages of the disease. The patients' immune systems responded by producing "killer" T-cells designed to attack cancer. The vaccine was also found to be effective in fighting "aggressively growing" tumours in mice, according to researchers, who were led by Professor Ugur Sahin from Johannes Gutenberg University in Germany

Rex

13/19 Green tea could be used to treat brain issues caused by Down's Syndrome

A compound found in green tea could improve the cognitive abilities of those with Down's syndrome, a team of scientists has discovered. Researchers found epigallocatechin gallate – which is especially present in green tea but can also be found in white and black teas – combined with cognitive stimulation, improved visual memory and led to more adaptive behaviour. Dr Rafael de la Torre, who led the year-long clinical trial along with Dr Mara Dierrssen, said: "The results suggest that individuals who received treatment with the green tea compound, together with the cognitive stimulation protocol, had better scores in their cognitive capacities"

14/19 Taking antidepressants in pregnancy 'could double the risk of autism in toddlers'

Taking antidepressants during pregnancy could almost double the risk of a child being diagnosed with autism in the first years of life, a major study of nearly 150,000 pregnancies has suggested. Researchers have found a link between women in the later stages of pregnancy who were prescribed one of the most common types of antidepressant drugs, and autism diagnosed in children under seven years of age

15/19 Warning over Calpol

Parents have been warned that giving children paracetamol-based medicines such as Calpol and Disprol too often could lead to serious health issues later in life. Leading paediatrician and professor of general paediatrics at University College London, Alastair Sutcliffe, said parents were overusing paracetamol to treat mild fevers. As a result, the risk of developing asthma, as well as kidney, heart and liver damage is heightened

16/19 Connections between brain cells destroyed in early stages of Alzheimer's disease

Scientists have pinpointed how connections in the brain are destroyed in the early stages of Alzheimer's disease, in a study which it is hoped will help in the development of treatments for the debilitating condition. At the early stages of the development of Alzheimer's disease the synapses – which connect the neurons in the brain – are destroyed, according to researchers at the University of New South Wales, Australia. The synapses are vital for brain function, particularly learning and forming memories

17/19 A prosthetic hand that lets people actually feel through

The technology lets paralysed people feel actual sensations when touching objects — including light taps on the mechanical finger — and could be a huge breakthrough for prosthetics, according to its makers. The tool was used to let a 28-year-old man who has been paralysed for more than a decade. While prosthetics have previously been able to be controlled directly from the brain, it is the first time that signals have been successfully sent the other way

18/19 Aspirin could help boost therapies that fight cancer

The latest therapies that fight cancer could work better when combined with aspirin, research has suggested. Scientists from the Francis Crick Institute in London say the anti-inflammatory pain killer suppresses a cancer molecule that allows tumours to evade the body's immune defences. Laboratory tests have shown that skin, breast and bowel cancer cells often generate large amounts of this molecule, called prostaglandin E2 (PGE2). But Aspirin is one of a family of drugs that sends messages to the brain to block production of PGE2 and this means cancer cells can be attacked by the body's natural defences

19/19 Potatoes reduce risk of stomach cancer

Scientists have found people who eat large amounts of white vegetables were a third less likely to contract stomach cancer. The study, undertaken by Chinese scientists at Zhejiang University, found eating cauliflower, potatoes and onions reduces the chance of contracting stomach cancer but that beer, spirits, salt and preserved foods increased a person's risk of the cancer
"If you slightly overdo your roast potatoes on a Sunday, it's not that you have to throw them away. We're not asking people to cut out certain foods.
"This is about reducing your overall lifetime risk through simple steps."
There are no official limits on how much acrylamide a food can contain, although the EU has drawn up guidelines.
The international expert scientific committee known as JEFCA has said acrylamide intake from food is a "human health concern" and levels should be as low as possible.
PA