Too many elderly people are being left thirsty in care homes, doctors have said, after a study revealed five times as many patients who live in homes are admitted to hospital dehydrated as those who live at their own residence.
An analysis of more than 21,000 admissions to two north London hospitals found that 12 per cent of patients over the age of 65 who were admitted from care homes had high sodium levels – a clear sign of dehydration.
The figure for patients who lived at home was just one per cent.
High sodium levels caused and dehydration – known as hypernatraemia – can have severe consequences, particularly for elderly patients, putting them at greater risk of heart attacks and pneumonia.
Patients who arrive at hospital dehydrated are also more likely to die during their stay, previous studies have shown.
The increasing strain on NHS resources
The new study looked at patients admitted to Barnet Hospital and Chase Farm Hospital between 2011 and 2013. Among 38 care homes in the area, researchers identified at least two from which a high number of residents had been admitted to hospital dehydrated, and alerted the Care Quality Commission (CQC).
Dr Anthony Wolff, of the Royal Free Hospital, who led the research said that dehydration in care homes was leading to "unnecessary loss of life" and raised questions over the care patients were receiving.
"This is 38 nursing homes. It is inconceivable this is just a local issue. We need to raise awareness that this could be a problem in any nursing home," he said. 
Dr Wolff declined to name the homes that raised concerns.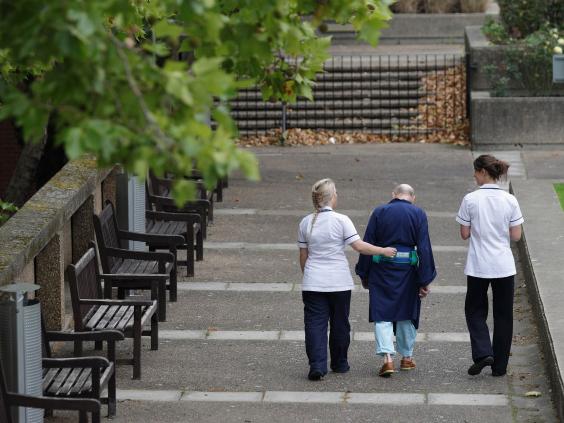 The study, published in the Journal of the Royal Society of Medicine, recounts anecdotal evidence of staff not offering enough water in some care homes. In some cases this may be done on purpose to prevent incontinence, the authors said.
"They may do that with the best of intentions and in fact individual patients may not want to drink too much because they don't want to get up at night and don't want to be incontinent," said Dr Wolff. However, the risks of dehydration far outweighed the benefits of this approach, he added.
Care home residents were more likely to be older and have dementia, the researchers said, which would have increased the likelihood that they did not get enough to drink, but even when these factors were excluded, care home residents were still five times more likely than others to be dehydrated.
Dr Wolff said GPs should be informed if their patients came to hospital dehydrated, and if several patients from the same care home were admitted dehydrated, hospitals should alert the CQC.
The CQC said ensuring residents get enough food and drink was central to their inspections of care homes.
Deputy chief inspector of adult social care in London, Sally Warren, said information on dehydration supplied by Dr Wolff had been shared with local inspectors.