More people now die from dementia than heart disease in England and Wales.
Alzheimer's Disease and other forms of dementia were the leading cause of death last year, according to new figures from the Office for National Statistics (ONS).
In 2015, dementia claimed more than 61,000 lives and accounted for 11.6 per cent of recorded deaths.
Around twice as many women than men died of the brain condition, which mainly affects people over 65.
Coronary heart disease – the number one cause of death worldwide – was responsible for 11.5 per cent of deaths registered in 2015 and is still the leading cause of death for men.
This change is "in part because people are simply living longer but also because of improved detection and diagnosis," said ONS statistician Elizabeth McLaren.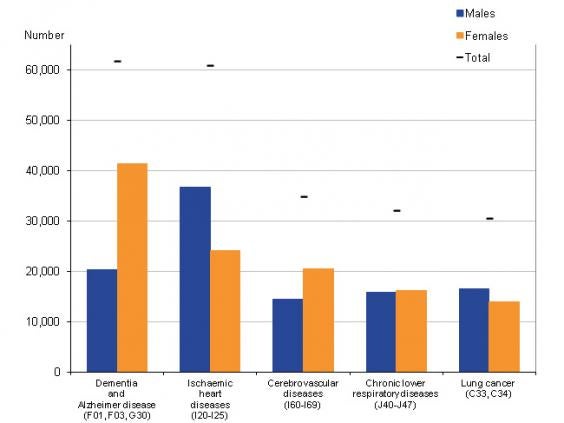 Among women, dementia and Alzheimer's disease account for 15.2 per cent of deaths, up from 13.4 per cent in 2014.
Deaths among men attributed to dementia also increased last year to 7.9 per cent. This is likely due to longer life expectancy among men, according to the ONS.
Six ways to help reduce the risk of dementia
Six ways to help reduce the risk of dementia
1/6 Moderate, regular exercise

Last year, a study found that walking briskly for 30 to 40 minutes a day, three times a week, was all it took to "re-grow" structures of the brain linked with cognitive decline in later life. Researchers have also said statins, designed to help those with heart conditions, may play an additional role in protecting the brain from dementia.

Getty Images

2/6 Quit smoking

A review of studies relating smoking and dementia found that (when you remove studies funded by the tobacco industry) smokers have a significantly greater risk of dementia.

Getty

3/6 Protect your head

A variety of observational studies have shown that professional boxers and war veterans are at greater risk of dementia due to repeated concussion and traumatic head injuries.

Rex

4/6 Puzzles and crosswords

In 2010, studies suggested people who do puzzles and crosswords may stave off dementia for longer. However, the same study also found they may experience a more rapid decline once the disease sets in. Crosswords and Puzzles from The Independent can be solved here

Getty Images

5/6 A healthy lifestyle

Dr Laura Phillips of Alzheimer's Research UK says a healthy lifestyle is best for preventing dementia: "Eating a balanced, healthy diet, exercising regularly, not smoking, and keeping blood pressure and weight in check."

Getty

6/6 A Mediterranean diet

Research has suggested that a Mediterranean diet – rich in fish, fresh fruit and vegetables, whole grains, nuts and seeds – may reduce the risks of dementia.  However NHS Choices has rpeviously warned some of the media coverage of this diet may overstate its benefits.

Rex
The average age of the UK population is increasing and the number of people living for more than 100 years has risen by 65 per cent in the last decade.
There were half a million people aged 90 and over living in the UK in 2015.
Martina Kane, Senior Policy Officer at Alzheimer's Society, called the news "a stark reminder that dementia remains a growing concern across the country."
"While the news represents improvements in diagnosis rates, general awareness and the accuracy of reporting, it also reflects that there are rising numbers of people with dementia," she said.
"While there remains no cure for the condition, everyone who develops it will sadly still have the disease when they die. It is therefore essential that people have access to the right support and services to help them live well with dementia and that research into better care, treatments and eventually a cure remain high on the agenda."
Reuse content