After Ebola scares shut down a walk-in centre in Coventry and reportedly "panicked" staff at a London A&E over the weekend, officials have insisted the UK is well-prepared to deal with any cases.
Emergency drills have been staged using actors to play Ebola patients and enhanced screening for the deadly disease is being introduced at major airports.
Several isolation units have been prepared to handle patients, hospitals are on alert and immigration centres, universities and other places that could see visitors from affected countries have also been given guidance on spotting symptoms.
Dr Brian McCloskey, director of global health at Public Health England, said in the event of any new cases, isolation protocols and protections would stop the spread.
"It is important to remember that for Ebola to be transmitted from one person to another contact with blood or other body fluids are needed," he added.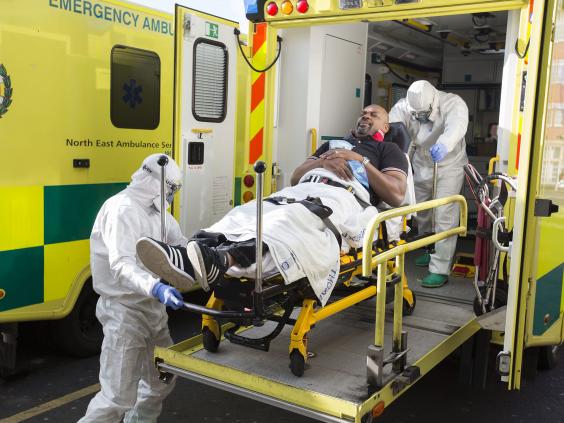 "As such, if England was to see a case of Ebola this will not result in an outbreak here.
"Our robust, well-developed and well-tested NHS systems for managing unusual infectious diseases are…proven to be effective."
Public Health England has drawn up plans for all hospitals, walk-in centres and GP surgeries on how they should treat a suspected Ebola patient.
What happens if someone with Ebola visits a GP surgery?
If someone with the symptoms of Ebola visits a walk-in centre, GP or seeks other primary care, doctors will assess the main risk factors.
Anyone with a fever over 38C and who has visited the affected countries of Guinea, Liberia, Sierra Leone, Nigeria or Senegal in the last 21 days will be put under protective measures.
This is also the case for someone with a fever who has not visited those countries but has come into contact with an infected person, bodily fluids or soiled clothes.
The possible Ebola patient would be removed from the waiting room and put an isolated side room as urgent clinical advice is sought from specialists. Staff would wear protective equipment including gloves and masks.
He or she would then be transferred to hospital in a special ambulance for tests to confirm whether the person has Ebola or another disease.
All rooms and facilities they had been in contact with would then be decontaminated.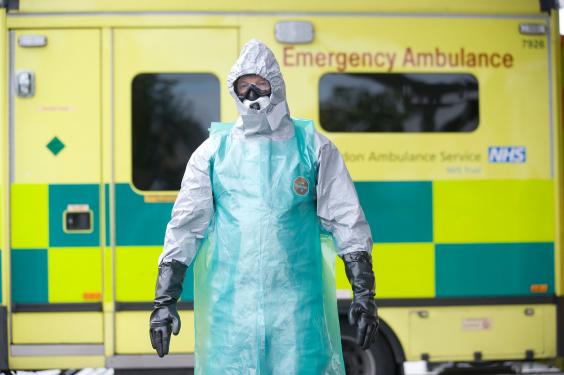 What if an Ebola patient arrives at A&E?
A suspected Ebola patient could be transferred to an acute hospital's emergency department from a GP surgery, by ambulance or walk in of their own accord.
They would be isolated in the circumstances listed above and questioned by staff wearing protective suits to establish their travel history, symptoms and anyone else they have been in contact with.
The suspected case would then be discussed with a specialist and tests carried out for Ebola as well as malaria and other diseases to eliminate all possibilities.
While tests were being carried out the Imported Fever Service and local health protection team would be informed to ensure all precautions were being taken.
See the Ebola outbreak mapped
See the Ebola outbreak mapped
1/7 25 March 2014

This outbreak of the Ebola virus first emerged in the Guéckédou region of Guinea, at a crossroads with both Liberia and Sierra Leone

2/7 31 March

On 31 March the WHO confirmed the outbreak was now international, spreading first into Liberia's northern-most Lofa region

3/7 27 May

The virus spread to Sierra Leone at the end of May - just as agencies were hoping the worst was over

4/7 27 July

In Sierra Leone the virus boomed, and then it spread to Nigeria when the Liberian diplomat Patrick Sawyer flew from Monrovia to Lagos

5/7 9 August

The Nigeria cases sparked fears around the world, and there have now been deaths in Spain and Saudi Arabia involving people who had travelled to West Africa. The numbers of cases continue to rise

6/7 17-20 September

In mid-September, Senegal confirmed its first case linked to the Ebola outbreak, a development the WHO described as a top priority emergency. Numbers of cases continued to grow exponentially in Guinea, Sierra Leone and Liberia, as experts warned they could number one million by January if not contained

7/7 8 October

Two cases of Ebola have now been reported in the US and Europe - the first times the virus has been contracted among health workers outside Africa
What if someone with Ebola calls a doctor?
Anyone with the symptoms of Ebola and risk factors above who calls a surgery or walk-in centre would be transferred to an acute hospital trust with infection controls in place.
What happens when a patient tests positive for Ebola?
They would be transferred to a hospital with a high-level isolation unit and treated according to strict protocols to stop the disease spreading to other patients or staff.
How would they be treated?
There is no proven treatment or cure for Ebola but the use of experimental medicines has been approved.
William Pooley recovered after being given the drug ZMapp, although it is impossible to tell if it was responsible for his recovery, but supplies have since run out.
Severely ill patients require intensive supportive care, which may include rehydration with intravenous fluids.
Reuse content