Britain should expect "a handful" of Ebola cases in the next few months, the Chief Medical Officer has said, as doctors, nurses and paramedics across the country took part in a simulated outbreak yesterday to test the country's readiness.
Volunteer actors posing as Ebola patients were treated in clinics and rushed to hospital by medical professionals in full protective clothing in an unprecedented exercise ordered by David Cameron and designed to stress-test the NHS response to an outbreak.
Dame Sally Davies, England's Chief Medical Officer, said that any cases in the UK would be "spill-over" from West Africa.
She defended plans to screen passengers from the region at airports, admitting that although the measures were "unlikely to pick up many cases, if any", they would serve an important role in alerting visitors from West Africa of the symptoms to look out for, and informing them what to do if they thought they were at risk.
Disease experts have said it is increasingly likely that the deadly virus will reach the UK. Health authorities have consistently said that the country is well prepared to identify, isolate and treat Ebola patients and prevent a major outbreak on home soil. However, the Government's response has been criticised, with scientists saying that screening at airports and international rail terminals, which was ordered last week, would be a "waste of time".
As healthcare staff carried out the eight-hour exercise, the Health Secretary, Jeremy Hunt, chaired a mock meeting of the Government's emergency committee, Cobra. He said the exercise had left him "doubly assured" of the country's ability to cope with Ebola cases. "We have robust plans in place in the event that we get an Ebola case in the UK," he added. "We will evaluate what went well and what we need to improve. This exercise is just one small part of our ongoing contingency plans for Ebola."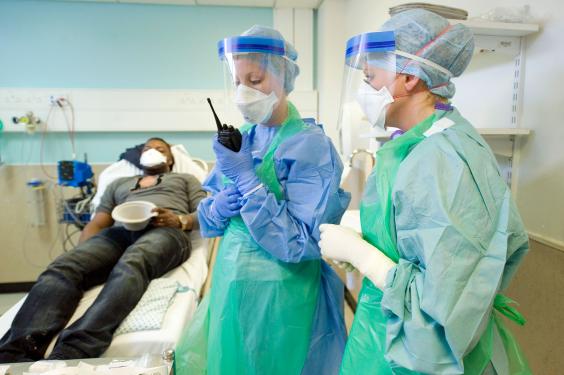 Exercises took part in several parts of England, giving an insight into how NHS organisations would identify and treat suspected Ebola patients. A Department of Health spokesperson said that health officials from Scotland, Wales and Northern Ireland "observed" the exercise. Responsibility for public health is devolved and the healthcare systems in each nation would be responsible for their Ebola response.
In one scenario, paramedics were called to a shopping centre where a person collapsed after feeling unwell. After assessment, the patient was rushed to the Royal Victoria Infirmary in Newcastle and placed in an isolation ward. Dummy blood tests were carried out to rule out malaria and samples taken for testing at Public Health England's (PHE) Rare and Imported Pathogens lab at Porton Down in Wiltshire, where eight hours later Ebola would either be confirmed or ruled out.
The Newcastle patient was then taken to the Royal Free Hospital in London, the country's centre of excellence for treating infectious diseases, where the British nurse William Pooley, who contracted Ebola while working in Sierra Leone, was treated earlier this year.
The Royal Victoria, PHE and the local ambulance trust also traced patients' movements and contacts.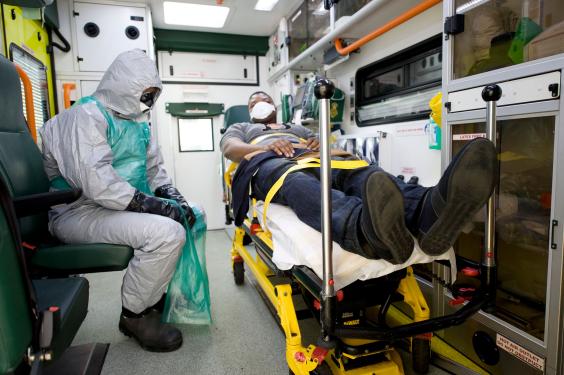 In a separate scenario, a "patient" at a walk-in centre in Hillingdon, west London, was also taken to the Royal Free. Health officials say that in the event of a large number of cases, patients could be treated on isolation wards at most major hospitals.
Dame Sally, who attended yesterday's simulated Cobra meeting with other officials and ministers, said the exercise had given "a very realistic test of how prepared the system is to deal with a case of Ebola". She added: "I would like to thank everyone involved and assure the public that we will now use this exercise to further strengthen our resilience plans."
As healthcare professionals carried out the exercise yesterday, the RFA Argus, a military vessel with a fully equipped 100-bed hospital on board, arrived in Falmouth for loading, ahead of its deployment to Sierra Leone this week.
The Argus will travel with three Merlin helicopters, aircrew and engineers who will provide transport to medical teams and aid workers in West Africa. The deployment is part of the UK's £125m contribution to the fight against Ebola, in which 750 Ministry of Defence personnel will be sent to Sierra Leone to co-ordinate relief efforts and support treatment centres, which will offer 700 beds to up to 8,800 patients over six months. More than 600 NHS staff have volunteered to join the aid mission.
In this outbreak of Ebola, the worst in history, more than 4,000 people have died, 930 in Sierra Leone, and nearly of all in West Africa, where the virus is still spreading quicker than attempts to control it.
world news pages 32-33
Reuse content