Jeremy Hunt vetoed a deal to end the junior doctor dispute which was supported by the NHS' own negotiators, it has been claimed.  
According to sources close to the British Medical Association (BMA), a proposal that addressed pay for working evenings and Saturdays – the last major contentious issue – and which was cost neutral for the Government, was blocked despite negotiators from the NHS Employers organisation viewing it as an opportunity to resolve the dispute. 
The new contract model, set out by the union, would have seen premium pay rates for Saturdays reduced, but would have crucially acknowledged that Saturdays should not be considered as ordinary working days.
Officials from both NHS Employers and the Department of Health "saw the offer as an opportunity to resolve the dispute," the source told The Independent. 
In pictures: Junior doctors protests in UK
In pictures: Junior doctors protests in UK
1/10

20,000 Junior Doctors marched through central London in protest at the new contract changes the government is trying to impose which they say will be unfair and unsafe

2/10

Junior doctors protest in London

3/10

4 year old Cassius takes part in a demonstration in Westminster, in support of junior doctors over changes to NHS contracts, London

4/10

Protest over proposed changes to junior doctors' contracts, Leeds

5/10

Junior doctors and NHS staff protesting against the health service cuts and the proposed contract changes offered by the government outside Parliament

6/10

Junior doctors and NHS staff protesting against the health service cuts and the proposed contract changes offered by the government outside Parliament

7/10

Over 5000 junior doctors rallied in Waterloo place, before marching through Whitehall and onto Parliament Square, in opposition to Jeremy Hunt's new working conditions for doctors

8/10

Demonstrators listen to speeches in Waterloo Place during the 'Let's Save the NHS' rally and protest march by junior doctors

9/10

Junior doctors marched in London to highlight their plight

10/10

A protester at a demonstration in support of junior doctors in London
"The one person who would not agree was Jeremy Hunt. Even though the NHS Employers and DH teams thought this was a solution he said no," they said. 
"Negotiations have completely broken down," the source added. "There are no more dates planned for talks. The BMA wants to continue negotiating but the other side have walked away."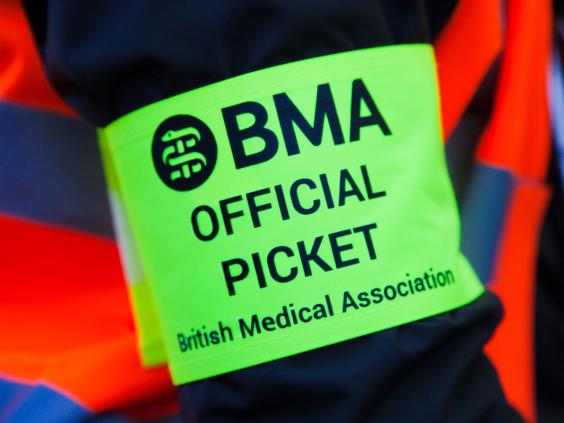 It is understood the proposed contract model was rejected at the end of January, precipitating the BMA's declaration of a second strike, which will commence at 8am tomorrow, with tens of thousands of junior doctors in England set to walk out from all but emergency care for 24 hours. 
A Department of Health spokesperson said the claims were "completely untrue", maintaining that the BMA had "continuously refused to discuss unsocial hours pay". Danny Mortimer, chief executive of the NHS Employers organisation said the BMA had not made any "substantive proposals" since the New Year. 
The Government is determined not to yield ground on its plans reclassify Saturdays as normal working hours, as it would set a precedent for contract negotiations with other NHS staffing groups, including nurses, who are expecting to enter negotiations about new contracts later this year.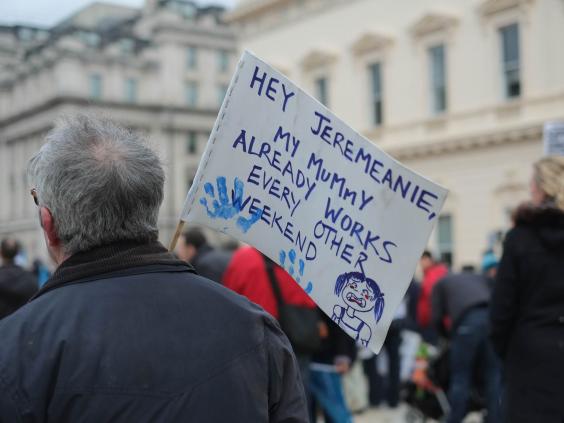 Sources familiar with the Government's approach to the junior doctor contract negotiations have told The Independent that one of ministers' priorities is to reduce the cost of NHS staffing bill by bringing contracts into line with many in the private sector which make no distinction between weekend and weekday pay rates.
Health minister Ben Gummer told MPs that the Government was "fast-approaching" the point at which it would have to impose a new contract on junior doctors, regardless of the progress of negotiations. Mr Gummer also said latest estimates showed 2,884 operations have been cancelled as a result of tomorrow's strike. 
Mr Hunt has described imposition as his "nuclear option". However, with newly qualified junior doctors set to start work in August, the NHS is running out of time to implement any new contract. Sir David Dalton, the hospital chief executive leading negotiations on behalf of the Government, has said that an agreement is needed by "mid-February" for "effective implementation" of the new contract.  
Imposition would likely infuriate junior doctors and risk a prolonged period of intermittent strike action. Sources within the junior doctor campaign group have said medics are willing to continue with industrial action well into 2017. 
Labour's Shadow Health Secretary Heidi Alexander has written to Mr Hunt urging him to make concession on Saturday working, and warning against an imposed contract. 
"Such a decision on your part could lead to protracted industrial action and widespread anger among other NHS staff at a time when morale is already at rock bottom," she wrote. "All that can be done to avoid this, must be done." 
A spokesperson for the Department of Health said: "The BMA has continuously refused to discuss unsocial hours pay, despite their agreement to talk about this as part of ACAS in November and the progress we've made on safety, education and training."
Danny Mortimer, chief executive of NHS Employers, said: "The Secretary of State has supported NHS Employers in making substantive proposals which address the concerns of junior doctors.  We have not since the New Year seen a response from the BMA which seeks compromise on these issues.  We continue to want to talk with the BMA to agree a contract that is fair and safe for doctors and patients."   
Reuse content