After much media build-up, Professor Dame Sally Davies, the Government's Chief Medical Officer, has announced updated guidelines on low-risk drinking for the UK.
Today's announcement has been in the pipeline since the previous government announced in 2012 it intended to have them reviewed. And over the last year there's been growing speculation as to just what the new guidelines might look like.
This update is welcome – the guidelines were last reviewed back in 1995 – and thorough, drawing on three different expert groups and multiple reviews of a wide-range of evidence. It aims to prevent a broad range of diseases, as well as injuries and accidents. But it's also influenced by the considerable evidence that has emerged showing that even low level drinking can increase the risk of some cancers, and that this risk increases the more alcohol people drink.
The changes are also down to a weakening of the evidence that there are health benefits to drinking alcohol – so the new version is about minimising harms, rather than considering them in addition to benefits.
So what's changed?  What do the new recommendations mean for you? And how has the evidence changed since the last update? We'll discuss this below. But first, one thing that hasn't changed is that the guideline amount is measured in 'units' of alcohol. And you aren't alone in wondering…
What is a unit?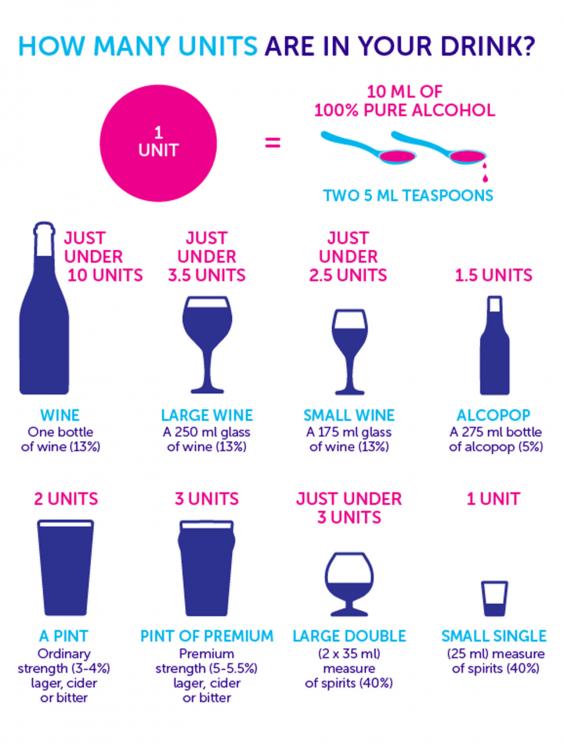 One unit is defined as 10ml (or 8g) of pure alcohol. But that probably hasn't helped you know how many you're drinking.
The difficulty with communicating about alcohol consumption is that it's very difficult for people to measure and track what they're drinking. Chiefly this is because people (thankfully) don't drink pure alcohol, and different drinks contain different concentrations of alcohol (hence 'ABV – alcohol by volume – the % figure on many drinks which is the proportion of pure alcohol it contains).
And that's before you factor in pub measures versus what people might pour themselves at home.
So using units is a way of trying to standardise advice on alcohol. But it's far from ideal, and there's lots of evidence (e.g. this study) that people struggle to understand what units mean, and that they aren't the same as 'drinks'. The committee that drew up the guidelines was aware of these limitations, but despite searching for a different solution, they say "If there is a better alternative to the UK unit, we have yet to hear of it."
As the graphic below shows, almost any drink you might order at the bar contains more than one unit:
What's new? And what's changed?
The main change is that the recommendation for men and women is now the same – to keep health risks to a minimum, people should drink no more than 14 units of alcohol a week. This is because the evidence now suggests men's and women's risks from drinking a given amount of alcohol are about the same – although  men have a higher risk than women of immediate harms such as accidents and injuries, and women's risk of long term illness (and premature death) is higher.
And the focus has switched back to weekly, rather than daily, limits. The previous (1995) guidelines introduced daily limits. And while these didn't entirely replace the weekly recommendations, confusingly the two didn't match up – people drinking up to the maximum every day would exceed the weekly limit by 7 units.
The daily limits have come in for other criticisms too – for example research published this summer, found that people who don't drink every day (which is the majority of the population) tended to ignore the guidelines, because the advice didn't seem relevant to them. The move away from daily limits has partly been motivated by research like this on how people understand and use guidelines.
Health news in pictures
Health news in pictures
1/25 Most child antidepressants are ineffective and can lead to suicidal thoughts

The majority of antidepressants are ineffective and may be unsafe, for children and teenager with major depression, experts have warned. In what is the most comprehensive comparison of 14 commonly prescribed antidepressant drugs to date, researchers found that only one brand was more effective at relieving symptoms of depression than a placebo. Another popular drug, venlafaxine, was shown increase the risk users engaging in suicidal thoughts and attempts at suicide

Getty

2/25 'Universal cancer vaccine' breakthrough claimed by experts

Scientists have taken a "very positive step" towards creating a universal vaccine against cancer that makes the body's immune system attack tumours as if they were a virus, experts have said. Writing in Nature, an international team of researchers described how they had taken pieces of cancer's genetic RNA code, put them into tiny nanoparticles of fat and then injected the mixture into the bloodstreams of three patients in the advanced stages of the disease. The patients' immune systems responded by producing "killer" T-cells designed to attack cancer. The vaccine was also found to be effective in fighting "aggressively growing" tumours in mice, according to researchers, who were led by Professor Ugur Sahin from Johannes Gutenberg University in Germany

Rex

3/25 Green tea could be used to treat brain issues caused by Down's Syndrome

A compound found in green tea could improve the cognitive abilities of those with Down's syndrome, a team of scientists has discovered. Researchers found epigallocatechin gallate – which is especially present in green tea but can also be found in white and black teas – combined with cognitive stimulation, improved visual memory and led to more adaptive behaviour. Dr Rafael de la Torre, who led the year-long clinical trial along with Dr Mara Dierrssen, said: "The results suggest that individuals who received treatment with the green tea compound, together with the cognitive stimulation protocol, had better scores in their cognitive capacities"

4/25 New online test predicts skin cancer risk

Health experts have created a new online tool which can predict a person's risk of developing a common form of skin cancer. The tool uses the results of a 10-question-quiz to estimate the chance of a person aged 40 or over of having non-melanoma skin cancers within three years. Factors including the age, gender, smoking status, skin colour, tanning ability, freckling tendency, and other aspects of medical history are covered by the quiz

5/25 Multiple Sclerosis stem cell treatment 'helps patients walk again'

A new treatment for multiple sclerosis (MS) has enabled some patients to walk again by "rebooting" their immune systems. As part of a clinical trial at Sheffield's Royal Hallamshire Hospital involving around 20 patients, scientists used stem cells to carry out a bone marrow transplant. The method known as an autologous haematopoietic stem cell transplant (HSCT) works by using chemotherapy to destroy the area of the immune system which causes MS

Rex Features

6/25 Dementia patients left without painkillers and handcuffed to bed

Dementia patients experience a 'shocking' variation in the quality of hospital care they receive across England, a charity has warned. Staff using excessive force and not giving dementia patients the correct pain medication were among the findings outlined in a new report by The Alzheimer's Society, to coincide with the launch of Fix Dementia Care campaign

Rex Features

7/25 Cancer risk 'increased' by drinking more than one glass of wine or pint of beer per day

Drinking more than one glass of wine or pint of beer a day increases the risk of developing cancer, according to medical experts. New guidelines for alcohol consumption by the UK published by chief medical officers warn that drinking any level of alcohol has been linked to a range of different cancers. The evidence from the Committee on Carcinogenicity (COC) overturns the oft-held view that a glass of red wine can have significant medical benefits for both men and women

8/25 Vaping 'no better' than smoking regular cigarettes

Vaping could be "no better" than smoking regular cigarettes and may be linked to cancer, scientists have found. The study which showed that vapour from e-cigarettes can damage or kill human cells was publsihed as the devices are to be rolled out by UK public health officials as an aid to quit smoking from 2016. An estimated 2.6 million people in the UK currently use e-cigarettes

9/25 Rat-bite fever

A teenager was hospitalised and left unable to move after she developed the rare rat-bite fever disease from her pet rodents which lived in her bedroom. The teenager, who has not been named, was taken to hospital after she complained of a pain in her right hip and lower back which later made her immobile, according to the online medical journal BMJ Case Reports. She suffered for two weeks with an intermittent fever, nausea and vomiting and had a pink rash on her hands and feet. The teenager, who had numerous pets including a dog, cat, horse and three pet rats, has since made a full recovery after undergoing a course of antibiotics. Blood tests showed that she was infected with for streptobacillus moniliformis – the most common cause of rat-bite fever. One of her three pet rats lay dead in her room for three weeks before her symptoms showed

10/25 Taking antidepressants in pregnancy 'could double the risk of autism in toddlers'

Taking antidepressants during pregnancy could almost double the risk of a child being diagnosed with autism in the first years of life, a major study of nearly 150,000 pregnancies has suggested. Researchers have found a link between women in the later stages of pregnancy who were prescribed one of the most common types of antidepressant drugs, and autism diagnosed in children under seven years of age

11/25 Warning over Calpol

Parents have been warned that giving children paracetamol-based medicines such as Calpol and Disprol too often could lead to serious health issues later in life. Leading paediatrician and professor of general paediatrics at University College London, Alastair Sutcliffe, said parents were overusing paracetamol to treat mild fevers. As a result, the risk of developing asthma, as well as kidney, heart and liver damage is heightened

12/25 Fat loss from pancreas 'can reverse' effects of type-2 diabetes

Less than half a teaspoon of fat is all that it takes to turn someone into a type-2 diabetic according to a study that could overturn conventional wisdom on a disease affecting nearly 3 million people in Britain. Researchers have found it is not so much the overall body fat that is important in determining the onset of type-2 diabetes but the small amount of fat deposited in the pancreas, the endocrine organ responsible for insulin production

13/25 Potatoes reduce risk of stomach cancer

Scientists have found people who eat large amounts of white vegetables were a third less likely to contract stomach cancer. The study, undertaken by Chinese scientists at Zhejiang University, found eating cauliflower, potatoes and onions reduces the chance of contracting stomach cancer but that beer, spirits, salt and preserved foods increased a person's risk of the cancer

14/25 Connections between brain cells destroyed in early stages of Alzheimer's disease

Scientists have pinpointed how connections in the brain are destroyed in the early stages of Alzheimer's disease, in a study which it is hoped will help in the development of treatments for the debilitating condition. At the early stages of the development of Alzheimer's disease the synapses – which connect the neurons in the brain – are destroyed, according to researchers at the University of New South Wales, Australia. The synapses are vital for brain function, particularly learning and forming memories

15/25 Sugar tax

The Government should introduce a sugar tax to prevent an "obesity crisis" from crippling the NHS, a senior Conservative MP and former health minister has said. Dr Dan Poulter believes that the case for increased taxes on unhealthy sugary products was "increasingly compelling"

PA

16/25 Cancer breakthrough offers new hope for survivors rendered infertile by chemotherapy

A potentially "phenomenal" scientific breakthrough has offered fresh hope to cancer patients rendered infertile by chemotherapy. For the first time, researchers managed to restore ovaries in mice affected by chemotherapy so that they were able to have offspring. The scientists now plan to begin clinical trials to see if the technique, which involves the use of stem cells, will also work in humans by using umbilical cord material and possibly stem cells taken from human embryos, if regulators agree

17/25 Take this NHS test to find out if you have a cancerous mole

An interactive test could help flag up whether you should seek advice from a health professional for one of the most common types of cancer. The test is available on the NHS Choices website and reveals whether you are at risk from the disease and recommends if you should seek help. The mole self-assessment factors in elements such as complexion, the number of times you have been severely sunburnt and whether skin cancer runs in your family. It also quizzes you on the number of moles you have and whether there have been any changes in appearance regarding size, shape and colour

18/25 Health apps approved by NHS 'may put users at risk of identity theft'

Experts have warned that some apps do not adequately protect personal information

19/25 A watchdog has said that care visits must last longer

The National Institute for Health and Care Excellence (Nice) said home help visits of less than 30 minutes were not acceptable unless part of a wider package of support

20/25 Pendle in Lancashire tops list of five most anxious places to live in the UK

Pendle in Lancashire has been named the most anxious place to live in the UK, while people living in Fermanagh and Omagh in Northern Ireland have been found to be the happiest

21/25 Ketamine could be used as anti-depressant

Researchers at the University of Auckland said monitoring the effects of the drug on the brain has revealed neural pathways that could aid the development of fast-acting medications. Ketamine is a synthetic compound used as an off anaesthetic and analgesic drug, but is commonly used illegally as a hallucinogenic party drug. Dr Suresh Muthukumaraswamy, a senior researcher at the university and a member of the institution's Centre for Brain Research, used the latest technology in brain imaging to investigate what mechanisms ketamine uses to be active in the human brain

22/25 A prosthetic hand that lets people actually feel through

The technology lets paralysed people feel actual sensations when touching objects — including light taps on the mechanical finger — and could be a huge breakthrough for prosthetics, according to its makers. The tool was used to let a 28-year-old man who has been paralysed for more than a decade. While prosthetics have previously been able to be controlled directly from the brain, it is the first time that signals have been successfully sent the other way

23/25 The biggest cause of early death in the world is what you eat

Unhealthy eating has been named as the most common cause of premature death around the globe, new data has revealed. A poor diet – which involves eating too few vegetables, fruits, nuts and grains and too much red meat, salt and sugar - was shown to be a bigger killer than smoking and alcohol

24/25 Scientists develop blood test that estimates how quickly people age

Scientists believe it could be used to predict a person's risk of developing Alzheimer's disease as well as the "youthfulness" of donated organs for transplant operations. The test measures the vitality of certain genes which the researchers believe is an accurate indication of a person's "biological age", which may be younger or older than their actual chronological age

25/25 Aspirin could help boost therapies that fight cancer

The latest therapies that fight cancer could work better when combined with aspirin, research has suggested. Scientists from the Francis Crick Institute in London say the anti-inflammatory pain killer suppresses a cancer molecule that allows tumours to evade the body's immune defences. Laboratory tests have shown that skin, breast and bowel cancer cells often generate large amounts of this molecule, called prostaglandin E2 (PGE2). But Aspirin is one of a family of drugs that sends messages to the brain to block production of PGE2 and this means cancer cells can be attacked by the body's natural defences
And as we said above, the new guidelines also largely do away with the notion that alcohol is beneficial for our health.
The committee also wanted to help people reduce the risks from drinking large amounts on one occasion, and they've addressed this in a number of ways. Firstly, the weekly guidance also says if people drink as much as 14 units in a week, they should spread it out evenly over at least 3 days, cautioning that heavy drinking sessions increase the risk of accidents and injuries as well as long-term illnesses. As well as suggesting people limit the amount they drink in one session, there is also advice for people to help cut the immediate risks – such as drinking more slowly.
And it also suggests people have drink-free days to help cut down on the amount they drink.
The way the guidelines are now presented also makes it clear that 14 units per week is a limit, not a target. And they highlight that the risk for some diseases, such as mouth, throat and breast cancers, is increased at any level of regular drinking – so the guidelines don't represent an absolutely safe amount to drink; they're intended to keep a person's health risks from alcohol to a minimum.
Finally, the committee has decided on a minimum risk level in context of other risks we expose ourselves to. So the 14 unit limit is the level of drinking that would be expected to lead to a lifetime risk of dying from an alcohol-related condition which is similar to the harms of other routine activities, such as driving a car (to be precise, about one per cent).
Cancer and the new guidelines
So that's the new guidelines, and units, explained. But as we said above, one reason for these changes is the strengthening evidence of the link between alcohol and cancer.  So what's changed here?
We've blogged about alcohol and cancer many times – especially the link with breast cancer – but here's a quick recap.
It's been established for decades that alcohol can cause cancer, but the impact that lighter drinking has on risk has taken longer to tease apart. That's because the effect on risk is smaller, more difficult for scientists to demonstrate  conclusively, and also prove it's not down to other things (such as smoking or poor diet) muddying the waters.
But more recently, it's become clear that low level drinking (meaning around a drink a day on average) increases the risk of breast, mouth, throat and oesophageal cancers. And the more you drink, the higher the risk of these and other cancers. Altogether, alcohol is linked to seven types of cancer with bowel, liver and laryngeal cancers making up the total.
The extra risk for drinking at low levels is fairly small, so it probably won't make much difference to an individual's absolute risk of developing cancer – but over a population the size of the UK, where many people drink at low levels, it adds up to a big impact.
To try to show how even light drinking can increase the risk of cancer, and how the risk rises with heavier drinking, we've done some calculations using the latest evidence on how different levels of drinking affect the risk of mouth cancer: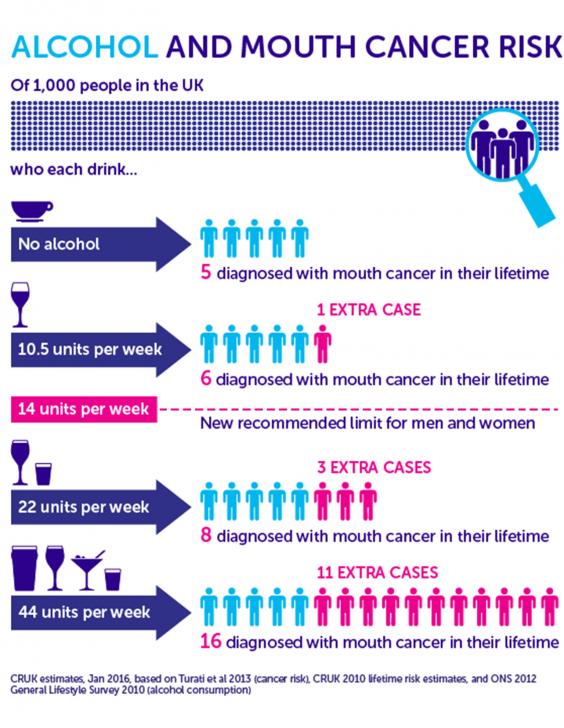 These figures are worked out using the same method as we've previously used for breast cancer and alcohol drinking – but show the risk for mouth cancer which affects both men and women. There's more detail about how we calculated them below*.
What can I do?
These guidelines are an important step in helping people understand – and reduce – the risks from drinking alcohol. When it comes to cancer, our advice hasn't changed – the less alcohol you drink, the lower your risk.
There are lots of simple ways to start cutting down. For many people, simply tracking how much you drink can be an eye opener – there are lots of free apps and tools available, such as this one from Change4Life.
Some quick ways to cut out units are to choose lower strength beers and wines, opt for smaller servings – or you could try a shandy or spritzer. Or just replace every other alcoholic drink with a soft drink on a night out.
And if you're drinking in a group, staying out of large rounds means you don't have to match anyone else's pace, and you can more easily avoid being cajoled into having a drink that you didn't really want.
And there's something else you can do too – the CMO has also announced a public consultation to check that the guidelines are clear, easy to understand and, perhaps most importantly, useful. And they'd like you to take part.
Everyone has their own priorities and their own approach to risk, but along with the CMO we believe people have a right to clear information to help them make decisions about their lives. We hope these new guidelines will help people understand and manage the risks of drinking alcohol.
This article first appeared on the Cancer Research blog.
Reuse content