Labour has kicked off its general election campaign with a damning dossier showing that the NHS has missed half of its patient waiting time pledges in the past year.
Andy Burnham, the shadow Health Secretary, warned that the coalition faces its "day of reckoning" at the polls in May, after Labour compiled evidence showing that seven out of 15 patient rights in the NHS constitution have been breached over the past 12 months.
Failures include not getting enough ambulances to people within eight minutes; 74 consecutive weeks of missing the A&E waiting-time target; and more than 15 per cent of cancer patients not getting their first treatment within two months of diagnosis.
Labour wants to fight the election over the NHS, which it believes has become a one of the electorate's top three priorities as the service has stumbled from crisis to crisis.
Experts' predictions for the general election
Experts' predictions for the general election
1/10 Andrew Hawkins (ComRes)

Just as the polls in 2010 pointed to no overall majority for any party, the overwhelming evidence points to Labour either being the largest party or getting a small majority, probably below 20. The Lib Dems and SNP should each win between 25 and 35 seats, with single-figure wins for both Ukip and the Greens.

2/10 Joe Twyman (YouGov)

I predict it will be close. I predict a few tremors, though earthquakes are unlikely. I predict the eventual winner may not be the direct result of public opinion, but instead the outcome of political negotiations. It's too early to predict numbers given all the uncertainties surrounding (among other things) Ukip, the SNP and the Lib Dems. It is possible that it will be close between Conservative and Labour in terms of both votes and seats. The Lib Dems might retain 20-30 seats and the balance of power, despite small gains for the SNP, and at most half a dozen Ukip seats. Gun to my head? Labour minority government.

Rex

3/10 Ben Page (Ipsos MORI)

A mug's game for this election months away, but my predictions in order of likelihood: most likely a hung parliament or coalition of some kind, closely followed by either a small Labour majority or an equally small Conservative majority. Given how close the parties are, the unknown performance of Ukip in key marginals, the effect of incumbency on Lib Dem losses, the final size of SNP surge and so on, to be more precise is simply foolish! Professor Tetlock, who found that forecasts by experts were only slightly better than throwing dice, weighs heavily upon me!

Rex

4/10 Rick Nye (Populus)

I can see a hung parliament, where Labour is the largest party in terms of seats – though not necessarily in terms of votes, with the Lib Dems having 30 seats or fewer, the SNP having up to 20 seats and Ukip having no more than five seats. In short, it's going to get messy and stay messy for some time to come.

5/10 Nick Moon (GfK)

I can't recall there ever being an election more difficult to predict than this one. I'm confident no party will have an overall majority, with the Tories probably the largest party but no single partner for a viable coalition, with the Lib Dems on 25 seats, the SNP 20, Ukip three, and the Greens one.

6/10 Damian Lyons Lowe (Survation)

We might have expected a workable Labour majority, were it not for the wild-card rise of the SNP in Scotland. Survation's December Scottish polls suggest an almost complete wipeout by the SNP in Scotland and result in 40+ seat gains – mostly at Labour's expense. My current predictions are: Labour the largest party by 40-50 seats over the Tories, no overall majority; Tories 235-255 seats; Lib Dems 20-30 seats; SNP 30-40 seats – maybe held back from potential support level by opposition incumbency and tactical voting by pro-unionist voters. Finally, Ukip, 5-10 wins from Conservatives, including Rochester and Clacton, and potentially a single Labour-seat surprise.

7/10 Michelle Harrison (TNS)

The battleground over the next three months is at the kitchen table – the difference between what the statistics tell us about the economy, the experience that Britons are having of managing their household budgets, and where – and if – they believe politics can make a difference. In this regard, the disconnect with the major political parties is more interesting than the horse race.

8/10 James Endersby (Opinium Research)

Our first poll for 2015 shows Labour one point ahead [see above], but polls four months out from an election are snapshots, not predictions. It would be extremely unwise for a pollster to make a firm prediction now. At the moment, Opinium's estimate on polling day would be the Tories slightly ahead on vote share, but Labour slightly ahead on seats. These numbers are based on a uniform swing, with tweaks to Green and Ukip numbers based on local information: Labour 320 seats, Conservatives 271, Lib Dems 20, SNP 16, Plaid Cymru three, Greens two, Ukip four. A hung parliament with Labour potentially closer to a majority coalition than the Conservatives.

9/10 Martin Boon (ICM)

I've not recovered from the Scottish referendum campaign yet, and here we go with another wildcard strewn nail-biter. For me, Labour on 30 per cent will only fractionally nudge past their woeful 2010 showing – behind the Tories on 33 per cent – but enough to secure more seats (290 for Labour, 280 for the Tories) on boundary wackiness. The Lib Dems will secure 14 per cent of the vote and 35 seats; Ukip will also get 14 per cent, but that only gets them a couple of seats. As for Scotland, I'm bewildered, but as you asked I'll say 30 seats for the SNP, which wipes out a breathing-space victory in seats for Labour.

10/10 Lord Ashcroft (Lord Ashcroft Polls)

Declined to take part. His spokeswoman said: "As he has said many times, his polls are snapshots not predictions." Health warning: when The Independent on Sunday carried out a similar exercise in April 2010, at the start of that year's election campaign, eight out of eight pollsters predicted a Conservative overall majority.

Rex
The Tories hit back at the 27-page document, identifying what it claims are five mistakes. These included a claim that there were 9,000 fewer frontline NHS staff than in 2010, which the Tories rebutted with statistics showing there are 10,319 more professionally qualified clinical staff and nurses than five years ago. The Tories also rejected claims that they haven't properly funded the NHS, pointing out that spending has increased by £13bn a year since 2010.
The Tories illustrated their own intention to focus voters' minds on the economy, which is slowly recovering after the financial crisis that broke during Gordon Brown's premiership. A Tory spokesman commented: "Ed Miliband has no economic plan and so would put the entire NHS at risk."
The clash occurred after David Cameron fired what was described as "the starting gun" for the election with the party's first campaign poster on Friday. However, even right-wing commentators criticised the poster's claim that the deficit had halved under Mr Cameron's watch.
But the Labour dossier, which aides described as an "NHS attack operation", marks the first major clash of the campaign. Mr Burnham, who will lay out Labour's own plans for NHS reform at the end of the month, said five more years of Conservative-led government would see the NHS "subsumed by a toxic mix of cuts and privatisation".
Mr Burnham claims that the NHS will have to rapidly increase the share of privately funded healthcare if the Conservatives retain power. He believes this is inevitable if the Tories were to carry out the savage public spending cuts unveiled in last month's Autumn Statement.
George Osborne, the Chancellor, plans to reduce public spending as a proportion of GDP to just 35 per cent by 2019, the lowest level since the 1930s, in an effort to rebalance the country's books. The Labour dossier claims that countries with a similarly low proportion of public spending, such as Australia and Switzerland, make use of twice as much private-sector funding than the UK in their health services.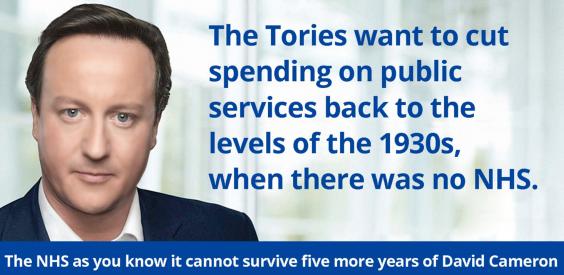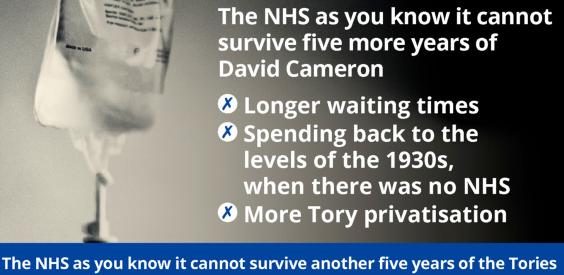 "Wherever you look, there is evidence of a service in increasing distress," said Mr Burnham, who also believes the NHS's struggles will hit the Liberal Democrat vote. "The NHS is very definitely on the ballot paper. The seventh of May is going to be Cameron and [Nick] Clegg's day of reckoning on the NHS."
Labour claims that the Osborne cuts, coupled with coalition legislation that opened up some NHS services to competition, will result in around £10bn of the NHS budget being spent on private providers by 2020, unless Labour comes to power. Formally launching the document today, election strategist Douglas Alexander will say a Tory victory would ensure that "competition is put before patient care".
Even if Labour wins, Mr Burnham believes it would take a decade to restore NHS fortunes. His major idea is to integrate social and healthcare, which he believes would see more people treated early, in their own homes, and at a lower cost.
Labour is launching what it describes as a "four-month campaign to save the NHS", after health professionals across the service warned of a deterioration in both the morale of staff and the quality of services.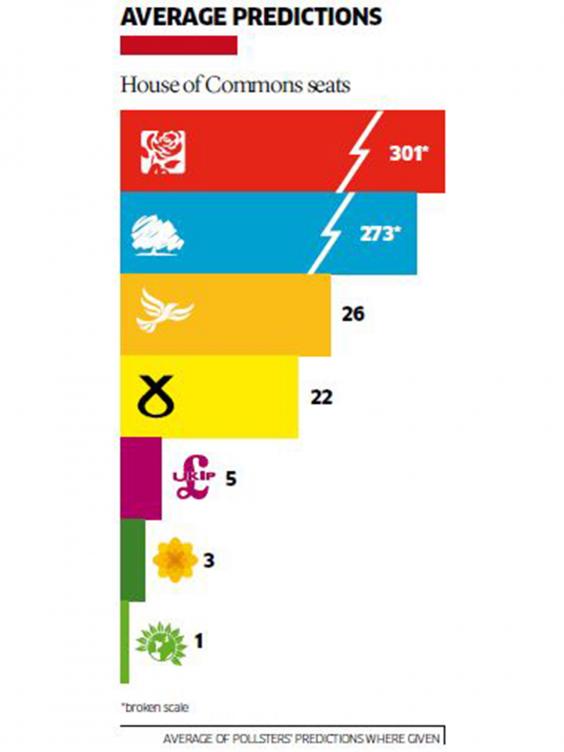 Dr Mark Porter, chair of the British Medical Association council, said waiting times for some treatments had reached "unacceptable" levels. He added that access to some services, including knee and hip operations, was increasingly restricted, and queues at both A&E and GP surgeries had grown.
"The NHS needs more than party-political promises to survive," he said. "It needs sustainable investment to ensure that there are enough staff and resources to meet rising demand and provide the best quality care for patients." He said changes to the NHS "pursued by successive governments", including increased privatisation, were "eroding the core principles of our healthcare systems".
Dr Peter Carter, general secretary of the Royal College of Nursing (RCN), said "the past few years" had been "difficult" for nurses and for the NHS. He said too many parts of the system were currently in a "permanent state of crisis", amid "worrying signs" of patients beginning to see poorer quality services.
The RCN welcomed Labour's pledge to recruit 20,000 more nurses into the NHS, but Dr Carter also warned that the "fundamental issue" facing the NHS was resourcing. "The UK spends less on healthcare provision than many other developed countries and this situation is not sustainable," he said. "The future of the NHS depends on it being given adequate investment – whoever forms the next government must recognise this inescapable truth."
The Prime Minister and Mr Miliband are both looking to build momentum over the next few days. Buoyed by news that the party will be able to outspend Labour by three to one during the campaign, Mr Cameron is interviewed by both the BBC and a national newspaper today.
Mr Miliband will make a speech in Manchester tomorrow focusing on the NHS – one of the five pledges that Labour's campaign will be built around; the others include curbing immigration, raising living standards, the future of young people, and tackling the deficit.
Mr Miliband will seek to build on the news that Labour has a narrow, 1 per cent lead over the Conservatives, according to pollsters at Opinium.
Reuse content