For more than 20 years, Salisbury Hospital had its own brand of moisturising cream for burn victims and painful skin conditions. It was beloved of patients and staff but no-one beyond the walls of the hospital could benefit.
But now they can. In April this year the local NHS Foundation Trust began selling its product, marketed in attractive packaging under the brand name "My Trusty Little Sunflower Cream", complete with a little NHS logo on the back.
It sells for £6.99 a bottle online, in other hospitals and in three local shops. Trust managers say they are confident that they can sell the 20,000-30,000 bottles required to make a profit, with proceeds going back into the Trust's budget to improve patient care. 
The story of Salisbury's sunflower cream is one that is being repeated all over the NHS. As the health service's budget becomes ever tighter (analysts predict a £30bn funding gap by 2020) and trusts are encouraged to behave more like commercial companies, staff are being encouraged to come forward with their inventions and novel treatments to see if they can be patented, marketed and sold on to make money for the NHS.
Six regional innovation hubs were set up over the past 10 years, which employ former business and marketing experts to help NHS staff develop their ideas into marketable products (although the Salisbury Sunflower Cream was developed independently by the trust).
Last year the Department of Health asked the six regional innovation centres to submit information about their 10 most successful product developments to consultants, who reported that the inventions had brought in, at the very least, £395m for the NHS through royalties and cost savings.
"A problem in the past was that the NHS would come up with world-renowned ideas, only to find they make a huge amount of money around the world, and the NHS has to buy their own idea back," said Mike Smith, general manager of NHS Innovations West Midlands. "In tough financial times we need the NHS to get back what it's put in."
FOUR OF THE LATEST "MADE IN THE NHS" INVENTIONS COMING TO A HOSPITAL NEAR YOU
The Salisbury sunflower cream
Invented by a pharmacist and clinical scientist at the Salisbury Hospital around 30 years ago, the moisturising cream now known as "My Trusty Little Sunflower Cream" is sold by a number of hospitals, three shops in the Salisbury area, and on a dedicated website. It was only launched in April, so has not has not yet brought in a profit for the Salisbury Hospital NHS Foundation Trust that developed it, but there are hopes that it soon will.
"Always at the back of our mind is: how much can we spend on this? Because it's public money, so we're doing it on a shoestring at the moment," said Malcolm Cassells, director of finance and procurement at the trust.
"Every tube that sells brings money back to the trust, and gradually we hope it will move into profit. We'd probably need to sell 20,000 – 30,000 tubes. We're confident we can do that. We're also working on other products."
The Kings Lynn anaesthetists' needle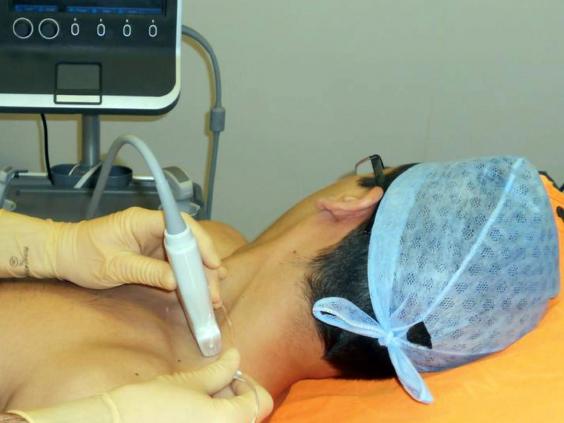 Four consultant anaesthetists working at the Queen Elizabeth Hospital in Kings Lynn recently came up with the idea for SAFIRA – the Safe Injection for Regional Anaesthetic - designed to meet a growing demand for patients undergoing surgery to be put under regional, rather than general, anaesthetic when possible. The newly-designed system makes such procedures simpler and safer by only requiring one anaesthetist which allows for closer overall control of the procedure.
"The SAFIRA machine can also record how much anaesthetic was injected, at what pressure, so the clinician and the hospital knows the procedure is being done safely," said Stuart Thompson, innovations manager for NHS Innovations East. "The inventors came to us with the idea eight months ago. We've done a thorough evaluation, we've filed a patent and now we're in prototype development. I'd say we're about 18 months from having the system on the market." 
The Liverpool Women's Hospital baby pillow
The butterfly pillow was the idea of a neonatal nurse at Liverpool Women's Hospital NHS Foundation Trust called Ann Parry. It is designed to keep children in a safe position during a treatment called nasal positive airway pressure (nCPAP), which is required when premature babies develop a serious breathing problem called respiratory distress syndrome. The treatment requires a child's head to be supported to ensure that the airways are as open as possible, so that air can be delivered to the lungs through small tubes inserted into the nose.
Ms Parry came up with the idea after becoming frustrated at using rolled up bedding for support, which tended to unravel and allow too much movement.  The pillow, which comes in a range of sizes, allows the infant's head to be placed in a comfortable, supported position. It has been licensed and is sold by the medical supplies company Inspiration Healthcare in several countries, with around 3 per cent of the royalties going to its inventor's NHS trust.
The Birmingham bone scraper
A brand new medical device to remove dead tissue which can become infected from bones has been invented by Dr Deepa Bose, a consultant orthopaedic surgeon based at the University Hospitals Birmingham (UHB) NHS Foundation Trust, and his colleague Simon Williams, a fellow clinician at UHB .
Current surgical tools for these procedures tend to be rigid, straight devices that make it very difficult to access the bone cavity and remove infected matter from inside.
The NHS Innovations hub for the West Midlands, linked the inventors with Coventry University's Health Design Technology Institute, to finalise a design for a specialist device with adjustable hinges that allow for much greater dexterity when working in bone cavities.
Once the design was perfected, a commercial company, Platts and Nisbet, was brought in to manufacture the product, which will soon be available on the market, with royalties going to the UHB NHS Foundation Trust.