Doctors in casualty units are admitting patients into hospitals unnecessarily for fear of breaching government waiting-time targets, using up much-needed bed space and slowing down admissions procedures, a report suggests.
In a comprehensive analysis of the ever-increasing pressure on England's accident and emergency (A&E) wards and its impact on the wider NHS, the Government's spending watchdog, the National Audit Office (NAO), identified the Department of Health's key  four-hour waiting-time target as "one of the main reasons for the increase in short-stay emergency admissions".
The target, introduced by Labour in 2003-04, requires 95 per cent of patients attending casualty units to be seen, treated and either admitted or discharged in less than four hours. Although the NAO found the target had reduced waiting times, it also said nearly a quarter of all admissions from A&E took place in the 10 minutes before the four-hour limit was breached.
The watchdog did not rule out the theory that some hospitals might be admitting patients simply to avoid missing targets.
Unnecessary admissions are a major source of concern for the NHS. There were 5.3 million emergency hospital admissions in 2012-13, at a cost of £12.5bn to the NHS. The number of such admissions has rocketed by 47 per cent in the past 15 years. Every admission raises costs, increases pressure on the system and denies a bed to another patient. The NAO report also identified an increase in the frail elderly population and a lack of 24/7 social-care provision as a major cause of increased admissions to hospital.
Health chiefs are under increasing pressure to both diagnose and solve the mounting problems in emergency care ahead of the busy winter period.
Last winter saw unprecedented pressure on A&E wards and there are fears that the health service would struggle to cope with a major flu pandemic this year. The Government has pumped £250m into emergency care to shore up hospitals expected to struggle.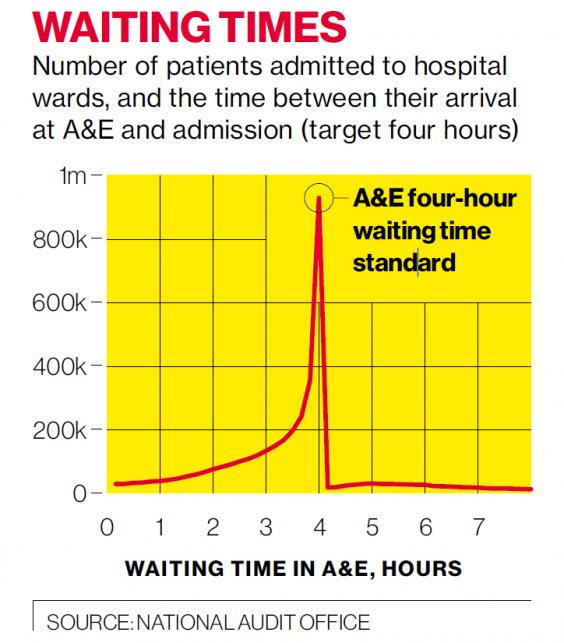 Among the reasons given for increased attendances at A&E, the NAO report identified widespread "confusion" among patients about where to go in the event of a health problem, a situation that may have been exacerbated by the expanding number of  out-of-hours care providers and new "layers" of NHS urgent-care services, including walk-in centres and polyclinics. GPs, who used to be responsible for out-of-hours care, were allowed to opt out by their 2004 contract, leading to a diversification in the number of providers.
"Faced with such a confusing myriad of services many commentators have suggested that patients may be bypassing primary-care services and defaulting to A&E services for consultation and treatment," the report said.
The Health Secretary Jeremy Hunt said that the Government was aware of the pressures on A&E and was addressing "both the short and long-term problems". He said the NHS had "never been more prepared" for the coming winter. "[We are] transforming out of hospital care by reversing the disastrous changes to the 2004 GP contract, joining up the health and social care system, and backing A&Es with £250m."
But Labour said that government cuts to council care services had exacerbated shortages in social-care provision, leaving hospitals to pick up the pieces. "Sadly, it is patients who are paying the price," the shadow Health Secretary Andy Burnham said. "Elderly people are drifting towards hospital in such numbers that many have to wait hours on a trolley just to get a bed. And when they do get a bed, they end up being trapped there because of delays in arranging discharge."
The report came as Mr Hunt gave the go-ahead to a major reorganisations of NHS services in north-west London. The changes will see the A&E wards at Hammersmith and Central Middlesex hospitals downgraded next year to become urgent care centres treating more minor injuries. Five other hospitals in the local area will be redesigned to provide more advanced, comprehensive emergency care. The plans were backed by the medical directors of all nine hospitals in the area.
Reuse content