Lego is giving out beauty advice to seven-year-old girls who want to "change up (their) look".
Parents who considered the company a refuge from gendered toys are up in arms about the article in the latest issue of the US Lego Club Magazine.
It shows the Emma character from the controversial Lego Friends line telling readers how to get their hair cut.
"You, yes YOU are beautiful, but if you're ready to change up your look, read on for some tips and tricks on how to get the best haircut for the shape of your face," it says.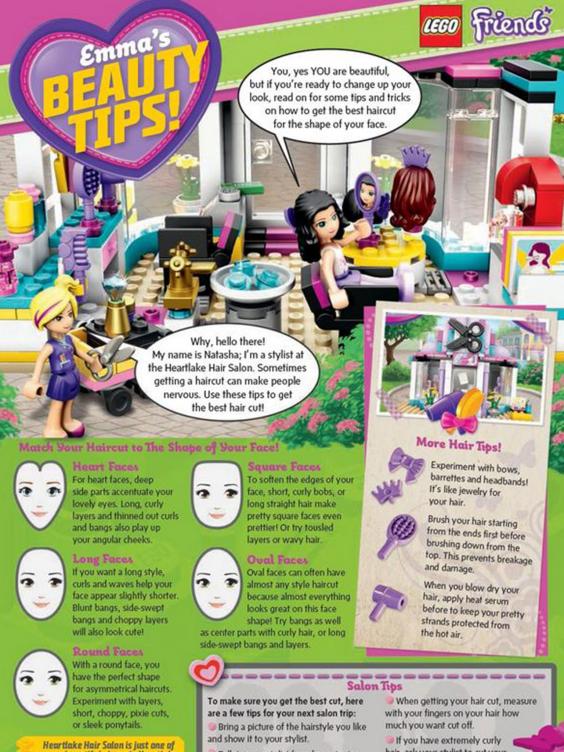 "For heart faces, deep side parts accentuate your lovely eyes. Long, curly layers and thinned out curls and bangs also play up your angular cheeks."
Children are told how they can make "pretty square faces even prettier" by "softening the edges" with different styles.
Parents discussing the article on social media quickly pointed out that girls aged between seven and 12 – the magazine's target audience – rarely have a choice of hair style and should not be concerned by it.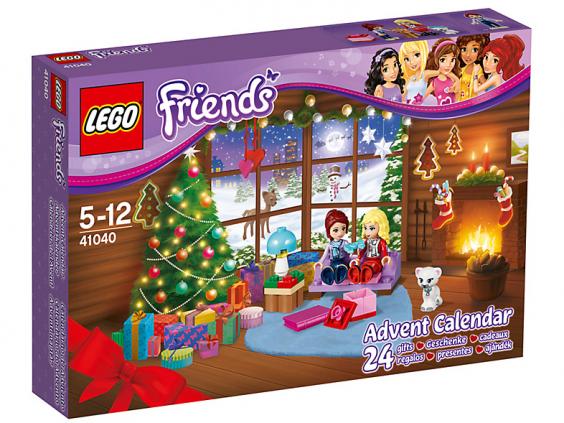 Writing in the New York Times, Sharon Holbrook said she was alerted to the article when her seven-year-old daughter asked her whether she had an oval face and what she should do with her hair.
"My little girl, the shape of her face, and whether her haircut is flattering are none of Lego's concern," she wrote.
"It wasn't even her concern until a toy magazine told her to start worrying about it."
The furore continues initial outrage over the introduction of the Lego Friends line aimed at girls in 2011.
Breaking from the pleasantly genderless brick figures of old, the new toys resemble miniature dolls and live in pink hair salons, pony stables and palatial houses in "Heartlake City".
The toys have been made into characters with their own cartoon and appearances in the "yellow brick" version of Lego Club Magazine.
This month's "red brick" version, presumably aimed at boys, has ninjas, cars, Star Wars, superheroes, builders and not a beauty tip in sight.
Gender-neutral toys
Gender-neutral toys
1/14 Girls can be engineers too

Women at work: the GoldieBlox ad that bucked stereotypes and went viral

via youtube

2/14 Dolls for girls

Blonde and beautiful? Many dolls targeted at young girls are disproportionately thin, with pert features and breasts, and feet shaped to wear high heels

3/14 Lottie, not Barbie

Pink stinks: a Lottie doll, which is designed to have the same proportions as a nine-year-old girl

4/14 Pinks for girls

In the pink: The shift towards dividing toys happened in the Nineties, when a proliferation of pinks and blues flooded the market

Rex Features

5/14 Gender-segregated toys.. a new thing?

The Lego's 1970s ads featured a girl in dungarees holding up what she's made

6/14 Toys R Us

Toys R Us in Sweden launched with a new gender-neutral revamp in December

Getty Images

7/14 Kinder denied having gendered eggs last August..

The pink eggs contain dolls, while the blue eggs will contain toy cars.

8/14 The controversial 'boys stuff' range

Toys from the "boys stuff" range at Marks & Spencer. M&S have now gone gender neutral

9/14 Girls can be doctors too

A 'girly' Doctors set.. (because female doctors have pink bags right?)

10/14 Pink for girls, blue for boys

Even Robotic puppies are gender-targeted

11/14 Pink cakes for girls..

12/14 Boys play with science toys

13/14 Only girls cook eggs..

Ella Valentine eggs

14/14 Gender specific toys are big business

You're kidding: shops often sort toys into 'boy' and 'girl' aisles

Alamy
Michael McNally, senior director of brand relations at Lego Systems, said the company would learn from readers' comments on the hair article.
"One particular thing that readers asked us to include was an advice column," he told Mashable.
"In the most recent magazine, we attempted to deliver against this request by elaborating on a current Lego Friends story line.
"We sincerely regret any disappointment it may have caused. We value this feedback and have already shared with the Lego Club team in order to positively impact future stories."