A new meditation craze is currently sweeping the US but despite its name, there's no actual bathing involved.
Once only found at New Age retreats, sound baths are steadily entering the mainstream as an alternative to run-of-the-mill relaxation but, what exactly are they?
As the name suggests, they were created as a healing therapy that uses sound to induce a meditative state and a feeling of intense relaxation.
During the session, participants are immersed in soothing sonic resonance emitted by traditional instruments such as crystal singing bowls, tuning forks, and gongs.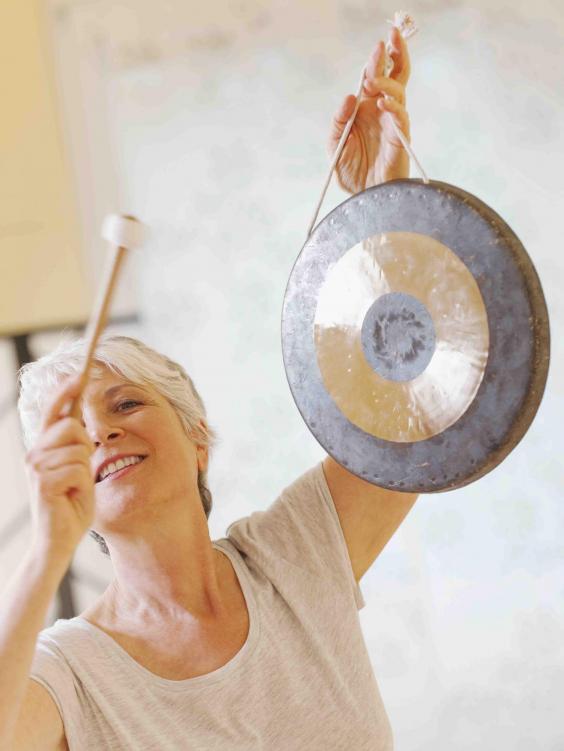 "There's been a crazy explosion of sound baths," Sara Auster, a sound healer told Well and Good. "For whatever reason it's happening, I think it's amazing."
Auster, who is also a yoga teacher, often uses instruments like the harmonium and gong in her traditional classes but finds that sound baths are a great way to combine the two into one experience. 
So what can you expect to get from them? 
"Mostly, I hear 'I had the best night's sleep of my life, I was so relaxed,'" says Auster. "That's probably the most common effect that people experience—an overall state of relaxation."
The 10 best: yoga gear
The 10 best: yoga gear
1/10

1. Bobble Water Bottle

£12.99, waterbobble.com

If you've ever puffed your way through a bikram yoga session you'll know you need lots of water. Quench your thirst with this BPA-free bottle with built-in water filter.

2/10

2. Super Grippy Gloves

£7.99, johnlewis.com

If you're travelling light and don't have room for a mat in your bag, check out these gloves. They have non-slip strips so you can exercise safely wherever you are.

3/10

3. Light on Yoga by BKS Iyengar

£14.99, waterstones.com

Iyengar's 45-year-old classic is still the go-to book for today's yoga enthusiasts, with pose illustrations, breathing advice and the philosophy of the exercises.

4/10

4. Gaiam Block

£7.99, johnlewis.com

A yoga block is essential for getting into deeper poses without causing strains. This block is wide, lightweight, made from a sturdy foam and has a non-slip base.

5/10

5. Simply Karma

£4.99, play.com

Get yourself in the mood with the Simply Karma boxset, which has four CDs of laid-back beats for meditation and slightly more upbeat tunes for bikram or pilates.

6/10

6. Plum Relaxation Blanket

£19.95, ruthwhiteyoga.com

This 2m fleece blanket can be used as a prop to give extra lift when seated, or to keep you warm when meditating. It's machine washable for those dusty village hall floors.

7/10

7. Natural Fitness Bag

£18.95, amazon.co.uk

This attractive yoga bag is extra large – so fits most mat sizes – has a double-zip opening, an adjustable shoulder strap and is made from planet-friendly hemp.

8/10

8. Holistic Silk Scented Mat

£148, harveynichols.com

If you fancy some luxury while you practise, this mat has a cosy fleece top and faux leather non-slip bottom. Plus, it's infused with a calming lavender aroma.

9/10

9. Manduka Cotton Straps

£10, urbanyoga.co.uk

Straps are particularly useful for bound poses if you're not that flexible. This one is 2.5m long, 100 per cent natural cotton and has a super-sturdy buckle.

10/10

10. The White Company Driftwood

£18, thewhitecompany.com

Scented candles get you into relaxation mode. So light this one up and let the bay, samphire and sea salt aromas nudge you towards Nirvana.
"Sometimes people go on trippy journeys and see stuff. Sound affects every part of your brain, it's a pretty powerful tool."
They seem to be a rising trend in the US and we have no doubt that they are well on their way to the UK too. In the meantime, some practitioners including Auster offer free samples of their work on Soundcloud.
Reuse content