Earlier this month, it was revealed in a study by eHarmony that millennials are actually the generation who place the least emphasis on physical appearance when looking for a partner. However we're also most likely to use dating apps. 
And on dating apps, there's not much more than looks to go by, so pictures are undoubtedly crucial.
So how do you get those photos right? You could have a professional dating photoshoot, but if your budget won't stretch that far, help is at hand.
Dating app Hinge has just revealed the results of a study which aimed to determine exactly which pictures are most likely to get you a match in the brutal world of dating apps. 
Whilst some of the findings are obvious - everyone knows bathroom mirror selfies are a no-no - others may surprise you.
In order to reach their conclusions, Hinge data scientists assigned 35 unique photo tags - for example, hair up vs hair down, smiling with or without teeth - to a random sample of 1,000 photos. 
They could then work out which factors received the most positive response, particularly because unlike other dating apps, Hinge users can react and respond to individual photos.
Here's what they found: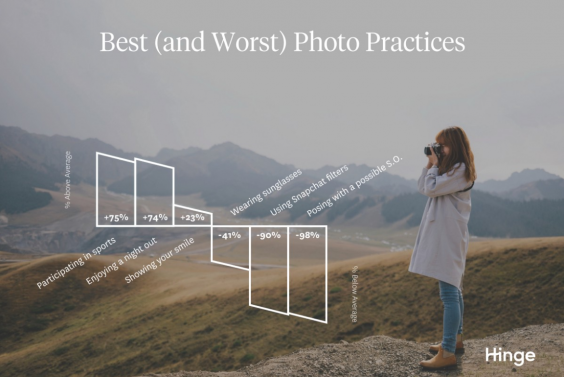 The best photos show people doing sports, enjoying a night out or smiling. On the other hand, wearing sunglasses, using Snapchat filters or posing with someone who could be a boyfriend or girlfriend is to be avoided.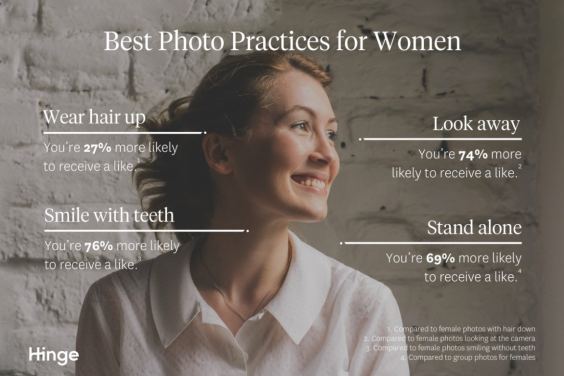 For women looking for dates, they should wear their hair up, smile with their teeth, look away from the camera and stand alone.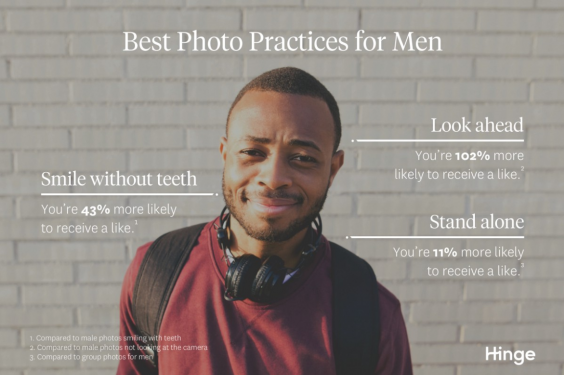 Men on the other hand are better off smiling without their teeth, looking straight ahead and also standing alone.
Despite their prevalence, beach photos aren't actually that well received - women are 47 per cent less likely and men 80 per cent less likely to receive a like on a shot of them at the beach compared to the average photo for each gender.
Sporty photos, however, are big winners - women are 166 per cent more likely and men are 45 per cent more likely to get matches with sports-related photos.
As part of their study, the researchers found that an incredible 80 per cent of photos on dating apps are posed, but you'd be 15 per cent more likely to receive a like with a candid shot.
And unsurprisingly, selfies are to be avoided at all costs - they're 40 per cent less likely to be liked than non-selfies, and that number rises to 90 per cent for dreaded bathroom selfies.
Only three per cent of photos in the study were found to be in black and white, but apparently this is something we should be doing more - they're 106 per cent more likely to get you a right-swipe.
A few months ago I conducted a personal experiment: I swapped out a smiling picture on my Bumble profile for one that was almost identical, but laughing. "I probably look more fun and relaxed," I thought.
But my number of matches instantly plummeted. And as soon as I swapped the pictures back, the 'You have a match' notifications returned. It was most surprising.
Now I know what I really need to do though - get someone to take a black and white photo of me with my hair tied up, playing sport, alone, smiling with my teeth, looking away from the camera in a candid way. Sorted.
Reuse content