The largest pornography site in the world, Pornhub, has just released its annual Year in Review for 2016, which has revealed that increasing numbers of Brits are searching for 'giantess' and 'cuckold' porn.
Last year, 4,599 million hours of porn were watched on the site across the globe - that's equal to a mind-boggling 5,246 centuries.
The site had 23 billion hits, which means 64 million every day and 729 every second.
Not for the first time, the UK brought the second highest amount of traffic to Pornhub, second only to the US.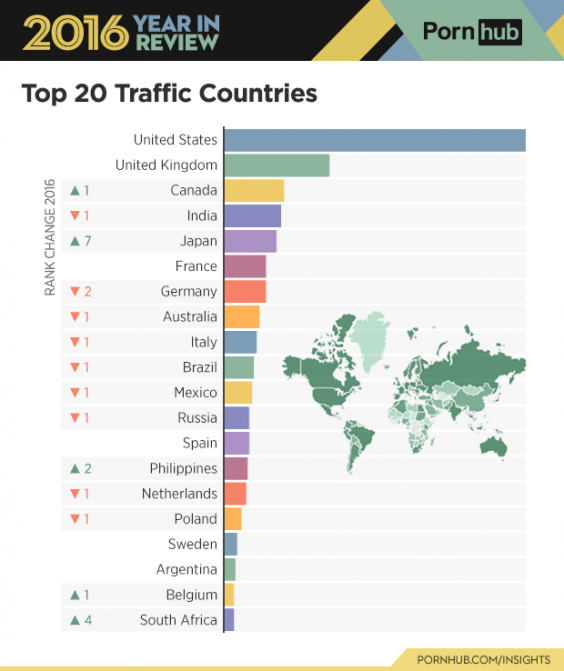 You might think that the only reason the US was miles ahead is that it's a much bigger country, but when broken down per capita, the UK drops only to third place, behind the US and Iceland.
Pornhub found that Brits spend just above average watching porn, with nine minutes and 40 seconds for the typical viewer. That's 22 seconds longer than the previous year.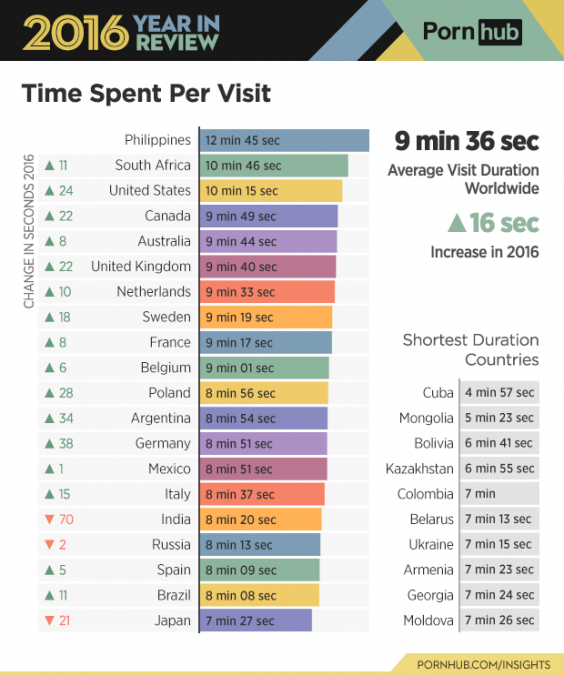 The site also delved deeper into the viewing habits of Britain's porn fans, disclosing what they searched for most last year.
Some eyebrow-raising niche fetishes were revealed to be on the rise, including giantesses and cuckolding, searches for which increased by 354% and 94% respectively. 
'Lesbian' remains the most popular search term - not just in the UK but globally.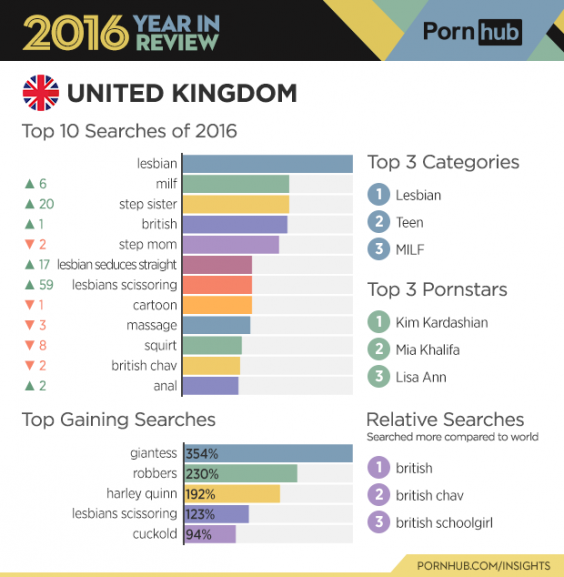 'Milf' and 'step sister' were the second and third most popular search terms in the UK, and the top three porn categories on the site were 'lesbian', 'teen' and 'milf'.
Whilst more men than women continue to use Pornhub across the globe, nearly a quarter (24%) of UK visitors in 2016 were women, making us only the country with the 17th biggest proportion of female viewers - below average.
When it comes to age breakdown, nearly two thirds of British porn viewers are millennials - the research revealed that 61% of views came from those aged between 18 and 34.
Porn fans in the UK are also increasingly using their smartphones to watch - 60% of traffic came from phones last year, compared to 53% in 2015. 23% of visits came from desktop (or presumably laptops) and the final 17% from tablets.
Interestingly, Pornhub found that UK visits to the site went down by 54% on New Year's Eve. Numbers also dropped by 40% on Christmas Eve and 27% on Christmas Day.
2016 year also saw people across the globe searching for porn with popular culture references, including Pokemon Go, Olympic athletes and characters such as Harley Quinn. There was also not only a huge increase in searches for Melania, Ivanka and Tiffany Trump, but for the Donald too.
Reuse content