​The arrival of the 604bhp E 63 S 4Matic+ in the UK marks something of a watershed moment for Mercedes-AMG. While the AMG super-saloon's forebears may have been turbocharged for years already, this is the first model to come with four-wheel drive, while adaptive air-suspension has replaced coil springs for the first time. The later move will further broaden the model's appeal in its biggest single market, the USA, while the latter creates a platform for future ride, handling and comfort developments.
The new E 63 comes in 563bhp form or as this 604bhp S. You can choose from a four-door saloon or a five-door estate. The power is channeled to all four wheels via a nine-speed auto transmission, and up to 100per cent of muscle can go to either axle.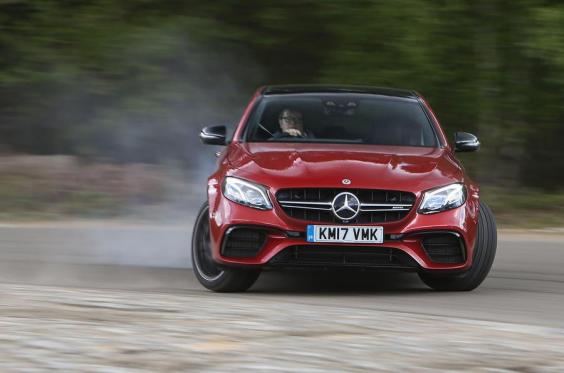 With a raucous-sounding engine that's even more fiercely tuned than in Mercedes-AMG's GT R sportster, the E 63 S's supercar-quick performance times include a 3.4sec 0-62mph sprint. Its massive torque and peerless traction are even more apparent when you use the Race Start function at launch, giving white-knuckle acceleration on the short but incredibly sweet occasions you'll be able to use it on public roads. When driving less frenetically there's no hesitation or lag under any conditions, whether fully auto or in manual mode. This is a supremely enjoyable car.
Looking to the chassis things are less transparent, as despite the new E 63's huge grip, stability and superbly flat, lithe handling, it seems less balanced and supple than its predecessor. In true AMG style this is a firm-riding car, even in Comfort setting, and it transmits small bumps in the road. It's more settled at motorway speeds or on smoother surfaces, though. Most driving will be done in the softer modes.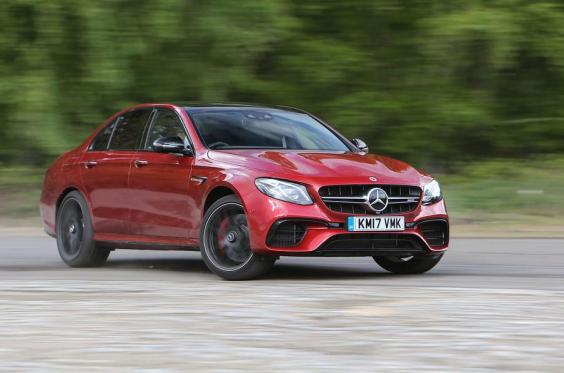 On-track, the ridiculous E 63 S-only Drift mode comes into its own. It's accessed by selecting extra-firm Race mode, manual transmission and ESP off, which sends all 627lb ft to the back wheels. The tighter handling agility knocks back initial on-the-limit understeer, and cornering is safely throttle-adjustable despite the steering's directness. 
Drift is huge fun but fiddly to engage, which discourages you from trying it on the road. That's something of a loss, as in any other mode the handling isn't as engaging as you'd like, and the 4WD's stability intervention means indulging in throttle-steer fun is off the cards. It can leave you feeling a bit cold.
Nevertheless, the E 63 S 4Matic+ remains thunderous and entrancing – an experience only enhanced by the sumptuous and highly specced cabin. The latest Mercedes-AMG is exciting and impressive in equal measure, but the chassis technology requires tweaking to make this a truly brilliant performance saloon.
Mercedes-AMG E63 S 4Matic+
Price £88,295
Engine V8, 3982cc, twin-turbo, petrol
Power 604bhp at 5750rpm
Torque 627lb ft at 2500rpm
Gearbox 9-spd twin-clutch automatic
Kerbweight 1875kg
​0-62mph 3.4sec
Top speed 186mph (limited)
Economy 31.0mpg
CO2/tax band 207g/km, 37%
Rivals: Audi RS7 Performance Sportback, BMW M5 Competition
Sarah Bradley is a writer for AutoCar.
Reuse content