Toto Wolff may be the executive director and managing partner of the Mercedes-AMG Petronas Formula 1 team, but that's just the start. The 45-year-old Austrian used to be a pretty handy racer to GT level, and is the husband of Susie Stoddart, a former test driver for Williams and DTM racer. He speaks six languages fluently and is also a highly successful businessman in his own right.
He worked with companies that caught the internet and technology booms and is now considered to be worth around £300m. He's not doing this job because he has to or needs the money.
It hasn't always been an easy job, despite the team winning the past three consecutive F1 constructor and driver championships. That's 54 victories. Part of the management headaches were of course the intense rivalry between Lewis Hamilton and Nico Rosberg. How will it be with the calm and measured Finn, Valtteri Bottas? All plain sailing from now on compared to those last four years?
Toto shakes his head. 'I think we held it together pretty well. Four years is a long time.' Looking ahead he's realistic. 'I don't think it's possible to prevent some kind of difficulty. It's the nature of the business.'
But to Toto, Lewis seems in a good place for the start of the new season. 'You can only compare pre-season with pre-season, because once it gets tough, the racing gets close and bad weekends happen. But as I see him now, Lewis is the most diligent and hard-working I have seen in the last four years.'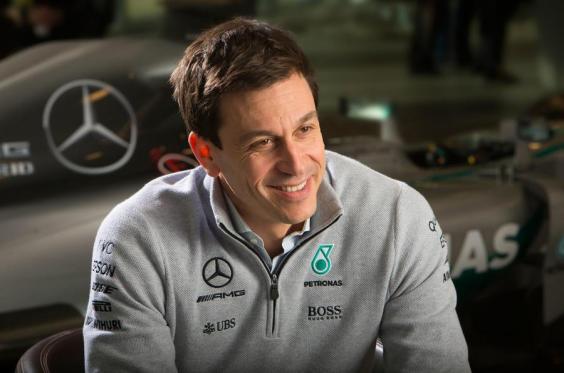 The whole team is working hard to come to terms with the new rules for 2017, which are designed to make the cars faster and to carry more g-force. Toto is concerned that one outcome may be to make overtaking more difficult. Early testing does seem to support that view, with Lewis saying that he was experiencing severe helmet buffeting when he was behind other cars.
Of course, one reason the rules have changed, say the cynical pundits, is to stop the Mercedes' winning streak. Toto shrugs and goes along with most of the changes. He's impressed with the cars generally.
The new hybrid engines, he says, are 'the most amazing, most technologically advanced engines you can have. But I believe we can optimise them further next time around. When the present engines were designed, the engineers were told to come up with solutions, but not given instructions about what sound they should make. Next time around – in 2019 or 2020 – we need to be more responsible for the show.' 
Toto is certainly a man who thinks about the show. 'We can't just view things from an opportunistic standpoint and say we're not interested in anything beyond our own success. That might have us winning eight more championships, which might kill F1 overall. So as I see it, we have to find a compromise between winning – which is how we are incentivised – and keeping the show interesting.'
That big-picture view that he displays has meant he has been linked to future management of F1. He's not going to start slagging off Bernie Ecclestone now he is gone.
'You have to remember Bernie's main objective was to earn money for his shareholders and he did that brilliantly. It was not to embrace the teams' customers. He invented a sport that wasn't there before and made it into a $90 billion business. Now it has been put into other hands and they have a big responsibility to continue his legacy. They seem open-minded and have started to ask the right questions. We will do everything we can to help them maintain the sport's attractiveness and make it better.' 
Toto may well be with the Mercedes team until 2020, but after that it seems he may well stay within F1, but in a more senior role. He learnt a lot when he moved to Mercedes in 2013, first as an investor. At the time it was just a team of survivors, having survived BAT, Honda and Brawn. 'Surviving means learning not to get caught by a bullet,' says Wolff, 'so you're never going to expose yourself. It wasn't the ideal philosophy. What we do now is to support people. We don't blame individuals. We blame problems.'
And, as he says, one of his jobs for the next few years is to keep the bullets away. So far, Toto Wolff seems pretty bulletproof.
Graham Scott is a writer for AutoCar.
Reuse content