Welcome to the first-ever plug-in hybrid petrol-electric Mini. The big Countryman Cooper S E All4 draws upon the BMW 225xe Active Tourer's mechanicals, pairing a 134bhp three-cylinder 1.5-litre turbo with an 87bhp electric motor.
Remarkably, this gives the Cooper S E a total of 221bhp, compared to the more meagre 192bhp of the regular Cooper S. It doesn't cost a huge amount more, either: £31,585 versus £28,025. A big part of that extra cost goes into the chunky 7.6kWh battery, which sits below the rear seats and boot. Plug it into a wall box and it charges in 2hrs 30mins; a regular domestic plug takes 3hrs 15mins.
Although there's no impact on rear passenger space, the boot is a bit smaller as a result. More significantly, the electric running gear adds a whopping 295kg to the Cooper S E's kerbweight. On the move, you'll notice the impact on ride quality which becomes more cumbersome and lumpy. The steering also seems unnecessarily heavy, particularly as there's not actually much feel there.
The Cooper S E is still fun to drive though, with good body control and strong front-end grip. It's one of the more entertaining plug-in hybrid cars, which at least partly compensates for that stiff ride.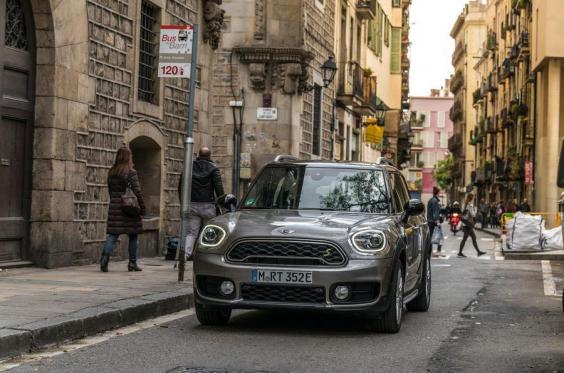 The hybrid systems work well, as you'd expect from technology purloined from a BMW. There are three models: Auto eDrive, Max eDrive and Save Battery. Auto will prioritise electric running for a range of up to 26 miles, with the petrol kicking in at speeds of over 50mph, under hard acceleration, or when the batteries run low.
Max eDrive extends the prioritisation of electric drive to speeds of up to 78mph, and the petrol engine will only kick in when absolutely necessary. Save Battery, meanwhile, will recharge the battery as you go, so you can use it in electric drive later on. This future-proofs it for driving into any cities that, say, ban all cars bar electric ones.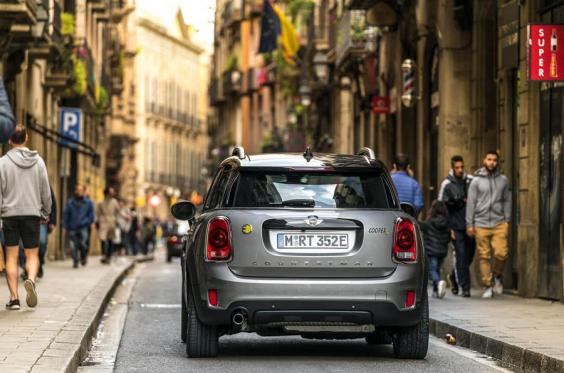 Performance is entertaining. The official 0-62mph time is a sprightly 6.8sec, and it usually feels even faster than that – and, note, faster than the normal Cooper S Countryman. It's sprightly and responsive in town, and the changeover from pure electric to the engine kicking in is very seamless. 
With engine and electric motor running, the Mini Countryman Cooper S E All4 becomes all-wheel drive, and this stable, foursquare feel is confident and reassuring, helping make good use of its strong performance. It's all very able, with its impressive technology enhanced by its smooth-driving electric performance.
It's just a pity all the extra weight has such a big impact. Minis are meant above all to deliver plenty of driver engagement and entertainment, and the Countryman Cooper S E All4 doesn't quite manage that. You'll have more fun in a normal Countryman – although you certainly won't get such impressive economy…
Mini Cooper S E Countryman ALL4
Price £31,585 
Engine 3 cyls, 1499cc, turbo, petrol plus electric motor 
Power 221bhp 
Torque 284lb ft 
Gearbox 6-spd automatic, 1-spd fixed ratio 
​Kerb weight 1660kg 
​0-62mph 6.8sec 
Top speed 123mph 
Economy 134.5mpg 
CO2/tax band 49g/km, 9%
Reuse content