The last Civic Type R – the FK2 – had legions of fans, but maybe they weren't quite as fervent as the fans of the Type R two models before that, the second-gen EP3. That's because the FK2 had a few, let's say, quirks. Like a decidedly average throttle response, a pretty stiff +R mode, and a too-high driver's seat. It was a good car, but not a perfect one.
So, the weak points that this new FK8 model had to address were well known and obvious. All Honda had to do was fix the flaws without throwing the baby out with the bathwater, the baby in this case being the thrilling turbo engine, ultra-snappy gearbox, fine track handling – and, not to put too fine a point on it, the appearance. It wasn't a looker, the FK2.
You'll have your own view on whether the FK8 sorts that last issue. It's certainly different to the FK2, but some common themes remain: it's a busy design with a growly front end, all of it attributed to aerodynamic needs. Wheelbase is up by 95mm and the overall length by 165mm, so it's noticeably bigger, but the jury is still out on the overall look. Let's hope it's a 'grower'.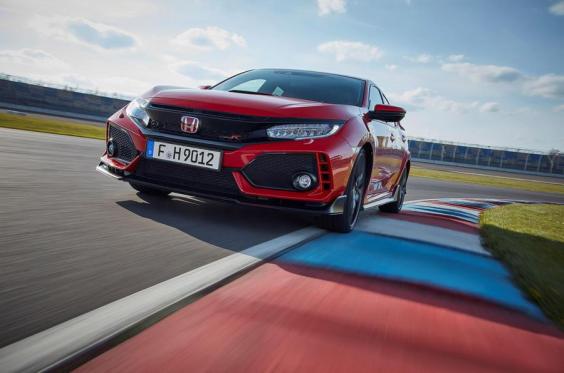 It's a pity that these subjective styling points are always going to distract from the core driving proposition which, frankly, is fantastic. It begins as soon as you drop down into that 50mm lower driver's seat. That makes a massive difference to the driving feel. Being low in a car like this is much better than being perched up high. You feel a lot more secure and inclined to treat the car as it's been designed to be treated. The pedals-to-gearstick relationship is better too, while the 10 per cent lighter seats are brilliantly comfy and supportive.
Crank up the engine and revel in the more intent noise from the three-pipe exhaust. That centre pipe helps to cut 'speed boom' and contributes to a useful helping of four-pot rasp over the usual turbo whoosh – not as spine-tingly as the classic VTEC 'kick-in' but a worthwile improvement all the same.  
The new Type R has three driving modes: Comfort, Sport and +R. Sport is the start-up default to Sport. The longer wheelbase and the new multi-link rear axle that replaces the torsion beam have enhanced the Type R's road behaviour, giving a more compliant ride in town, even in Sport mode. It's handily quiet, poised and stable at UK motorway speeds and indeed at derestricted German autobahn ones.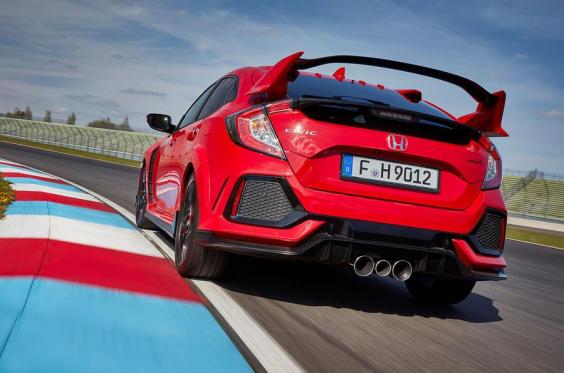 It's not all sweetness and light, however. Type R steering has never been outstanding, and neither is this one's. It's variable ratio, which isn't a problem, but the artificial weight and all-round lack of feedback are. There's no 'individual' mode, so you can't mix and match the least intrusive Comfort steering with a sharper throttle or tighter dampers. Some Honda fans might be asking themselves why that opportunity was missed.
There's the gearshift rev-match function too, which works well if you don't relish doing this sort of thing yourself, but puzzlingly you can't disable it on the move. You have to physically stop and delve around various menus to do that. Once it's in its correct setting, ie off, you can properly enjoy playing with the drivetrain, greatly improved throttle response, short-ratio gearbox and feelsome brake pedal. 
These glitches aside, the new car has thankfully retained all the Type R freneticism and raw speed. You soon learn the Type R way of later braking and earlier throttle inputs. Confidence oozes through the pedals. Grip and traction are always there. 
If the Civic is exciting on the road – and it is – it's even more of a tool on the track. The new single-mass flywheel has undoubtedly helped boost the engine's willingness to rev to 7000rpm, and the improved driving position plus the extra rear-end stability make it an quick and yet somehow relaxing circuit machine. We'd question the OE fitment of Continental SportContact 6 tyres when Michelin Pilot Sport Cup 2s are available, though. Ask Megane Trophy-R and Golf GTI Clubsport S owners about that. 
So, all in all, a largely very positive first impression of the new Type R. It cleverly puts across that 'touring car with infotainment' vibe, with the right mix of composure and pace and a  harder edge than you'd get in a Golf GTI. It's very fast, very rewarding on road or track, and yet it's entirely liveable too, with comfort, refinement and surprising practicality – because underneath the shouty bits, it's still a Honda Civic. 
Honda Civic Type R

On sale July 
Price £30,995 
Engine 4 cyls, 1996cc, turbo, petrol 
Power 316bhp at 6500rpm 
Torque 295lb ft from 2500-4500rpm 
Gearbox 6-spd manual 
Kerb weight 1380kg 
Top speed 169mph  0-62mph 5.7sec 
Economy 36.7mpg (combined) 
CO2/tax band 176g/km, 34% 
Rivals Ford Focus RS, Volkswagen Golf R
Tony Middlehurst is a writer for PistonHeads
Reuse content