There's no point in pretending. You've started reading this test and you've already clocked those five stars, the ultimate accolade. It's important to note here that we're talking about a GTS not a GT Porsche. The GT series is the Porsche Motorsport realm where the more race-ready 911s live and where spec and prices soar.
Here at GTS level, you could argue that this is simply a parts bin special. And we've chosen the simplest version, with rear-wheel drive and a manual gearbox – something which has just arrived in the UK.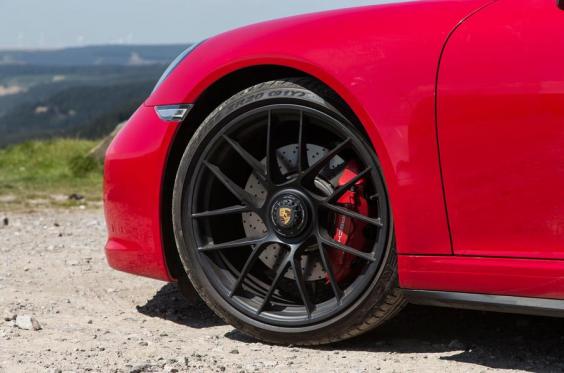 There's the wider bodywork you'd normally only get on four-wheel drive models but with rear-wheel drive here. If you went for the power upgrade kit on your Carrera S you'd get a 40bhp power lift – as you do here as standard. If you bought a cheaper 911 and went for the options of the PASM suspension management and lower sports suspension you'd recognize them here as standard items. The Turbo provided the centre-lock wheels.
So what happens when you sort of sling all those components together? What you get is something very specific. If you changed to a Targa body and added four-wheel drive and the auto transmission, then you'd have a very different car indeed. So it pays to pay a great deal of attention to the boxes you tick.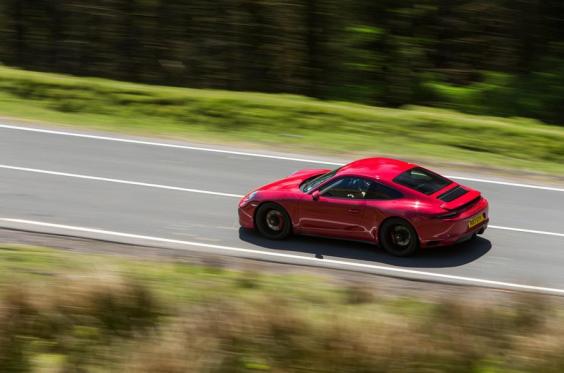 But in this simple coupé format you lose nothing and you gain a great deal. One of the things you gain is a power hike out of all proportion to that relatively modest figure of 40bhp. It's quite remarkable. There's still that massive, bi-turbo low end thrust but now it's accompanied by a really zinging top end that soars away in a really thrilling manner.
If you keep out of GT territory, this is the most powerful 911 with rear-wheel drive the factory has ever made. But this isn't about numbers, it's about something more esoteric. It's about feel, connection, involvement. You are plugged into this 911 through every contact with the car, none more so than that slick six-speed manual box. 
It's alive in your grasp, with a chassis that is simply peerless, powered by an engine that seems to have reached new heights of perfection. Cornering is an art form, the front end biting and turning hard, those big rear tyres being pushed to their limits as the torque makes them squirm. Fire out and rev it out and you're in a very happy place indeed.
There may be just one problem. This is like a simpler, honed 911 Turbo in many ways. Yet you don't have the four-wheel drive and you can specify the manual box, all things that enhance the driving experience. If you want the ultimate 911 but don't want to get into GT territory, then this is it. And it's a mere £33,000 cheaper than the Turbo too. Now that could be a problem for Porsche.
Porsche 911 GTS
Price £95,795 
Engine 6 cyls horizontally opposed, 2981cc, twin-turbo, petrol 
Power 444bhp at 6500rpm 
Torque 405lb ft at 2150rpm 
​0-62mph 4.1sec 
Top speed 193mph 
Gearbox 7-spd manual 
​Kerb weight 1525kg 
Economy 30.1mpg (combined) CO2 212g/km, 37%
Rivals Jaguar F-Type R, Aston Martin V8 Vantage
Graham Scott is a writer for AutoCar.
Reuse content