In some ways it is almost as if the credit crunch never happened. Buoyed by a strengthening economy and funds pumped out by the Bank of England, providers are indulging in a personal loan price war.
If you plan to borrow more than £7,500, rates have fallen below the magic 5 per cent mark.
As a result, interest rates are now lower than they were before the great crash and not far ahead of inflation. It has never been cheaper to borrow money.
Hitachi Personal Finance has a brand-new sale on its range of personal loans with rates as low as 4.8 per cent for £7,500 to £10,000 taken over two to five years. Hitachi has even said it expects one-in-10 applicants to get a rate that is better than the advertised APR, but these cut-price rates are only available until 31 October
This move will come as a welcome opportunity for borrowers who missed out on the Sainsbury's Bank limited offer of 4.8 per cent for loans of £7,500 up to a more generous £15,000 and repaid in three years – the cheapest ever seen. This offer has now been pulled, but Clydesdale Bank and Derbyshire Building Society both join Hitachi on the best-buy tables, offering loans of 5 per cent, and only last month, Tesco cut the rate on its £15,001 to £25,000 loans to a market-leading 6.9 per cent APR, down from 7.2 per cent.
"Smaller loans are still quite expensive – that market hasn't really returned since the credit crunch – but loans over £7,500 have fallen to record lows," says Paul Lawler of comparison site MoneySupermarket.com.
Even with this level of competition, however, you could miss out if you have any blemishes on your credit record. Every time you apply for a loan, the prospective lender has a look at your repayment record with a credit-reference agency. If your report is a blank book (because you haven't borrowed before), or you have a history of missing payments, you will have problems.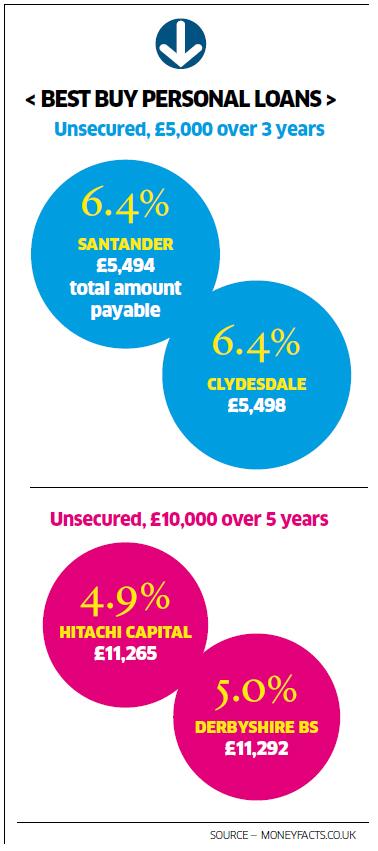 Being refused credit isn't actually recorded on your report, but it can end up being part of a vicious circle because every application is recorded on your file and could therefore negatively impact your chances of being accepted for future credit.
"A lot of application footprints in a short space of time typically indicate financial stress, desperation or fraud – especially if other information supports that – so it's something that we should all try to avoid," says James Jones of credit-reference agency Experian.
All advertised loan and credit-card APRs are representative which means that only 51 per cent of successful applicants are guaranteed to get the headline rates and everyone else may end up being offered a more-expensive loan than they expected. Unfortunately, the application search will continue to show on your credit report for 12 months whether or not you cancel the loan agreement at the first opportunity.
With this in mind, it pays to review your credit report regularly and particularly before you make an important application. This will give you a chance to check for and correct any errors. It may also highlight other ways to strengthen your record, for example, by breaking ties with an ex-partner or registering on the electoral roll. If you are turned away by a lender, ask them why and find out which credit-reference agency they consulted. Do not apply for credit elsewhere until you have checked your report.
Use online tools such as the MoneySupermarket Smart Search to perform a "soft search" for loans without leaving a footprint on your credit file. This matches your credit details against the market to determine which loans you are most likely to get. There is no guarantee but it does use lenders' public-lending criteria to give an indication of who is more likely to accept you. Experian also offers CreditExpert customers access to their Credit Matcher service in order to help people avoid wasted applications.
The rule of thumb with any debt is to borrow as little as possible and repay as quickly as possible.
You can spread the cost of a loan over a longer period to reduce your monthly repayments, but in the long run you'll pay much more in interest. As an example, borrowing £10,000 at 6 per cent over three years would cost you £926 in interest, but if you paid it over five years, the interest rises to £1,556. Having said that, lenders do set their loan rates within specific boundaries and it is sometimes cheaper to borrow a few quid more to get the best rates – so if the rate for borrowing £7,000 is much more expensive than the rate for a £7,500 loan, borrow more to bag the cheaper deal.
If you want to borrow a smaller sum of money unsecured personal loans look expensive, with many lenders charging well into double figures. Smaller loans are typically used to consolidate debt and pose a higher risk to nervy lenders, whereas larger loans borrowed over a long time are often used for home improvements or buying a car and are more likely to be repaid.
Andrew Hagger of Moneycomms.co.uk says: "When it comes to lower-value personal loans they're seemingly not interested and extremely uncompetitive.
"Interest rates are at record lows for those seeking to borrow a five-figure sum, but customers who only want a personal loan for a smaller amount are getting a raw deal."
A better idea is to use a credit card with an introductory offer. Credit-card providers have been falling over themselves to take the top spot, and right now the Tesco Clubcard credit card gives you 0 per cent interest for 18 months on new purchases.
If you want to consolidate your debts instead, the Barclaycard Platinum card is interest free for a mammoth 28 months with a 3.5 per cent fee, and the Halifax Balance Transfer card offers 27 months at 0 per cent with a 2.5 per cent fee.
Providing you can clear the debt before the interest-free period ends, this is one of the best options for short-term borrowing.
Looking for credit card or current account deals? Search here
Reuse content