Sylvia Kneller of Farnham, Surrey, reckons she's wasted £200,000 on a scam in the past 50 years. Unbelievable? The 76-year-old ignored those who told her it was a scam, because she wanted to believe she was in with a chance of getting a fortune.
"In your mind you believe it and even though other people start on at you and you know they are right you still believe you will win," she said. Only the intervention of Trading Standards helped Sylvia escaper her addiction.
What was the trick? It's one of the oldest. Crooks send letters or emails promising you've won a prize, maybe in a foreign lottery. To unlock the cash they ask you to send a fee, often of around £25 but sometimes more. But the fraudsters simply trouser your cash and leave you out of pocket.
Would you fall for a scam? No matter how clever you think you are, the tricksters can catch you out, whether they con you into handing over plastic cards at your front door, or your bank account details online.
The Office of Fair Trading reckons three million of us fall prey to cons every year, while 22,000 victims report scams to the Citizens Advice.
The number is growing as crooks become more sophisticated and develop new tricks to make their pitch seem convincing.They've even developed fresh scams to fool hard-up people who have been hit by the recession, with offers of phoney jobs, training or debt scams.
But they won't fool you if you know what to expect. Here's my guide to the modern scams that can trick unwary people into handing over thousands of pounds. The first rule is to be wary. Con artists largely prey on fear and greed. But take a little time to consider any offer and the truth may become clear. Frankly, often a quick check online will reveal swindlers' methods, and help you to avoid becoming a victim.
For instance, there's the courier scam, which seems to have been growing as villains find more victims to target. Frighteningly, they have spotted that elderly and vulnerable people are most likely to fall for this particular dodge.
How does it work? The crooks phone unsuspecting people and pretend to be calling from their bank or the police. They claim that bank cards have been compromised, and that they need to send a courier round to pick them up to help the investigation.
To make their claims appear genuine, they encourage the victim to hang up and then call the bank or the police. But by the simple trick of not putting the phone down at their end, they can pretend to be a bank or the police answering.
Once they have fooled people into believing they are genuine, they persuade them to hand over PINs and then confirm a collection.
Pretty soon a courier – who is, of course, one of their villainous associates if not the person making the phone call – knocks on the door. Most of the crooks even keep up the charade by getting their victims to sign a receipt for the cards.
But once they have your cards and details, they can help themselves to your cash. In one instance last month a heartless conman tricked an 89-year-old London woman into handing over a painting worth £100,000.
He rang Ursula Overbury at her Kensington home and went through the usual courier scam spiel, while claiming to be a policeman. But when she rang her "bank" – he had remained on the line to trick her – he posed as a bank worker and asked if she had any valuables.
She told him about the Samuel Palmer painting so when the "courier" arrived he simply took into safekeeping as well.
The rule is simple: your bank or the police will never ask for your personal details or to hand over cards or other valuables. If you get a call, report it to the real police, and use another phone if necessary.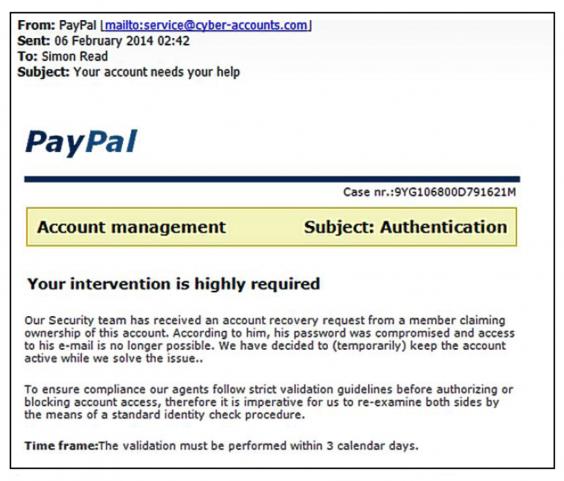 By the same token, never believe an email that purports to come from your bank and asks you to click a link to a website to change your password. It's called phishing.
No matter how convincing the website looks, and most look very convincing, it will be false and it is there to harvest your financial details.
And the bogus emails don't just come from banks – they come from any financial outfit. On Wednesday, for instance, I had an official-looking email from Paypal's "Security Team" warning that I had to authenticate my account within three days or it would be closed.
To authenticate the account I had to follow a link, that was certainly to a crooked mirror site set up by fraudsters. How did I know that? because I don't have a Paypal account!
Another con that seems to be growing exponentially because of the internet is the fake ticket scam. Swindlers steal hundreds of thousands from unsuspecting folk every year by offering hard-to-get tickets through genuine looking websites. The fact is that there are never any tickets. They're just in the imagination of the crooks.
They set up the false sites for specific events and promise tickets for the likes of Prince this week in London. Generally they take your cash and arrange to meet you at the venue. But they never turn up and the tickets never appear.
The bogus touts use any event to flog their non-existent tickets. Last month, for instance, the Metropolitan Police was forced to warn sports fans to be aware of people selling fake Rugby World Cup 2015 tickets online.
You'll find fake sites selling tickets to the theatre, football matches, Wimbledon and all the major music festivals. The only sure way to avoid the crooks is to use authorised ticket sellers.
Another growing problem is copycat government websites, which often pay to top Google rankings. So if you put the words "tax return" into a search engine, you are as likely to be directed to a dodgy site as an official one.
The trick is to charge you for something you can get for free. In most cases it's hundreds of pounds that you don't need to spend. So far, scammers have targeted people wishing to submit tax returns, pay congestion charges or renew their driving licences. But they are also happy to charge you £70 just to send out a form to renew your passport, which can be picked up free from major Post Offices.
Unemployed people have been targeted recently with offers of fake jobs and training. Victims are encouraged to pay for a training course that promises a job at the end, only to find that the company is bogus.
Debt scams are just as pernicious. Swindlers target those who are in financial difficulties and promise that, for a fee, they will arrange cheaper finance. But they take their victim's cash and run – leaving them even deeper in debt.
Another newish scam is pension liberation. Indeed the Pensions Minister Steve Webb has been busy on our TV screens this week warning about it. This involves dodgy firms contacting you with claims that you can release your pension funds early. In isolated cases people can, but only if they have a terminal illness, for instance.
The crooks trouser fat fees and leave victims with a large tax bill, often up to two-thirds of the value of their pension.
In short: never give out financial information to businesses that should already know it, and never send money to someone you don't know. Most importantly, question any offer or warning you get.
For more advice go to www.actionfraud.police.uk.
Looking for credit card or current account deals? Search here
Reuse content