When Tesco's chief executive Dave Lewis lays the troubled grocer's half-yearly results out before the City on Thursday they are expected to be ugly. However, the new boss could perhaps find inspiration for the fightback in the supermarket price wars from an unexpected place – France.
Mr Lewis is poised to spend his first results presentation discussing the £250m accounting scandal and explaining how first-half profits have almost halved, from £1.6bn a year ago to an expected £850m, as it battles price cuts led by the German discounters Aldi and Lidl.
The scale of challenge facing the new management was underlined by Kantar Worldpanel data that revealed Tesco's sales fell 3.6 per cent in the 12 weeks to 12 October, the worst decline seen by any UK grocer.
Although Aldi and Lidl's rapid growth appears unstoppable – their sales grew at 27.3 per cent and 18.1 per cent respectively in the last quarter – in France, there are signs of a fightback.
A report by LEK Consulting showed fewer complex promotions and bigger price cuts have stemmed the tide. Their market share in France slipped to 11.9 per cent in the second quarter of 2014 from a 2009 peak of 14.9 per cent, according to Kantar.
The key to the fightback by established players including Leclerc, Auchan, Carrefour and Casino, the report said, was both investing in building a raft of collection points for online shoppers, as in the UK, but also expanding budget ranges, cutting prices on own-label brands and slashing the price of big name brands to be cheaper for longer.
A basket of budget private label goods is now about 13 per cent cheaper at a French hypermarket and 9 per cent cheaper at a supermarket than at a discounter. Carrefour is now just 5 per cent more expensive on brands than Lidl in France, compared to a 20 per cent premium to shop at the mainstream grocers compared to Lidl in the UK.
The report will offer a fillip for Mr Lewis, who, after joining from supplier Unilever last month, is expected to find a solution to the headache that is costing him shoppers.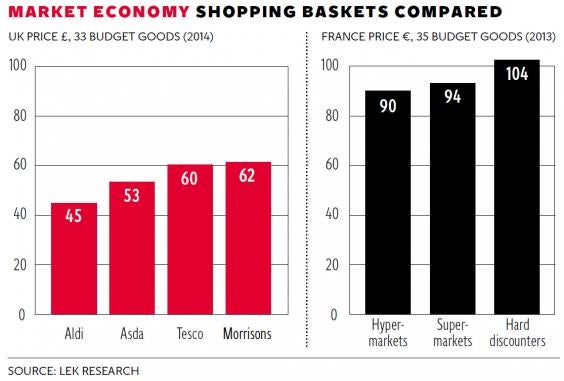 Along with rivals Sainsbury's and Morrisons, it is hemorrhaging shoppers to discounters Aldi and Lidl, as well as the upmarket grocer Waitrose, as customers seek out consistent low prices and good value premium food.
Sainsbury's 3.1 per cent sales fall represented its worst decline since the 1990s as just Asda of the traditional "big four" UK supermarkets notched up a sales rise.
However, as well as the report on France, a twinkle of light has emerged for Tesco. Kantar data for the last month, circulated to supermarket bosses and seen by The Independent, showed Tesco has achieved its lowest loss of market share since February and that sales are down about 3.3 per cent so far during the third quarter, an improvement of 2 percentage points on 12-week figures which did not cover the last two weeks.
It's worth also adding context – profits are forecast to be £850m on £30.6bn sales and Tesco remains the clear market leader in the UK.  Many in the grocery trade also dismissed the rapid rise of Aldi and Lidl as merely a replacement for previous bargain merchants, including the collapsed Kwik Save, and believe them a flash in the pan.
Barely two months into his reign, Mr Lewis has tried to expose all the bad news early – hanging a "for sale" sign over Tesco's corporate jets, calling in Deloitte and Freshfields investigators over the "black hole" in its profit forecasts and suspending eight senior staff linked to the affair.
But the bad news has kept flowing – an investigation into executives in South Korea allegedly selling customer data, rapidly followed by a damaging Lazarus survey into its "compromised" customer service.
The accounting scandal has lifted the lid on the murky world of retailer-supplier relations. It is alleged that auditors were deliberately misled by senior Tesco staff and that the profit overstatement relates to the booking of supplier contributions that were conditional on hitting sales targets which it was not going to reach.
However, any hopes Mr Lewis may have of drawing a line under the accounting affair appear to have been dashed.
"This practice is endemic, not just at Tesco but across retail," explains one former buyer. "When the numbers don't add up at the end of the quarter, buyers take promotional fees from suppliers to make the margin gap up with promise of promotions later.
"It was so normal at every level it didn't even seem wrong, some suppliers even build the money into their budgets and accounts."
Sources close to the investigation claim the practice was limited to a "small group" of individuals, however, if it does have to be unstitched from its culture, it will not be the end of the matter for Mr Lewis, and new chief, Alan Stewart.
Several suppliers claim the issues at the top have pushed back next year's decision-making on which products will be sold and at what price. "The atmosphere is horrible, everyone is constantly dragged into meetings and there is no one to make key decisions," says one insider, who added that Christmas trading would be hampered by a lack of senior management making decisions during what is dubbed retail's "golden quarter".
Concerns over the key Christmas period are shared by analysts, with Richard Clarke, at Bernstein Research, questioning whether Tesco would be able to wrest shoppers back this year. "Aldi are clearly going to be strong, they've already said they going to be selling lobsters and caviar and Waitrose will perform strongly with a luxurious ad."
Ultimately, Mr Lewis' maiden results presentation is likely to be spent attempting to divert the attention forwards, rather than backwards, at numbers and mistakes clocked up under his predecessor. He is faced with a raft of tough decisions which will have to be resolved quickly – how he handles senior executives amid the accounting affair, whether to sell off valuable assets including arms in Asia and its data firm, Dunnhumby, and how to hit back in the price war.
However, here is his first opportunity to show the City and shoppers whether he has the requisite ingredients to get Tesco back on the menu and maybe even throw in some French flavour too.
Reuse content