If you spend your journey to work sitting next to an office-bound French bulldog tomorrow, that's because it's Bring Your Dog To Work Day, an annual nationwide event which raises money for animal welfare charities. Which may mean that leaving your Pret cheese and pickle baguette unattended on your desk at lunchtime is a little riskier than usual.
Sandwich-theft aside, there are a glut of benefits to letting dogs roam free around the photocopier. The office pooch has been linked to lower stress levels, better team co-operation and increased morale, with studies even showing that people will work longer hours and take fewer days off when they can stroke their stress away on the staff Staffie.
And while pets at work may have once been the preserve of the boss (like 11am starts and three-course lunch breaks), this particular perk is filtering down. Alan, the famous "Tatler dog" who sadly died after becoming trapped in the revolving door at their offices at Vogue House, was the pet of the editor's assistant, and even giant corporations like Google and Amazon recognise the advantages.
Don't go exploiting your new four-legged colleagues, though: dog food brand Barking Heads has set up an "Office Dog Union", to try and ensure that workplace pooches get fair working conditions.
Britain's fattest pets
Britain's fattest pets
1/16 Rolo

Rolo's favourite trick is to pull the tablecloth until food falls on the floor.

PDSA

2/16 Rolo

Rolo the roly-poly pug weighs 2st 1lb, but should weight 1st 6lb, making him 48 per cent overweight. His hefty size is due to his bad habit of chasing people carrying shopping bags in an effort to get their food.

PDSA

3/16 Jemma

Jemma needs to lost almost half of her bodywright to become a healthy size.

PDSA

4/16 Boycus

Boycus lives in a house with several other cats, and regularly eats all of their food as well as his. This nasty habit has led to him growing to more than twice his healthy weight.

PDSA

5/16 Boycus

Boycus's considerable weight has made him a bit of a handful.

PDSA

6/16 Guy

Guy has the unfortunate title of being one of the biggest pets ever to take part in the PDSA's annual Pet Fit Club competition.

PDSA

7/16 Guy

Guy, from Leicester, isn't the biggest fan of exercise, and because he lives next to a main road, he doesn't get out of the house very often. He's now ballooned to more than twice his healthy weight.

PDSA

8/16 Spider

Spider is the first rat to ever take part in Pet Fit Club. He got his name because he used to like hanging upside down from the top of his cage - but his weight, almost double what it should be, has put an end to those antics.

PDSA

9/16 Poppy

Poppy, a springer spaniel from Liverpool, loves raiding the fridge so much that her owners have been forced to put child locks on it.

PDSA

10/16 Hooch

Hooch, a 11-year old Rottweiler from Hull, tips the scales at nearly 13 stone - more than a middleweight boxer.

PDSA

11/16 Hooch

He used to eat five tins of dog food a day, but his owner, who rescued him several years ago, got him down to one.

PDSA

12/16 Harley

Harley's weight has turned him into a tourist attraction - his owner, Lisa Mitchell from Edinburgh, has said she has been stopped by foreign visitors asking for a picture of her podgy pooch.

PDSA

13/16 Duke

Poor old Duke is morbidly obese, but after taking part in last year's competition, he's on a new diet and is shedding the pounds.

PDSA

14/16 Duke

Duke, from Cardiff, was almost double his healthy weight.

PDSA

15/16 Daisy, the 2014 Winner

Daisy the bulldog, from Middlesbrough, won the 2014 competition - losing 8 kilos and becoming much healthier for it.

PDSA

16/16 Daisy, the 2014 Winner

Daisy lost more than a quarter of her bodyweight and looks much better for it.

PDSA
Lizzie Benton from content marketing agency Datify says that the positives she and her team get from their office dog Izzie are manifold, and mean that instead of spending breaks mindlessly scrolling Facebook, they head out for walkies or a game of "fetch".
"Izzie helps people to feel calmer and she makes you realise there's more to life than deadlines," she says. "We're a less stressed office because of her."
If we want evidence of just how much a dog can be part of the team, there is no sadder example than Charlie Hebdo's cocker spaniel Lila, credited by survivors of the attack on the magazine with bringing the survivors "back to their senses" after the shooting, as they heard the familiar sound of her paws padding around the office.
Of course, there are issues: colleagues with allergies or phobias, unsuitable workplaces and some dog breeds which just aren't happy being stuck in an office all day. Some people may also question the professionalism of a workplace where you can have your leg humped mid-way through a presentation.
"I went to a client's work premises and spent a whole meeting with their dog's head in my crotch," says literary consultant Diane Hall. "It was a professional business, yet the presence of the mutt gave it an overpowering 'dog' smell."
Which isn't surprising, really – it's enough to put anyone off their lunchtime sushi to know that a quarter of those who've taken their dogs to work admit that their pet has emptied its bowels in the office.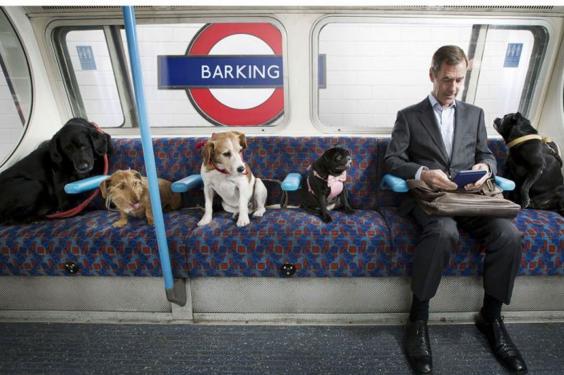 For many people though, the downsides are worth it. Digital marketing company Rehab Studio has three adored office dogs – a French bulldog, a Staffie and a blonde cocker spaniel – all of whom are at home everywhere in the office. Maybe even too at home.
"A few months ago, we were on a really serious client call and one of the dogs farted," laughs one of the company's creatives Nathalie Gordon. "There is nowhere to escape in these soundproofed booths so five people were suffocating in there but we couldn't show it in our faces. We've never been so happy to hang up."
Rehab Studio's dogs have also been known to eat leftover pizza and confuse the office plants with the outdoors when it comes to a place to relieve themselves but, says Nathalie, they wouldn't have their workplace any other way.
"They are such a welcome distraction, particularly when people are having a bad day," she says. "When morale is down, in comes the pup to raise the spirits. You just can't be sad when you have a fist full of Frenchie."
Reuse content