The housing market is partying like it's 1999. September 1999 to be precise, according to the Royal Institution of Chartered Surveyors, which says the number of property professionals anticipating higher prices in the next three months is at a 14-year high.
Stocks have dwindled and the housebuilding industry is scurrying to keep up with a surge in mortgage loans as first the Bank of England's Funding for Lending scheme, and then George Osborne's Help to Buy initiative in March's Budget, electrified the market.
Even a wealthy celebrity like Prince – worth a reported £200m – might baulk at some of the prices being charged at the top end of the London market, where prices are rising 12 per cent year-on-year. The capital, where prices are supported by wealthy foreign buyers looking for a safe asset, has roared off into the stratosphere but a housing market recovery is becoming entrenched across the rest of the country too.
The City is loving it. According to Liberum Capital's Charlie Campbell, shares in listed housebuilders have surged 50-60 per cent this year and are set for further gains in 2014. "It will be hard to see rises of the same magnitude as 2013 but we still think there is a 25 per cent upside over the next year."
Ted Ayres, of housebuilder Bellway, says: "Help to Buy has acted as a big boost and a catalyst for people to come back in, but in the longer term we need lending institutions feeling comfortable about high loan-to-value loans to people at 90-95 per cent without government support."
The recovery has caught everyone off-guard, including the Bank of England. In the 12 months to last October, the latest in terms of official data, UK house prices rose 5.5 per cent, five times higher than forecasters pencilled in a year ago. London has led but prices are still 3.1 per cent higher across the rest of the country in the past 12 months, excluding the buoyant capital and South-east. Nationwide has said that prices across the country were up 8.4 per cent in the last year.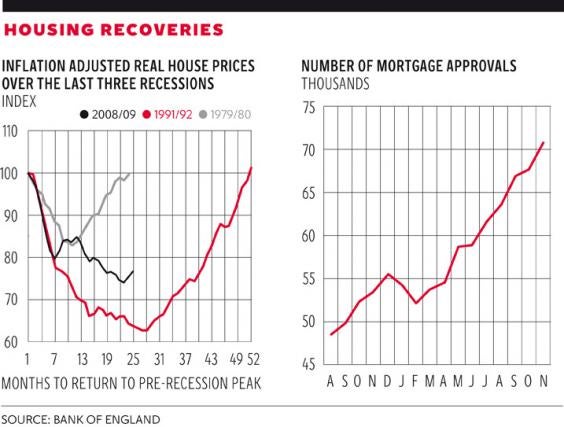 Even though inflation-adjusted house prices are still below 2007, the resurgence has raised alarms at the Bank, which has changed the rules of Funding for Lending to prevent banks recycling cheap cash into mortgage loans. Mortgage approvals are up more than 20,000 since FLS was introduced in August 2012.
Then back in March, Help to Buy fanned the flames as the Chancellor's Budget centrepiece offered government loans of up to 20 per cent on new-build homes of up to £600,000 in value to boost deposits: there have been 18,000 reservations since April.
The surge in house prices has helped overall UK growth along at the fastest pace in three years: not bad for an economy on the verge of a triple dip a year ago. "There is no doubt that it was in the back of George Osborne's mind to get a short-term fix for the growth figures," says chief property economist at Capital Economics, Ed Stansfield.
Construction – a relatively small 6 per cent slice of the economy – is set to pick up significantly this year and the latest figures show the biggest rise in new housing orders since 2007. Whether the construction industry can meet demand is a moot point, according to Noble Francis, economics director of the Construction Products Association.
When the UK needs to be building more than 200,000 new homes a year, private housing starts rose an estimated 19 per cent in 2013 to 112,000, and even after another two years of double-digit growth only 142,000 are forecast in 2015, according to the CPA's estimates. The organisation's latest trade survey reports other constraints which could push up prices: a third of builders have difficulties recruiting bricklayers and plasterers.
The Chancellor, meanwhile, basks in billions of pounds in extra stamp duty improving deficit numbers and growth figures massaged by housing growth and consumer spending. At the Bank of England, however, wary eyes will be on any evidence of runaway house prices that could pose a threat to financial stability. For the time being, at least, the party goes on.
An accident waiting to happen
Under the mortgage-guarantee element of Help to Buy, launched in October, purchasers can buy any house under £600,000 as long as it isn't a buy-to-let or second home. The Government said last week there had been 6,000 applications under this part of the scheme. How worried should we be? The equity loan part has been a success but the mortgage guarantee is playing with fire, says chief property economist at Capital Economics, Ed Stansfield. "It's insanity. The problem with it is that you are not increasing the overall stock of housing. With the first stage of Help to Buy aimed at new build, at least the housebuilders actually have to build to sell a house first. The mortgage guarantee scheme is an accident waiting to happen."
Reasons to be bullish
1. Massive shortage of properties
2. Mortgages are becoming easier to come by
3. Economy growing, confidence rising again
4. Current super-low interest rates
5. Falling unemployment In the UK as a whole
Reasons to be bearish
1. Interest rates could rise later this year
2. Bank of England could pull Funding for Lending
3. Price rises outside the South East are patchy
4. Young people can't get on property ladder
5. Pay rises failing to keep pace with house prices