In May last year Martin Taylor, the former chief executive of Barclays Bank, addressed a crowd of high-powered financiers in the ballroom of the InterContinental Park Lane hotel in London. 
Mr Taylor, an adviser to the Bank of England's Financial Policy Committee and an influential voice on market risk, spoke darkly about his fears for Coco bonds, a quirky-sounding debt instrument launched in the wake of the financial crisis.
"I talk to a group like this about credit matters with the greatest timidity. I am sure you are good citizens and desire to exercise exemplary scrutiny. But I wonder whether you will flip – like the holders of European sovereign bonds before 2010 – from believing all issuers equally safe to thinking many equally precarious when the sky next darkens," he said.     
Skies have not only darkened this week, but Mr Taylor's words have a prophetic rings: investors have indeed flipped out with concern about Cocos after the German lender Deutsche Bank was forced to reassure investors it could meet interest, or coupon, payments on its Coco bonds. 
The move has stoked fears that something is rotten at the heart of the European banking sector and led many to question why Cocos – considered a silver bullet solution – have melted like their chocolate breakfast cereal namesake in the face of market turmoil.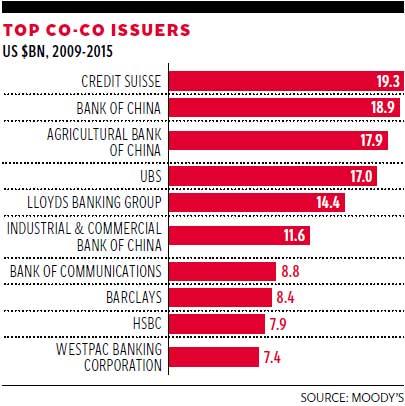 Cocos, formally known as contingent convertible bonds, were born out of the 2008 financial crisis as a solution for stricken banks without the need for a state bail-out. 
They work quite simply on the surface: banks issue them to finance their business like normal bonds but they morph into equity if a bank's capital falls below a certain threshold. This automatically reduces a bank's debt and boosts its capital buffers at a time when external investors could be reluctant to inject new money.
The flexibility removes some of the risk inherent in loading up bank balance sheets with debt. But herein lies the rub: how can a bank be flexible on debt obligations without spooking the market into thinking it is in trouble? 
A recent move by the European Central Bank to publish an obscure test of bank risk, known as the Srep ratio, has driven the recent upset in the market. The results have stoked fears in the minds of credit analysts about whether recent market shocks – ranging from low oil prices to the slowdown in China – could inadvertently cause banks to breach rules which would prompt regulators to stop them paying Coco coupons.
Many lenders – such as Spain's Banco Popular Espanol, Italy's UniCredit, BNP Paribas of France and Deutsche Bank – are now getting perilously close to falling into the zone, according to Hermes, posing questions about how far banks will go to protect their Coco coupon payments. 
"All these banks still have some strings they can pull," Hermes' credit strategist Filippo Alloatti said. "The fundamentals are still the same; this is a test for the Coco market and the incentives for the banks to pay these coupons, if they can, are still there."
Cocos have grown rapidly since launching in 2009, attracting credit investors keen for high-yielding bonds in a world of low base rates.
Last year was a high-water mark, with banks issuing $175bn worth of Cocos – dwarfing $50bn in 2013 and $14bn in 2009, according to Moody's.
Yet fears over the Greek debt crisis and the slump in China put a chink in the armour. Issuance slowed to around $77bn last year and this year looks worse, with predictions of $35bn worth of bonds now looking highly optimistic in light of recent events.
Just two Coco issues have come to market this year, according to the data provider CreditSights – from Crédit Agricole and Intesa Sanpaolo.
Many say the Coco market is now effectively closed for the rest of the year unless policymakers simplify the rules and kick-start issues back into life.
"The regulator has made a mistake in the way they are designed," credit manager Lloyd Harris from Old Mutual Global Investors said. "The regulations are far too draconian in Europe and will have to change. It is potentially difficult for the market to come back to the extent it needs to unless some changes are made."
One solution could be adopting a US version of Cocos, which are considered less complex than their EU counterparts. If a bank reaches the point of going bust in the US, the Coco is simply bailed in and losses are borne by the bondholder. 
In contrast, EU regulators have over-egged the cake by adding additional layers of complexity about how and when banks can pay bondholders. "We should not forget these have been designed by regulators for regulators," said Gildas Surry, an analyst and partner at credit investor Axiom Alternative Investments. "At some stage, the ECB and the Bank of England will have to defend the format." 
Business picture of the day
Business picture of the day
1/31 Steelworkers march in London as Tata sale talks continue - Wednesday May 25

Hundreds of steelworkers from across the UK marched through Westminster to keep up pressure for government help for their industry

AP Photo/Kirsty Wigglesworth

2/31 Google Paris headquarters raided as part of tax payment probe - Tuesday May 24

The message 'I'm feeling lucky' is seen on the facade of the entrance of Google's Paris headquarters on May 24, 2016 in Paris, France. Google's headquarters in Paris were raided by French investigators on Tuesday morning as part of an investigation over alleged tax fraud. Ministry of Finance is seeking €1.6 billion ($1.79 billion) in back taxes from the US Internet giant Google.

Getty Images

3/31 Bayer offers to buy Monsanto for $62 billion cash - Monday May 23

Monsanto DeKalb brand hybrid corn sits in the hopper of a Case IH planter in a field in Princeton, Illinois, US. Bayer, on Monday, made an unsolicited $62 billion all-cash offer to acquire Monsanto to create the world's biggest supplier of farm chemicals and genetically modified seeds, a proposed acquisition that would be the biggest corporate deal by a German company.

Getty Images

4/31 Fracking approval under consideration - Friday May 20

Councillors in North Yorkshire on Friday considered whether to approve fracking in England for the first time since a ban on the technique was lifted in 2012. Campaigners say approval would set a "dangerous precedent".

Getty Images

5/31 'Oppenheimer Blue' diamond sells for £40m, setting new record - Thursday May 19

The world's most expensive diamond has set a new record after it was sold at auction - for more than £39 million. At 14.62 carats, the 'Oppenheimer Blue' was the largest Vivid Blue diamond ever to go under the hammer.

Reuters

6/31 Mitsubishi Motors president to resign over fuel scandal - Wednesday May 19

Mitsubishi Motors President Tetsuro Aikawa will step down as the Japanese automaker looks to regroup from its widening fuel economy testing scandal with the backing of Nissan Motor. Aikawa, 62, and Executive Vice President Ryugo Nakao will leave their positions effective June 24, according to a statement Wednesday.Prior to the scandal, Mitsubishi was the sixth biggest carmaker in Japan and ranked 16 worldwide.

Reuters

7/31 Harmony of the Seas: Biggest cruise ship in the world docks in Southampton - Tuesday May 17

The worlds largest cruise ship, the 361 metres long, Harmony of the Seas, arrives in port for her mayden voyage, in Southampton, Britain May 17, 2016. The 362-metre-long Harmony of the Seas cost $1 billion (£700 million) and is larger than the Eiffel Tower.

Reuters

8/31 Barclays to sell secret London gold vault - Monday May 16

Barclays has sold its metals business, including a secret gold bullion vault in London which can hold up to 2,000 tonnes of gold. ICBC Standard, China's biggest bank, expects the purchase to be completed in July. Barclays decision to exit the business comes as US and EU regulators investigate whether 10 banks, including Deutsche Bank and Barclays manipulated prices of precious metals such as silver and gold.

Getty Images

9/31 Bank of England warns EU referendum vote could damage UK economic growth - Thursday May 12

The Governor of the Bank of England, Mark Carney, warned today that a majority vote to "leave" in next month's European Union referendum carried the risk of a "technical recession" for the UK. His words came as the Bank slashed its growth forecasts citing uncertainty created by next month's Brexit referendum - and warned, in addition, that a vote to leave could push up unemployment, send the pound plummeting and result in a spike in inflation.

Getty Images

10/31 EU blocks Three's takeover of O2 - Wednesday May 11

European Union Commissioner for Competition Margrethe Vestager talks to the media after the EU Commission prohibited Hutchison's proposed acquisition of Telefonica UK, at the EU Commission headquarter in Brussels on May 11, 2016. The European Commission shot down Telefonica's blockbuster sale of British telecom giant O2 to Hong Kong group Hutchison on fears it would inflict higher prices on British consumer

Getty Images

11/31 Budweiser just renamed its beer to "America" - Tuesday May 10

The beer, formerly known as Budweiser, is going for what it calls "patriotic packaging" this summer. The brand name on most cans and bottles will read "America", and will include phrases from the Pledge of Allegiance and lyrics from The Star Spangled Banner and America the Beautiful. "We thought nothing was more iconic than Budweiser and nothing was more iconic than America," Tosh Hall, creative director at JRK, told Fast Co Design.Anheuser-Busch InBev, the Belgian-Brazilian brewing giant, filed the America label for approval from the Alcohol and Tobacco Tax and Trade Bureau, and has received the go ahead for use on 12-ounce cans and bottles.

Budweiser

12/31 Canadian wildfires push up oil - Monday May 9

Crude rose as expanding wildfires in Canada knocked out about 1 million barrels a day of output. Futures increased as much as 2.9 per cent in New York and 2.5 per cent in London. The blaze has led to cuts equivalent to about 40 percent of Canada's oil-sands production, based on IHS Energy estimates.

Reuters

13/31 Hotel Chocolat founders make £20m each from stock market debut - Thursday May 5

Angus Thirlwell and Peter Harris share £43.5m of £55.5m raised through flotation of luxury chocolate company

Getty Images

14/31 BHP Billiton faces £30bn compensation claim over Brazil dam disaster - Wednesday May 4

BHP Billiton and its partner Vale are facing a 155bn real (£30bn) claim from Brazilian prosecutors over a dam collapse last year at one of their iron ore mines, which killed 19 and left 700 homeless. Shares in the London-listed BHP plunged almost 10% after the charges were revealed into what is being called Brazil's worst ever environmental disaster.

Getty Images/ Douglas Magno

15/31 Australian Craig Wright claims he is Bitcoin creator Satoshi Nakamoto - Tuesday May 3

Australian businessman Craig Wright has claimed to be the person behind "Satoshi Nakamoto", the mysterious identity that created much of the technology behind the online cash system. Sato

REUTERS/Benoit Tessier/

16/31 Museums face ethics investigation over influence of sponsor BP - Friday April 29

Protesters carrying umbrellas take part in a flashmob performance, protesting against British Petroleum's (BP's) sponsorship of the British Museum in central London on September 13, 201

NIKLAS HALLE'N/AFP/Getty Images

17/31 Volkswagen bosses to be paid £49m despite record losses after emissions scandal - Thursday April

Volkswagen is to pay 12 current and former managers €63.24 million (£49m) for 2015, a year of record losses for the company following its global emissions scandal.

Reuters/Fabrizio Bensch

18/31 Comcast 'in talks to buy DreamWorks for $3bn' - Wednesday April 27

Comcast, the parent of Universal Pictures, is in talks to acquire DreamWorks Animation for more than $3 billion, the Wall Street Journal reported, citing people familiar with the discussions. Buying the maker of the "Shrek" and "Kung Fu Panda" movies would bolster Comcast's collection of animated films as the largest US cable provider searches for ways to grow amid a trend of cord-cutters dropping TV for online video services like Netflix.

19/31 Scottish Power fined £18m for poor customer service - Tuesday April 26

Scottish Power has agreed to pay £18 million for failing to treat its customers fairly. The fine – of which up to £15 million will be paid to vulnerable Scottish Power customers and £3 million to charity - is the third biggest penalty given to one of the major six energy providers. It follows an investigation by the industry regulator Ofgem into the firm's customer service.

PA

20/31 BHS goes into administration with 11,000 jobs under threat - Monday April 25

BHS has filed for administration, putting 11,000 jobs at risk. Administrators Philip Duffy and Benjamin Wiles of Duff & Phelps said BHS had "no alternative but to put the group into administration to protect it for all creditors". The group will continue to trade as normal while administrators look for someone to buy the chain. READ MORE BHS on the brink of collapse: everything you need to know The high street store has been unable to find £60 million in emergency funding needed to pay wages and rent and stop it going under.

Getty Images

21/31 New £20 note design and personality unveiled by Bank of England - Friday April 22

Artist JMW Turner and his painting The Fighting Temeraire will feature on the new design of the Bank of England's £20 note to enter circulation in 2020. The English Romantic artist was chosen from a list of public nominations - the first time the Bank has asked who should appear on a specific banknote. The note, to be made of polymer, will eventually replace the current £20 note featuring the economist Adam Smith.

The Governor and The Company of The Bank of England

22/31 Mitsubishi office raided in Japan as shares slide towards record low on fuel economy test scandal - Thursday April 21

The offices of Mitsubishi have been raided in Japan after the company admitted to falsifying fuel economy data, sending shares plummeting 35 per cent in two days. Investors watched in horror as the stock price fell a further 20 per cent on Thursday to trade around 583 yen following a raid on the Mitsubishi plant in the central Japanese city of Okazaki. Trading was halted due to the surfeit of investors trying to sell stock. More than third of the company's value evaporated in the sell-off.

23/31 Oil tumbles as Kuwait strike ends - Wednesday April 20

The oil price is in retreat this morning after Kuwaiti workers ended a three day strike. Brent crude has slumped by 2.5 per cent already, down over $1 to $42.95 per barrel, as traders anticipate more oil flowing from Kuwait again. Workers had walked out on Sunday, protesting against austerity cutbacks that will hit their wages and benefits. It's not clear what concessions they have been handed.The strike by oil workers has slashed Kuwait's output, but the state oil firm, Kuwait Petroleum Corp, said it had managed to restore some affected production

Getty Images

24/31 Netflix shares nose-dive on growth and pricing fears - Tuesday April 19

Netflix shares plunged nearly 11 per cent in after-hours trading on Wall Street over fears the video streaming company's growth is stalling as it faces an attack on its market share from Amazon. Numbers were lower than analysts, who had anticipated 580,000 in the US and 3.5 million globally, were looking for. It has 81.5 million users worldwide.The video streaming group, home to House of Cards and Marco Polo, posted a first-quarter profit of $28 million (£19.6 million), up $4 million on last year.One reasons for the slowing growth is that the company has been pushing up its charges. It is also facing tough competition from Hulu and Amazon, which unveiled a new monthly subscription pricing model yesterday.

25/31 The Treasury Brexit equation - Monday April 18

These are the equations at the heart of the Treasury's economic model, which is designed to quantify the impact of Britain leaving the European Union. It's this model that produced the result cited by Chancellor George Osborne today that the economy could be 6 per cent smaller in 2030 (relative to staying in the EU) and each household £4,300 worse off.

26/31 Chinese growth slides - Friday April 15

China's economy grew at its slowest pace since 2009 in the first three months of the year, although there were signs that the world's second-largest economy was stabilising. The so-called Dragon economy grew 6.7 per cent in the first quarter, official figures showed. That was down slightly on the previous quarter's 6.8 per cent but in line with Beijing's forecasts. Chinese banks issued nearly double the amount of new loans in March than in February while retail sales growth accelerated from 10.2 per cent to 10.5 per cent and industrial output advanced from 5.4 per cent to 6.8 per cent, well ahead of expectations.

Qilai Shen/Bloomberg via Getty Images

27/31 Fifty biggest US companies stashing $1.3trn offshore - Thursday April 14

The 50 biggest US companies, including Coca-Colam Walt Disney, Alphabet (Google) and Goldman Sachs, have more money stashed offshore than the entire GDP of Spain, Mexico or Australia, collectively keeping about $1.3t trillion (£0.91trillion) in territories where the money does not count towards US tax, according to a new report by Oxfam.

Denis Kartavenko (c)

28/31 Activists seek transparency in Panama Papers aftermath in Berlin - Wednesday April 13

Activists wearing suits throw fake money into the air while demanding greater transparency in new legislation following the ongoing Panama Papers affair on April 13, 2016 in Berlin, Germany

by Sean Gallup/Getty Images

29/31 IMF warns Brexit will create 'severe global damage' - Tuesday April 12

The IMF has slashed the UK's growth forecasts for this year, saying uncertainty created by the Brexit referendum in June is already hurting the domestic economy. It is a major intervention from the IMF into the referendum debate. The IMF's managing director Christine Lagarde has previously spoken about the negative economic impact of Brexit. But this is the first major warning from the Fund itself. The IMF cut its 2016 GDP growth forecast for Britain to 1.9 per cent, down from the 2.2 per cent it projected in January. After Japan, it was the joint second largest downgrade handed out to any country in the G7.

Getty Images / John Lamparski

30/31 Tata sells Scunthorpe steel plant to investment firm Greybull Capital - Monday April 11

Tata Steel has sold its Long Products Europe business, including its Scunthorpe plant, to investment firm Greybull Capital . The move will safeguard 4,400 UK jobs, but workers are being asked to accept a pay cut and less generous pension arrangements.

Getty

31/31 Brighton Pier sold for £18m to former Pizza Express boss - Friday April 8

Brighton Pier, one of UK's most iconic structures, is set to be sold in an £18 million deal to Eclectic Bar Group, chaired by former Pizza Express entrepreneur Luke Johnson. The Grade II listed landmark in East Sussex was placed on the market for the first time in more than 25 years back in 2011, before being withdrawn the following year. The group said the purchase of the "iconic British asset" will boost its earnings. READ MORE Popular music college set to close and be demolished Case against homeless man arrested after begging for 10 pence quashed Brighton College praised by parents for pioneering transgender uniform "Brighton is one of the UK's most popular visitor destinations with over 10 million visitors per year, making it the most visited place in the South East. The pier itself is Britain's most popular attraction outside London," Luke Johnson said.

Getty Images
He added that it would difficult for Europe to adopt a US model because it is now "less mature" than the European model. 
"The level of regulation and supervision in Europe is now extreme," he said. 
Martin Taylor has been both a banker and a market quasi-regulator. Perhaps it's time the authorities starting listening more to the former and less to the latter.