In May last year Martin Taylor, the former chief executive of Barclays Bank, addressed a crowd of high-powered financiers in the ballroom of the InterContinental Park Lane hotel in London. 
Mr Taylor, an adviser to the Bank of England's Financial Policy Committee and an influential voice on market risk, spoke darkly about his fears for Coco bonds, a quirky-sounding debt instrument launched in the wake of the financial crisis.
"I talk to a group like this about credit matters with the greatest timidity. I am sure you are good citizens and desire to exercise exemplary scrutiny. But I wonder whether you will flip – like the holders of European sovereign bonds before 2010 – from believing all issuers equally safe to thinking many equally precarious when the sky next darkens," he said.     
Skies have not only darkened this week, but Mr Taylor's words have a prophetic rings: investors have indeed flipped out with concern about Cocos after the German lender Deutsche Bank was forced to reassure investors it could meet interest, or coupon, payments on its Coco bonds. 
The move has stoked fears that something is rotten at the heart of the European banking sector and led many to question why Cocos – considered a silver bullet solution – have melted like their chocolate breakfast cereal namesake in the face of market turmoil.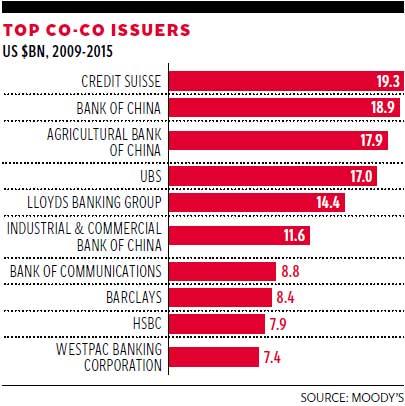 Cocos, formally known as contingent convertible bonds, were born out of the 2008 financial crisis as a solution for stricken banks without the need for a state bail-out. 
They work quite simply on the surface: banks issue them to finance their business like normal bonds but they morph into equity if a bank's capital falls below a certain threshold. This automatically reduces a bank's debt and boosts its capital buffers at a time when external investors could be reluctant to inject new money.
The flexibility removes some of the risk inherent in loading up bank balance sheets with debt. But herein lies the rub: how can a bank be flexible on debt obligations without spooking the market into thinking it is in trouble? 
A recent move by the European Central Bank to publish an obscure test of bank risk, known as the Srep ratio, has driven the recent upset in the market. The results have stoked fears in the minds of credit analysts about whether recent market shocks – ranging from low oil prices to the slowdown in China – could inadvertently cause banks to breach rules which would prompt regulators to stop them paying Coco coupons.
Many lenders – such as Spain's Banco Popular Espanol, Italy's UniCredit, BNP Paribas of France and Deutsche Bank – are now getting perilously close to falling into the zone, according to Hermes, posing questions about how far banks will go to protect their Coco coupon payments. 
"All these banks still have some strings they can pull," Hermes' credit strategist Filippo Alloatti said. "The fundamentals are still the same; this is a test for the Coco market and the incentives for the banks to pay these coupons, if they can, are still there."
Cocos have grown rapidly since launching in 2009, attracting credit investors keen for high-yielding bonds in a world of low base rates.
Last year was a high-water mark, with banks issuing $175bn worth of Cocos – dwarfing $50bn in 2013 and $14bn in 2009, according to Moody's.
Yet fears over the Greek debt crisis and the slump in China put a chink in the armour. Issuance slowed to around $77bn last year and this year looks worse, with predictions of $35bn worth of bonds now looking highly optimistic in light of recent events.
Just two Coco issues have come to market this year, according to the data provider CreditSights – from Crédit Agricole and Intesa Sanpaolo.
Many say the Coco market is now effectively closed for the rest of the year unless policymakers simplify the rules and kick-start issues back into life.
"The regulator has made a mistake in the way they are designed," credit manager Lloyd Harris from Old Mutual Global Investors said. "The regulations are far too draconian in Europe and will have to change. It is potentially difficult for the market to come back to the extent it needs to unless some changes are made."
One solution could be adopting a US version of Cocos, which are considered less complex than their EU counterparts. If a bank reaches the point of going bust in the US, the Coco is simply bailed in and losses are borne by the bondholder. 
In contrast, EU regulators have over-egged the cake by adding additional layers of complexity about how and when banks can pay bondholders. "We should not forget these have been designed by regulators for regulators," said Gildas Surry, an analyst and partner at credit investor Axiom Alternative Investments. "At some stage, the ECB and the Bank of England will have to defend the format." 
Business picture of the day
Business picture of the day
1/35 Markets react to Reacts to EU referendum vote result - Friday June 24

nalyst Robert Halver reacts at the Frankfurt Stock exchange the day after a majority of the British public voted for leaving the European Union on June 24, 2016 in Frankfurt am Main, Germany. The FTSE 100 plunged more than 8 per cent in its biggest opening slump since the financial crisis, wiping £120 billion off the value of the 100 biggest UK companies, after the UK voted to leave the EU.

Getty Images

2/35 Lock of David Bowie's hair to be auctioned - Thursday June 22

A clipping of David Bowie's blonde coiffure could fetch thousands this week at auction. The current bid is for $2,000 on Heritage Auctions, but The Associated Press is reporting that the Beverly Hills–based auction house is expecting to get more than $4,000 for the lock on Saturday.

Getty Images

3/35 The Palace of Culture and Science in Polant lit up with Remain messages as Britain prepares to go to vote - Wednesday June 22

The Palace of Culture and Science Warsaw's Palace of Culture and Science was illuminated in the colors of the Union Jack and accompanied by the hashtag, "Vote Remain." Wednesday marked the last day of polling before Britain goes to vote

Reuters

4/35 Glass Skyslide added to California's tallest skyscraper - Tuesday June

Sandra Brown, 40, rides the Skyslide on the 69th and 70th floors of the US Bank Tower which is attached to the OUE Skyspace LA observation deck in downtown Los Angeles, California, US June 20, 2016. Visitors will glide through the 45ft-long glass tube to enjoy a bird's-eye view of Los Angeles before landing on a more traditional viewing platform on the 69th floor.

Reuters

5/35 TalkTalk CEO Dido Harding sees pay almost triple despite cyber attack - Monday June 20

TalkTalk chief executive Dido Harding has seen her 2015 pay almost triple to £2.8 million, despite presiding over the firm in the year it was hit with a cyber attack that caused profits to halve. In October, TalkTalk suffered from a cyber-attack which cost the firm as much as £80 million and the loss of 101,000 subscribers.Her salary increased from £538,000 to £550,000, thanks to the company's £1.9 million long term incentive plan, which was awarded at the end of the previous year. Harding has pledged to donate a further £220,000 annual bonus to the Ambitous About Autism charity.

Rex

6/35 Revlon to buy Elizabeth Arden in $870m deal - Friday June 17

Revlon will acquire Elizabeth Arden for about $419 million,a wager that uniting two aging cosmetics giants can reinvigorate both companies' brands. The $14-a-share deal values Elizabeth Arden at about $870 million when debt is included, New York-based Revlon said on Thursday. The cash transaction represents a 50 per cent premium over Elizabeth Arden's closing price of $9.31

7/35 Disneyland Shanghai worth $5.5bn opens with support from Xi Jinping and Obama - Thursday June 16

Ten of thousands of people are expected to visit the Disneyland resort in Shanghai on Thursday as the $5.5 billion park opens its doors after five years of construction. The park, which is the largest investment from Disney overseas, opened its doors with fireworks, dancing Disney characters and support from two of the most powerful leaders of the world, US President Barack Obama and China's President Xi Jinping.

Rex Features

8/35 Sir Philip Green apologises to BHS staff for retailers' collapse in front of MPs - Wednesday June 15

Sir Philip has been called to answer questions by the Business, Innovation and Skills Committee over the collapse of BHS, leaving 11,000 jobs at risk. He has apologised to BHS staff for his handling of the demise of the company, which went into administration on April 15. In opening remarks to a committee of MPs, Sir Philip said that his "emotional tie" to BHS meant that he hung on to the chain too long, leading to "trouble". "Nothing is more sad than how this has ended," he said.

Rex Features

9/35 London house prices up 14% in a year - Tuesday June 14

House prices across the UK continued to grow in April, with London prices leaping by more than 14 per cent over the last year, according to official figures published on Tuesday. The average house price in the UK increased 8.2 per cent year on year to £209,054 in April, up 16,000 from the same time in 2015.In London, which continued to be far more expensive than anywhere else in the country, the average house price is now more than £470,000, up by nearly £60,000 on April last year.

Getty Images

10/35 Microsoft to buy LinkedIn for $26.2bn

Microsoft has said it is buying LinkedIn for $26.2 billion in cash in its biggest-ever acquisition. In a post on the Microsoft website, Microsoft said that that the deal values LinkedIn at $196 per share.Jeff Weiner will remain CEO of LinkedIn, reporting to Satya Nadella, CEO of Microsoft. Nadella said that as a user of LinkedIn and a publisher on LinkedIn, he was excited to work with the site because of the way it empowers people to take the next step in their careers.

Reuters

11/35 Solar just made more power than coal in the UK for the first month ever - Friday Jue 10

Solar generated more electricity than coal in the UK for the first month on record in May. Solar generated around 1,336 gigawatt hours (GWh) of electricy in May, 50 per cent more than the 893GWh generated by coal, according to analysis by Carbon Brief. ADVERTISING inRead invented by Teads Carbon brief had previously said that solar power beat two "largely symbolic" milestones in May when it beat coal for the first full day on April 9 and for the first week on May 3.

Getty

12/35 Amazon launches its Fresh food delivery service in the UK - Thursday June 9

Amazon is competing with British supermarkets as it launches its own food delivery service in the UK in 69 central and east London postcodes Amazon Fresh is available to Amazon Prime customers in areas including Camden, Hackney, Soho, Marylebone and Mayfair as the service makes its first steps outside the US.

Reuters

13/35 Royal Mint invites pensioners to save for retirement in solid gold - Wednesday June 8

The Royal Mint is to open its golden vaults for the first time to pensioners who wish to invest. Starting from Wednesday, investors will be able to buy 100g and 1kg gold bars, or Signature Gold, as part of a service that allows customers to own a fractional amount of a 400oz gold bar, to be held as a pension scheme. The bars will be stored in The Royal Mint's vault and are subject to a one per cent (plus VAT) storage charge, based on the daily market value.

Getty Images

14/35 Sports Direct founder Mike Ashley admits paying workers below the minimum wage - Tuesday June 7

Mike Ashley has admitted paying Sports Direct employees below the minimum wage at a hearing in front of MPs.The company founder said that workers were paid less than the statutory minimum because of bottlenecks at security in an admission that could result in sanctions from HMRC.

Reuters

15/35 Pound slides to fresh lows after polls show growing Brexit support - Monday June 6

The pound has fallen to fresh lows after polls showed support for the Leave campaign was growing ahead of the EU referendum. Polling firm TNS said on Monday that the Leave campaign had a 2-point lead over the Remain campaign. Sterling fell 1 per cent against the dollar to hit a three-week low on June 6. Against the dollar, sterling fell to $1.4370, recovering slightly from lows of 1.4352 in early trading in Asia, its lowest in three weeks.

Reuters

16/35 Weakest US jobs figures in six years shock financial markets - Friday June 3

The weakest American job creation figures in six years last month have sent the dollar tumbling and crushed expectations of another interest rate hike by the Federal Reserve this summer.

Getty

17/35 New Sir Winston Churchill £5 note design is unveiled - Thursday June 2

Mark Carney, governor of the Bank of England (BOE) reveals the final design for the new polymer £5 banknote, featuring an image of wartime leader Winston Churchill.The Bank says the thin and flexible plastic banknotes will be cleaner, more durable - as they will last for five years - and harder to counterfeit than the current paper notes.It admits that they may initially be prone to sticking together.

Bloomberg via Getty Images

18/35 Abe delays Japan's sales tax hike until late in 2019 - Wednesday June 1

Prime Minister Shinzo Abe said he'll delay an increase in Japan's sales tax until 2019, a move that may help support consumer spending while complicating the government's efforts to tame the world's largest debt burden.

Getty Images

19/35 Austin Reed to cut 1,000 jobs and close all stores - Tuesday May 31

British menswear retailer Austin Reed is to close 120 of its stores by the end of June after administrators failed to find a buyer for the entire business.

Philip Toscano / PA Wire/Press Association Images

20/35 G7 world leaders say Brexit poses a serious risk to global growth - Friday May 27

Seven leaders have warned of the risk to global economy if Britain votes to leave the European Union in a referendum next month. The UK leaving the European Union would "reverse the trend towards greater global trade and investment, and the jobs they create, and is a further serious risk to growth," leaders said in a joint declaration at the G7 meeting in Japan.

Reuters

21/35 Fast food workers demonstrate for better wages - Thursday May 26

Demonstrators calling for an increase in the minimum wage to $15-dollars-per-hour protest outside of McDonald's corporate headquarters on May 25, 2016 in Oak Brook, Illinois.

Getty Images

22/35 Steelworkers march in London as Tata sale talks continue - Wednesday May 25

Hundreds of steelworkers from across the UK marched through Westminster to keep up pressure for government help for their industry

AP Photo/Kirsty Wigglesworth

23/35 Google Paris headquarters raided as part of tax payment probe - Tuesday May 24

The message 'I'm feeling lucky' is seen on the facade of the entrance of Google's Paris headquarters on May 24, 2016 in Paris, France. Google's headquarters in Paris were raided by French investigators on Tuesday morning as part of an investigation over alleged tax fraud. Ministry of Finance is seeking €1.6 billion ($1.79 billion) in back taxes from the US Internet giant Google.

Getty

24/35 Bayer offers to buy Monsanto for $62 billion cash - Monday May 23

Monsanto DeKalb brand hybrid corn sits in the hopper of a Case IH planter in a field in Princeton, Illinois, US. Bayer, on Monday, made an unsolicited $62 billion all-cash offer to acquire Monsanto to create the world's biggest supplier of farm chemicals and genetically modified seeds, a proposed acquisition that would be the biggest corporate deal by a German company.

Getty Images

25/35 Fracking approval under consideration - Friday May 20

Councillors in North Yorkshire on Friday considered whether to approve fracking in England for the first time since a ban on the technique was lifted in 2012. Campaigners say approval would set a "dangerous precedent".

Getty Images

26/35 'Oppenheimer Blue' diamond sells for £40m, setting new record - Thursday May 19

The world's most expensive diamond has set a new record after it was sold at auction - for more than £39 million. At 14.62 carats, the 'Oppenheimer Blue' was the largest Vivid Blue diamond ever to go under the hammer.

Reuters

27/35 Mitsubishi Motors president to resign over fuel scandal - Wednesday May 19

Mitsubishi Motors President Tetsuro Aikawa will step down as the Japanese automaker looks to regroup from its widening fuel economy testing scandal with the backing of Nissan Motor. Aikawa, 62, and Executive Vice President Ryugo Nakao will leave their positions effective June 24, according to a statement Wednesday.Prior to the scandal, Mitsubishi was the sixth biggest carmaker in Japan and ranked 16 worldwide.

Reuters

28/35 Harmony of the Seas: Biggest cruise ship in the world docks in Southampton - Tuesday May 17

The worlds largest cruise ship, the 361 metres long, Harmony of the Seas, arrives in port for her mayden voyage, in Southampton, Britain May 17, 2016. The 362-metre-long Harmony of the Seas cost $1 billion (£700 million) and is larger than the Eiffel Tower.

Reuters

29/35 Barclays to sell secret London gold vault - Monday May 16

Barclays has sold its metals business, including a secret gold bullion vault in London which can hold up to 2,000 tonnes of gold. ICBC Standard, China's biggest bank, expects the purchase to be completed in July. Barclays decision to exit the business comes as US and EU regulators investigate whether 10 banks, including Deutsche Bank and Barclays manipulated prices of precious metals such as silver and gold.

Getty Images

30/35 Bank of England warns EU referendum vote could damage UK economic growth - Thursday May 12

The Governor of the Bank of England, Mark Carney, warned today that a majority vote to "leave" in next month's European Union referendum carried the risk of a "technical recession" for the UK. His words came as the Bank slashed its growth forecasts citing uncertainty created by next month's Brexit referendum - and warned, in addition, that a vote to leave could push up unemployment, send the pound plummeting and result in a spike in inflation.

Getty Images

31/35 EU blocks Three's takeover of O2 - Wednesday May 11

European Union Commissioner for Competition Margrethe Vestager talks to the media after the EU Commission prohibited Hutchison's proposed acquisition of Telefonica UK, at the EU Commission headquarter in Brussels on May 11, 2016. The European Commission shot down Telefonica's blockbuster sale of British telecom giant O2 to Hong Kong group Hutchison on fears it would inflict higher prices on British consumer

Getty Images

32/35 Budweiser just renamed its beer to "America" - Tuesday May 10

The beer, formerly known as Budweiser, is going for what it calls "patriotic packaging" this summer. The brand name on most cans and bottles will read "America", and will include phrases from the Pledge of Allegiance and lyrics from The Star Spangled Banner and America the Beautiful. "We thought nothing was more iconic than Budweiser and nothing was more iconic than America," Tosh Hall, creative director at JRK, told Fast Co Design.Anheuser-Busch InBev, the Belgian-Brazilian brewing giant, filed the America label for approval from the Alcohol and Tobacco Tax and Trade Bureau, and has received the go ahead for use on 12-ounce cans and bottles.

Budweiser

33/35 Canadian wildfires push up oil - Monday May 9

Crude rose as expanding wildfires in Canada knocked out about 1 million barrels a day of output. Futures increased as much as 2.9 per cent in New York and 2.5 per cent in London. The blaze has led to cuts equivalent to about 40 percent of Canada's oil-sands production, based on IHS Energy estimates.

Reuters

34/35 Hotel Chocolat founders make £20m each from stock market debut - Thursday May 5

Angus Thirlwell and Peter Harris share £43.5m of £55.5m raised through flotation of luxury chocolate company

Getty Images

35/35 BHP Billiton faces £30bn compensation claim over Brazil dam disaster - Wednesday May 4

BHP Billiton and its partner Vale are facing a 155bn real (£30bn) claim from Brazilian prosecutors over a dam collapse last year at one of their iron ore mines, which killed 19 and left 700 homeless. Shares in the London-listed BHP plunged almost 10% after the charges were revealed into what is being called Brazil's worst ever environmental disaster.

Getty Images/ Douglas Magno
He added that it would difficult for Europe to adopt a US model because it is now "less mature" than the European model. 
"The level of regulation and supervision in Europe is now extreme," he said. 
Martin Taylor has been both a banker and a market quasi-regulator. Perhaps it's time the authorities starting listening more to the former and less to the latter.