The race to exploit Iran's vast and under-utilised oil and gas reserves has begun after the country struck a crucial deal to curb its nuclear programme in return for relaxing foreign sanctions on its energy and finance industries.
Easing the sanctions imposed by the US, the EU and the UN in 2012 paves the way for a massive leap in Iran's oil and gas production that will require Western production expertise.
The Iranian government and the oil majors have been quietly courting each other in the run-up to the agreement, with companies such as BP, Shell, Eni, Statoil and Total all thought to be seriously considering a move into the country.
Iran has the fourth biggest oil reserves in the world but its production languishes at a disproportionately low 3.6 million barrels a day – just 4 per cent of global output despite having 9.3 per cent of its reserves.
It also has the world's largest gas reserves – accounting for 18.2 per cent of the total – but produces just 5 per cent of global output.
Much of the oil Iran produces is consumed domestically after the sanctions cut exports from 2.6 million barrels a day at the end of 2011 to 1.4 million now.
Sarosh Zaiwalla, a sanctions lawyer at Zaiwalla & Co in London, said: "Sanctions have crippled Iran's oil production, halving oil exports and severely limiting new development projects. The prospect of them being lifted is creating excitement – foreign trade and investment will allow Iran to make huge efficiencies and drive down the cost of production."
Iranian officials hope to be exporting an additional 1 million barrels a day within a matter of months – while analysts are taking a slightly more cautious view, forecasting an extra 500,000 barrels within a year.
The country will need Western technology if it is to increase output from fields that have been largely depleted, after decades of production using standard equipment has extracted the easily accessible oil and gas.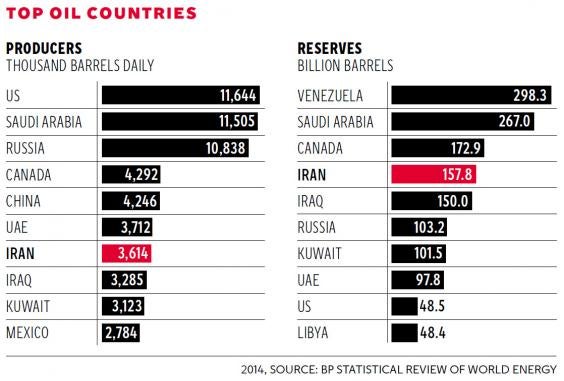 But while Iran offers tremendous potential for Western majors, an oil boom is by no means assured – and, even if it does happen, the path is unlikely to be smooth, analysts say.
Richard Mallinson, a geopolitical analyst at the Energy Aspects consultancy in London, said: "Iran has substantial reserves and there is a lot of interest among the oil majors about investing. But it may take some time before companies feel confident about returning."
This is partly because the oil price is at low levels due to a glut in supply as a result of the US shale oil boom. A fresh influx of oil from Iran will put further pressure on the price of crude.
Foreign oil companies are also concerned that, with a US presidential election coming up in November next year, the sanctions could suddenly be re-imposed. This would leave them – and their investment – high and dry, Mr Mallinson said, pointing out that Republican presidential hopefuls have indicated they would take a tougher stance on Iran than Barack Obama has done.
In addition, Iran traditionally has not offered foreign companies great terms on its oil and gas production contracts, which have typically been short term and provide a relatively small portion of the earnings, analysts say. And while Iran has signalled it has an appetite for improved terms, would-be investors fear that it could resort to its old ways further down the line.
The lifting of sanctions is only the latest in a series of developments that have made, dismantled and remade large sections of Iran's oil industry over the past century.
Western companies such as BP – which grew out of the original Anglo-Persian Oil Company founded in 1908 – led the development of Iran's oil fields following the discovery of a large field in Masied Soleiman in that year.
The first major upset came with the Iranian revolution in 1979, which led to the nationalisation of the industry and saw foreign companies kicked out of the country. They began to return during the 1990s and early 2000s, with European companies such as Shell and Total leading the charge because Europe had a better relationship with Iran than the US. However, they progressively left again in the years up to 2010, by which point most had departed, as hostile relationships made it harder to continue working on projects.
The development should herald the next chapter in the roller-coaster industry. History suggests that it will be fraught with difficulties and that it may be only a matter of time before the status quo changes again.
The oil majors are remaining tight-lipped about their potential involvement in Iran, unwilling to commit until they find out more about the proposed changes to the sanctions – and their implications.
A BP spokesman said: "We will look at opportunities if and when we are able to do so." A Shell spokesman said: "We are interested in exploring the role Shell can play in developing Iran's energy potential."
But the potential of huge untapped reserves that are relatively easy to access – physically if not politically – at a time when global oil demand is expected to soar in the coming years, represents a significant potential opportunity for Western oil companies which are close to exhausting the industry's "low-hanging fruit". As such, behind the scenes they will be doing everything they can to get around the many obstacles there are to working in Iran.
Reuse content