Anybody looking for clues behind the dramatic collapse in the oil price since June need only consider  some astonishing facts from the US. Since the fall of Lehman Brothers in September 2008, US crude oil output has doubled and is now at its highest level for nearly 30 years. Only four years ago, Nigeria was one of the top five US oil suppliers and the nation's exports to the US were equivalent to a supertanker of crude every day. In July, the world's biggest economy imported no Nigerian oil at all.
US output – thanks to the revolution in shale oil and gas production freeing previously inaccessible sources – has jumped from below five million barrels of oil a day five years ago to more than nine million today, around 10 per cent of global oil production. And on the other side of that staggering positive supply-side shock, demand is weak. Uncertainties abound in the eurozone and in parts of Asia. China's economy may be set for a hard landing. The International Energy Agency's sharp cutting of its estimates for growth in global oil demand this year and next shocked the market, while this week's trimming of global growth estimates by the International Monetary Fund hardly improved the mood.
The basic economic fundamentals for oil are desperately poor, and markets have belatedly woken up to the fact. Since hitting $115.06 a barrel in late June, North Sea Brent crude has now entered bear market territory, with declines of more than 20 per cent. That has taken the price to its lowest for more than two years and experts believe there are more falls on the way.
The world is "swimming in oil", according to Edison Investment Research analyst Peter Dupont, and in his view "it's surprising that it has taken so long to impact the price". Mr Dupont believes the price could fall to $80 a barrel although even $70 is a possibility. The growth of shale oil from the US, as well as Canada's controversial tar sands, has been a game-changer for the sector. "In principle the price could go down to the marginal cost of production," he said. "At $70 a barrel a lot of shale and tar production is still viable although some will begin to drop out."
Edison also identifies a "key risk" for Brent being a simultaneous upturn in production and exports from the Middle East next year, as well as a loss of control of the market by the once mighty OPEC cartel, which now accounts for less than half of global production. Saudi Arabia – the world's biggest exporter – cut prices last week. An agreement with Iran over its nuclear programme could see sanctions lifted gradually, while Libyan production is rising following disruption in the wake of Colonel Gaddafi's fall. In Iraq, production in the north has been disrupted by Isis but in the south, exports are rising. "OPEC will probably attempt to cut production in the coming months but is likely to have difficulty in accommodating non-OPEC production growth plus rising production in Libya and potentially in Iraq and Iran," Mr Dupont added.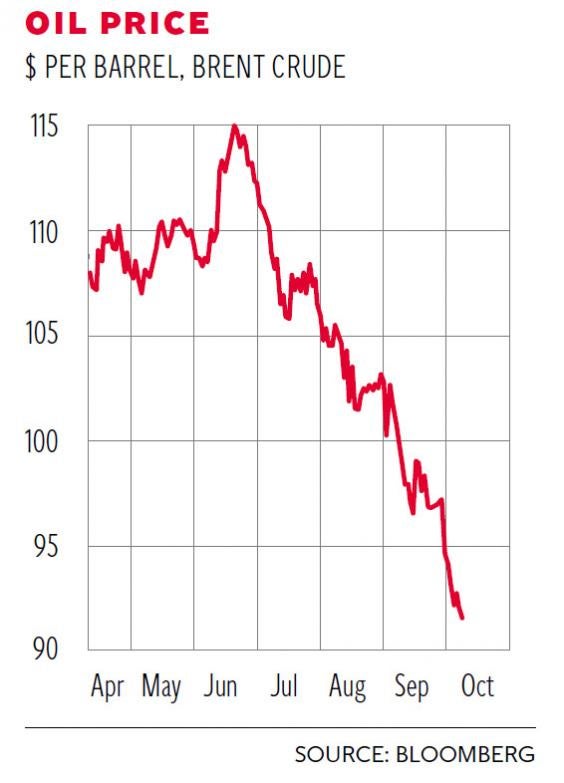 The rapid advance of Isis early in the summer spooked markets – especially as the vast northern oilfield of Kirkuk looked vulnerable. But if anything the surprise is how quickly markets have taken the Isis threat in their stride. Deloitte's chief economist, Ian Stewart, said the price was likely to "go down or track sideways". He said: "What we have been struck by is that in the face of a lot of negative shocks the oil price has continued to soften." Gerard Lane, an analyst at Shore Capital, also believes oil prices could hit $70. "The odds on that are rising, primarily due to the actions of the Saudis – instead of cutting production, they are cutting prices," he said.
Closer to home, motorists are feeling the benefit of the recent falls on the forecourt, as the average cost of a litre of petrol fell to 127.13p on Monday, according to the AA. This is the lowest price since January 2011 when prices were inflated by the VAT increase from 17.5 per cent to 20 per cent.
Motorists have been helped by the likes of Tesco and Sainsbury cutting up to 5p a litre off petrol. Asda has also cut prices. But an AA spokesman said further big falls were dependent on international markets and producers were unlikely to tolerate lower prices forever: "It may be a false dawn to say low prices will be around for a while but we should enjoy it while it is there. Arguably the forecourts should do more. Where there is an opportunity to increase margin they will."
Lower inflation will be a boon for consumers, although in the longer term it increases the value of debts. For the Bank of England's policymakers, the tumbling oil price will play its part in lessening the pressure to raise interest rates. The Consumer Price Index is at 1.5 per cent – below the Bank's 2 per cent target – and the risk over the next few months for Governor Mark Carney is potentially writing a letter to the Chancellor to explain why inflation has undershot the target by more than 1 percentage point. In a climate of subdued global growth likely to linger for some time, only the bold will betting on a Brent bounce-back.
Reuse content