Despite the anaemic economic recovery in the US, it was another decent 12 months for American stock markets. Globalisation has resulted in the Dow Jones and the S&P becoming less a reflection of the state of the American economy as a whole, and more a reflection of American companies' global reach. Many American corporations remained as profitable as ever, while ordinary Americans continued to struggle.
Nothing illustrates this better than the three-tiered American retail market. At the bottom end, Dollar Tree paid a hefty premium to acquire Family Dollar back in July. Likewise, profits ticked up nicely at posh stores like Nordstrom. However, catering to middle-income Americans remained tough. Sears is rapidly approaching its sell-by date, Target dealt with self-inflicted wounds and even Macy's lost its shine. The restaurant trade is no different: the middle-of-the road eatery Olive Garden became so desperate it ran a ridiculed $100 all-you-can-eat pasta month.
Olive Garden also played a part in 2014 being the year of the hedge fund PowerPoint presentation. Starboard Value put together a 300-page slideshow telling Olive Garden how to improve, or presumably Starboard will do it for them. Bill Ackman of Pershing Square Capital outdid Starboard, putting together a 325-page show about how Herbalife, the dietary supplement company, is going to implode – after shorting the stock.
Elsewhere in retail, two of the industry's most "colourful" fashion executives left the scene. Dov Charney was eventually forced out at American Apparel after a flood of unsavoury accusations. And a couple of weeks ago, Mike Jeffries retired as CEO at Abercrombie & Fitch after two years of poor performance. He wanted A&F to cater only to the popular skinny kids, only to discover that expressing such opinions isn't very good for business.
Pimco's two most public faces also left the scene, though not entirely. Mohamed El-Erian quit the world's largest bond fund management company in January, followed by his boss, the so-called "Bond King" Bill Gross in October. Mr Gross is now at the much smaller Janus Capital, while Mr Erian is chief economic adviser to Pimco's parent company, the German insurance giant Allianz.
The year's largest IPO was a Chinese company – the online retail giant Alibaba, which chose to list on the New York Stock Exchange, and raised a record $25bn in September. Yahoo, the veteran US internet company run by Marissa Mayer, was an early backer, and got a much needed boost from cashing in a $9.5bn stake in the float, which also made Alibaba's founder Jack Ma China's richest person.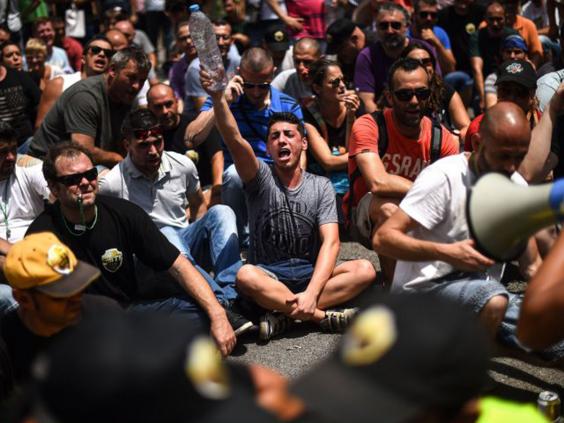 It was also a year for transatlantic mergers and acquisitions, not all of which worked. AbbVie got cold feet in October after offering something like $55bn for Shire Pharma, which would have been the largest deal anywhere in 2014. The Chicago-based company blamed proposed changes to the US tax code after it proposed moving its HQ to Basingstoke to lower its tax bill. Walgreens swallowed up the 55 per cent of Alliance Boots that it didn't already own for $9bn. At least the Boots name will remain part of the company, although for how long is anyone's guess. Finally, the London-based private equity giant BC Partners took an $8.3bn punt on PetSmart, an American chain of pet stores that has been struggling against online competition.
Oil prices have plummeted for seven months, leading to cheaper fuel at the pump for American drivers, but the short-term outlook for Exxon, ConocoPhillips, Chevron and the rest of the American oil industry is grim. Most of the Gulf of Mexico has shut down production, and the shale boom in North Dakota will follow suit if it hasn't already.
The best-performing sector in US markets was healthcare, up about 20 per cent over the year. The Affordable Care Act might have only marginally improved the American healthcare system, but profits at insurers remain in rude health. The big year for healthcare is 2015, with a new Republican majority in the Senate and another potential gutting via the Supreme Court.
In tech, Apple continued to make and hoard more cash than Scrooge McDuck – its cash reserve is roughly twice the size of the US Treasury's. The company continued to churn out new versions of old products, which addicts lapped up.
Google continued to morph from a "do no harm" idealist into a hard-nosed corporate master, although the recent European Parliament vote to break it up might make life a little more interesting in 2015. Tech villain of the year was the taxi-app Uber, which raised money twice, once at a valuation of $17bn then at a valuation of $40bn, proving there's no such thing as bad publicity if you can persuade people you're going to make a buck.
We can't review 2014 without mentioning Wall Street. Jamie Dimon, JP Morgan Chase chief executive, seemed to be in front of Congressional Committees more often than he was in the office – as it turned out, not a bad thing given that the financial services industry now seems able to write its own legislation, although much of the "credit" for the US government spending bill ended up with Citigroup. Allowing banks to gamble on derivatives using money backed by the American taxpayer can't possibly go wrong, can it?
Still, it should make for a more exciting 2015.
Reuse content